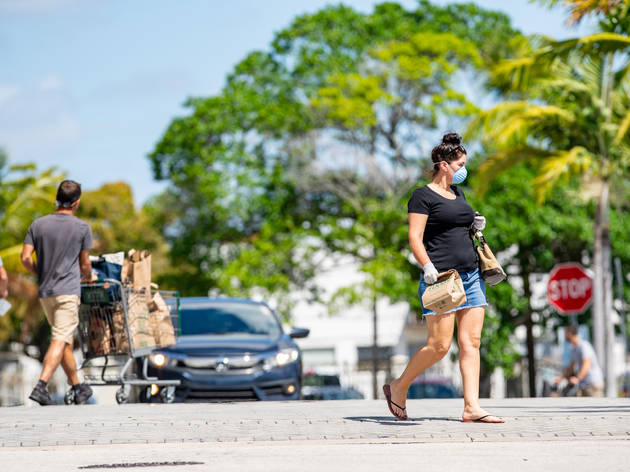 City of Miami will now fine you for not wearing a mask
Repeat offenders will get fined up to $500.
Posted: Friday June 26 2020, 2:26pm
Mayor Francis Suarez is not messing around when it comes to enforcing the use of face coverings. As of Monday, it became mandatory for City of Miami residents to wear a mask in public. And now, people who don't follow the new emergency order will face a fine.
On Thursday, the Miami City Commission approved an emergency ordinance that allows the city to issue noncriminal civil infractions to individuals found without a mask. Break the rules once and you'll be let off with a verbal warning and go home with a free mask courtesy of the city (Isn't that nice?). Future infractions will result in a $50 fine for your second offense, $150 fine for your third offense and a whopping $500 on the fourth time you're caught not covering your face and mouth. If you think the penalty is egregious, consider that on Friday, June 26, Florida eclipsed Wednesday's record number of positive Covid-19 cases in the state, going from 5,511 to 8,942.
People who won't live in the City of Miami but who might find themselves there for work or pleasure will also have to cover their faces. The only people not required to wear a mask are children under the age of 2, people who are engaged in strenuous outdoor activity and are social distancing, if you're eating or drinking, if your profession doesn't allow for it (it's unclear which line of work keeps you from wearing a face covering), or if you're hearing-impaired or you're communicating with someone who is. The new order reduces the violation from a criminal misdemeanor to a civil infraction and the Miami Police Department will be enforcing it immediately. You know, in case you considered throwing money at the problem. The city really means business.
As of 5:00pm last night, the City has re-classified not wearing a mask in public from a misdemeanor to a non-criminal civil infraction.
First Offense: verbal warning
Second Offense: $50 fine
Third Offense: $150 fine
Fourth Offense: $500 fine pic.twitter.com/khVsbv5lFj

— Mayor Francis Suarez (@FrancisSuarez) June 26, 2020
Most popular on Time Out
–These notable Miami restaurants and bars have now permanently closed
–Hard Rock Stadium released its summer movie lineup
–Perricone's Marketplace is finally reopening
–It is now mandatory to wear a face mask in public across Miami-Dade's major cities
–Step up your cooking game with this subscription box curated by a Miami chef
Share the story