When Time Out Market unveils a new restaurant concept, it's our duty to take the menu for a spin, try out the dishes and recommend the best of them to our readers. The same goes for any seasonal drinks and specialty cocktails at the bar. We won't sit here and pretend this part of the job isn't fun.
So as we say goodbye to January and usher in a new month, it's time to turn our focus to Time Out Market's latest batch of boozy delights. Inspired by the season of love, these four Valentine's Day-themed creations ($13 each) will be available at the bar starting February 1 and throughout all of February.
Before recommending you do the same, know this: Sitting at the bar alone, at noon, surrounded by multiple full cocktails in varying shades of magenta will invite looks from strangers. And (on account of the alcohol) you will most likely strike up silly conversations with said strangers. As we mentioned, it's not the worst part of our job.
Without further ado, here are all the February cocktail specials at Time Out Market, and our thoughts on each of them, so next time you hit up the bar you'll be informed and maybe a little bit frisky, too. Cheers to all the Valentine's Day lovers out there.
1. Sour Heart
This is a silky, bittersweet take on a sour. The Aperol base and a few dashes of orange bitters get rounded out by the herbaceousness of the gin, while a bit of simple syrup, a squeeze of fresh lemon and, of course, the foam from the egg white, smooth everything out. It's an easy drinker and deceptively boozy.
2. Rose 75
This is a fun, pink-hued alternative to mimosas at brunch, with a preparation inspired by the classic French 75. It's light and not too sweet, with a welcomed tartness from the lemon. The rose gin gives this cocktail its color and subtle floral notes (plus an extra kick of booze), while the Prosecco topper makes it all fizz.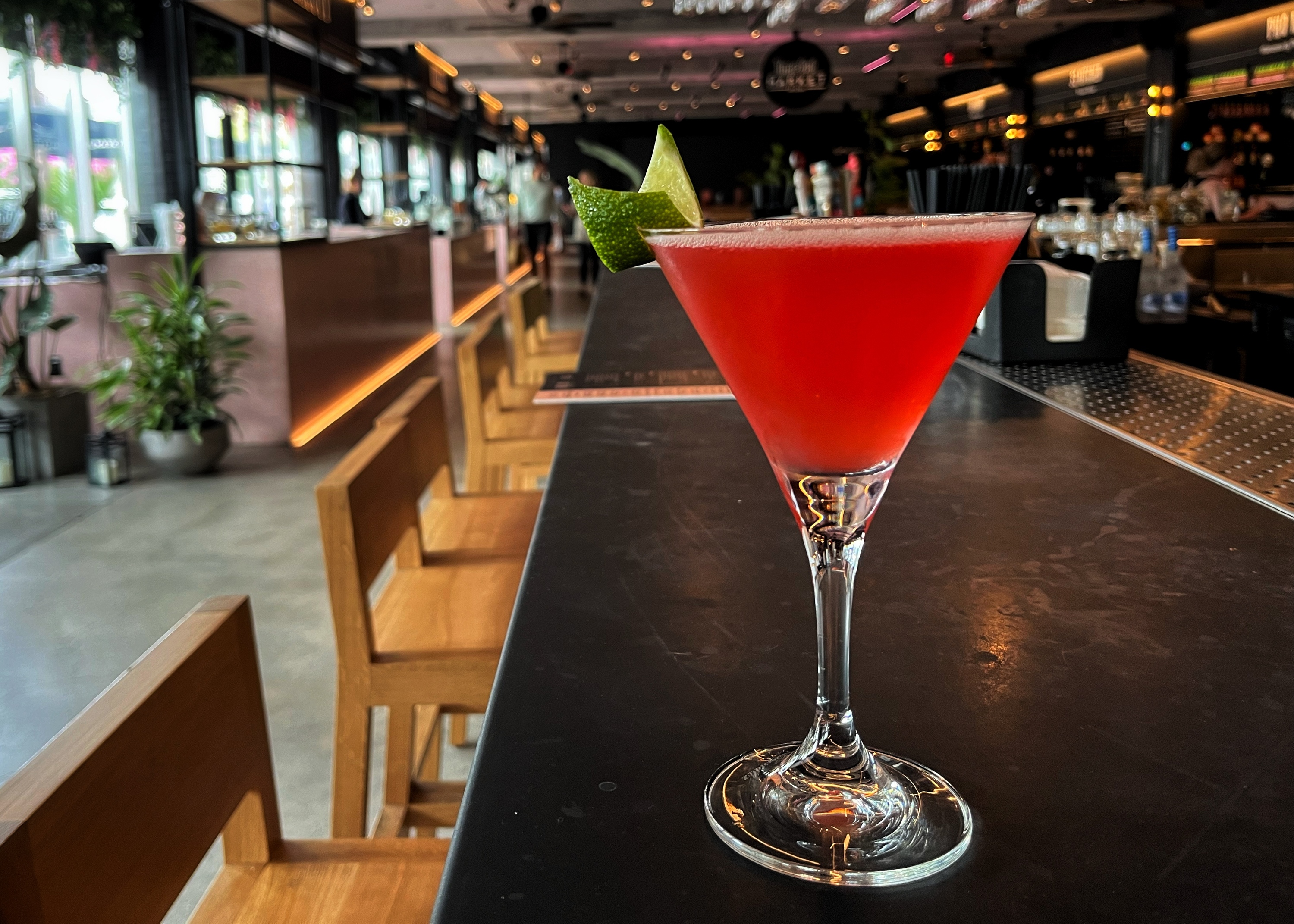 3. Feel the Love
This is basically a Cosmo, except it's made with triple sec instead of Cointreau and garnished with lime instead of lemon. Call her a sweet-tart, with a smooth entry and a smacking sourness on the back end. All we know is vodka plus cranberry juice is a winning combination every time.
4. Happy Ending
Yes, the name is questionable. But the intentions behind this caffeinated cocktail are all pure. Made with añejo tequila, Bailey's, Tiramisu and Faretti liqueurs, espresso and a bit of simple syrup, it's an ideal sweet treat to cap off your next delicious meal at the market.