The first thing we need to talk about, and perhaps the main reason you've clicked on this: all those photos of what looks like the beef rib of your dreams. We'll just say right off that, yes, it's amazing.
But isn't a beef rib just a beef rib, you might be wondering. So let's break down Beauty and the Butcher's. It's smoked for six hours in a dry spice rub, then covered in a spiced honey glaze before being submerged in a sous vide for two days. It comes served with the bone, as long as a forearm, the meat removed, sliced and then neatly reassembled.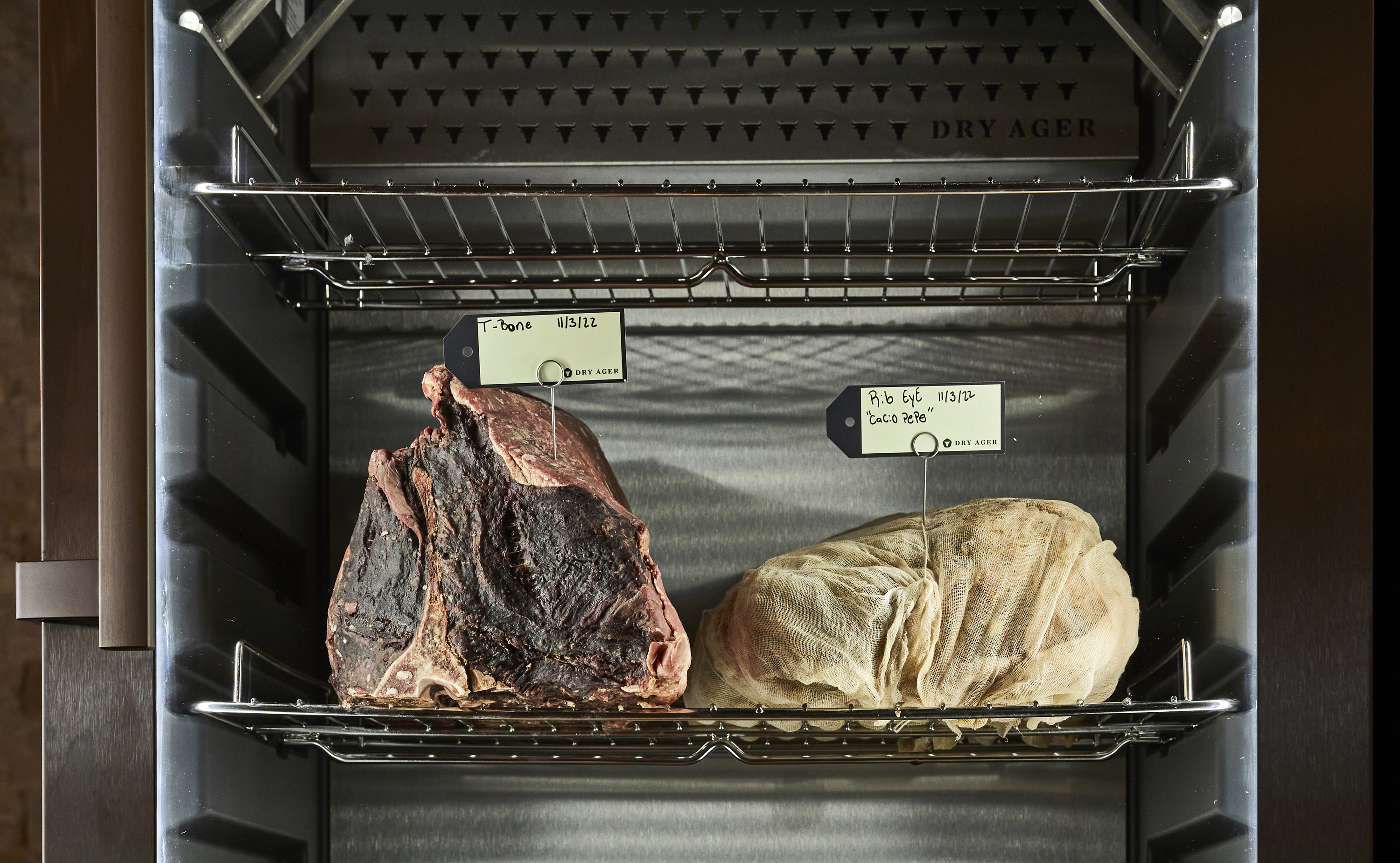 What looks like a side of simple lettuce wraps is actually a triple-stack of bib lettuce, a tiny, circular spinach crepe and a flavor-packed leaf of shiso, like chlorophyll-colored tortillas. You wrap them around the rib meat, add some pickled veg to cut the fat and then top it all with some horseradish-spiked salsa verde. The meat is smoky, spicy, tender—yeah, just perfect. This single bite might become one of your favorite things to eat, not just here but at any restaurant in town.
With the beef rib ($57) fully dissected, you'd probably like to hear about the rest of the menu at Beauty and the Butcher. Could it all be just as good? That answer is coming.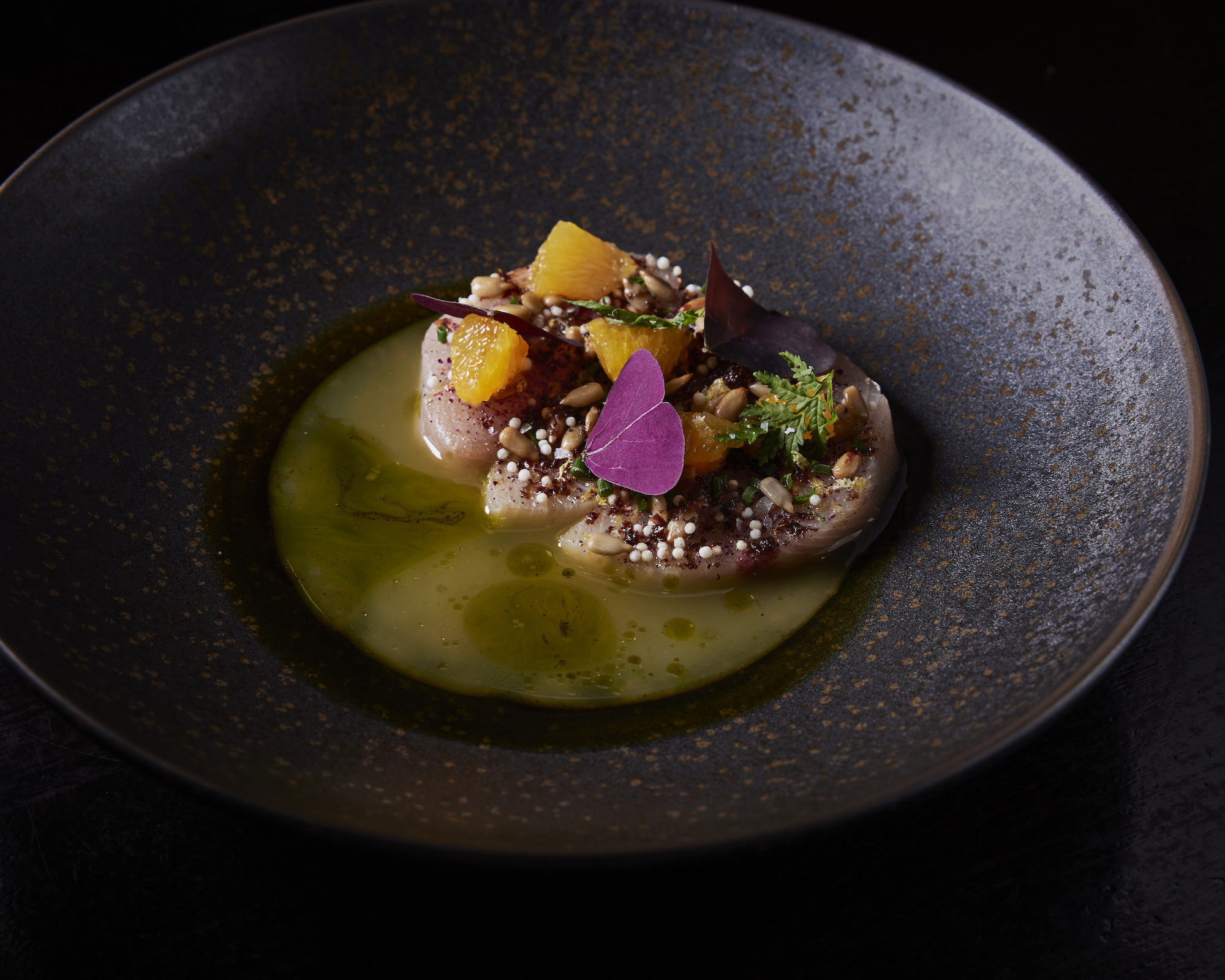 But first, a bit of background. Beauty and the Butcher took over the former Public Square space in a forever-up-and-coming area of south Coral Gables. It's the second restaurant in the metro from Jeremy Ford, who made a name for himself in 2015 by winning Top Chef (and dropping a hard f-bomb when he did so). His Miami Beach restaurant Stubborn Seed now has a Michelin Star, and that distinction has bolstered the opening of two additional South Florida restaurants, one up in Jupiter, and then Beauty and the Butcher. The love-it-or-hate-it nod to Disney in the name is actually a reference to Ford's daughter (the beauty) and himself.
This single bite might become one of your favorite things to eat, not just here but at any restaurant in town.
More spacious than Stubborn Seed, it seems not much has been changed in Ford's latest Miami space. There's still a huge rectangular bar splitting the dining room in half, a design that reads classic steakhouse, more or less, with marble-topped tables, wagon-wheel-shaped chandeliers and gold lights under the bar providing most of the light. It's a massive, cavernous space that buzzes when full, feeling just as fun as Ford's first restaurant.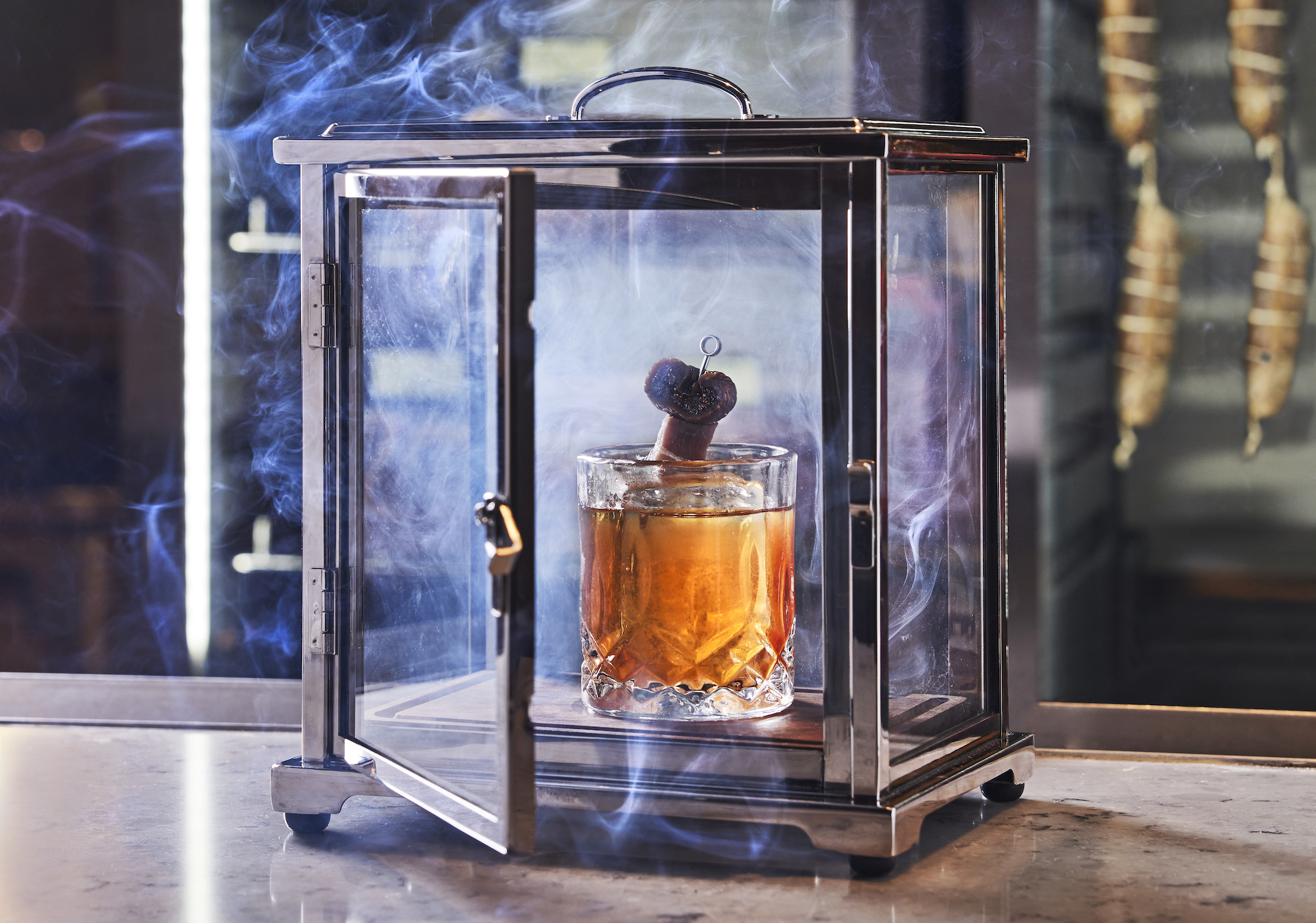 Like Stubborn Seed, the menu here doesn't have much of a theme beyond just things Ford's really into—and wants you to be, too. That includes dishes you'll love and others that might be a tougher sell, like the organic chicken liver mousse ($15) with tangy persimmon jam on toasted sourdough. Though a bit gamey, it's plated up with a bouquet of radishes and edible flowers so pretty it could probably convince even the skeptics to convert.
This theme continues down the menu, filled with things that seem aimed to deliberately test you. While most crudo in town tastes more like citrus than fresh fish, this Japanese yellow crudo ($26) is dry-aged for 48 hours until the meat becomes firm, almost steak-like—not fishy but more just tasting of the ocean, served with dried olives, an herbed leche de tigre and citrus segments, all of it somehow balancing well together.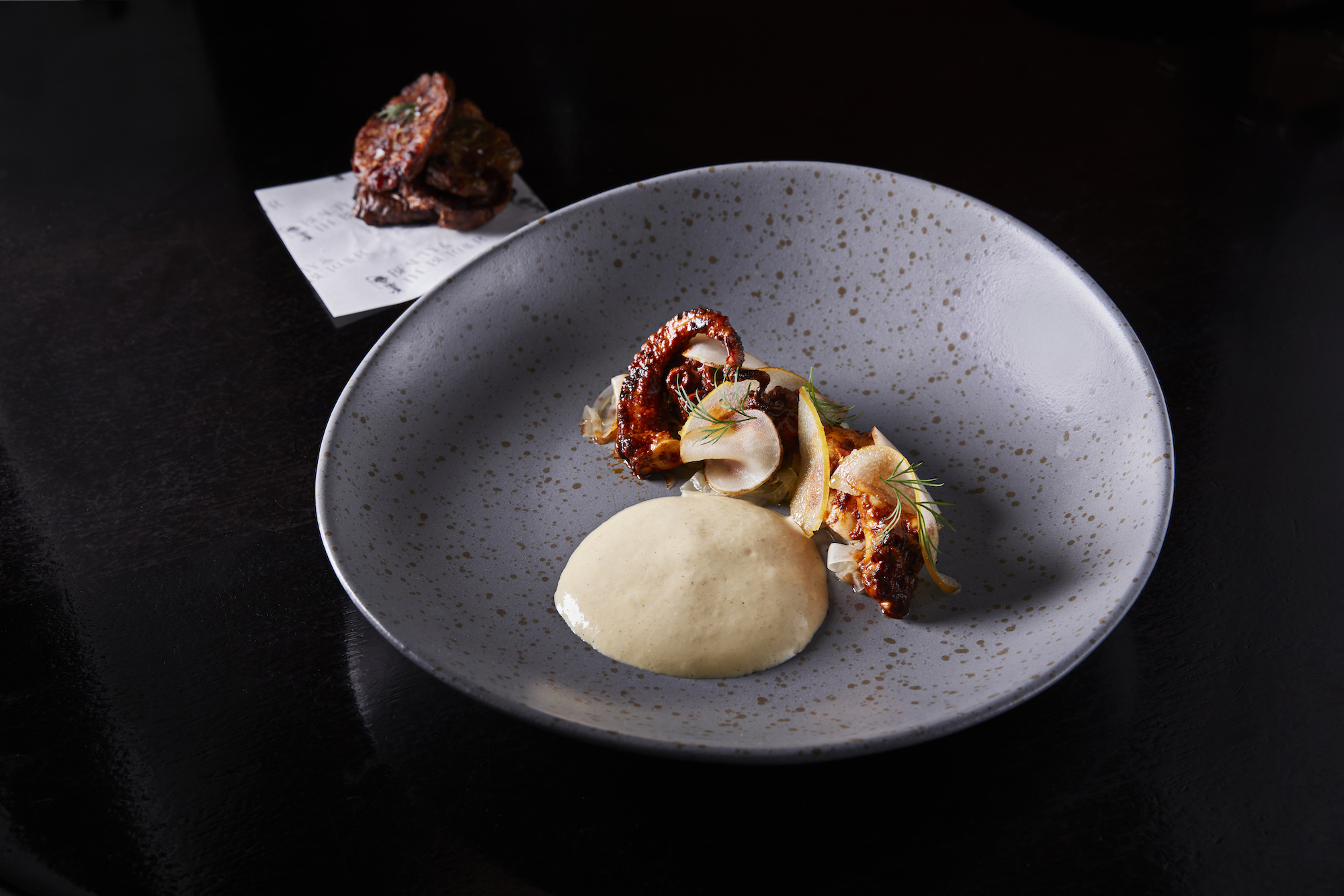 At times, Ford's throwing a lot at you, dishes packed with what seems like 100 ingredients. The local lettuces ($18) are layers of flowers and greens and radishes and herbs and a turmeric vinaigrette over a spiced yogurt—a bit too much all at once. Not a miss, though. While it's inarguably a lot of things, it might still be your favorite dish of the night, because each one of the ingredients there shines on its own.
Before we get back to that beef rib (yes, there's more), a few other dishes deserve mentioning. There's a fresh fish, branzino while we were visiting, its skin deftly crisped and served with a bright shaved celery salad and beans with Colombian chorizo, two nice accompaniments. The anticucho-style octopus ($25) is covered in a foamy aji amarillo sauce held behind a dam of crunchy veggies and greens that give the dish a colorful crown.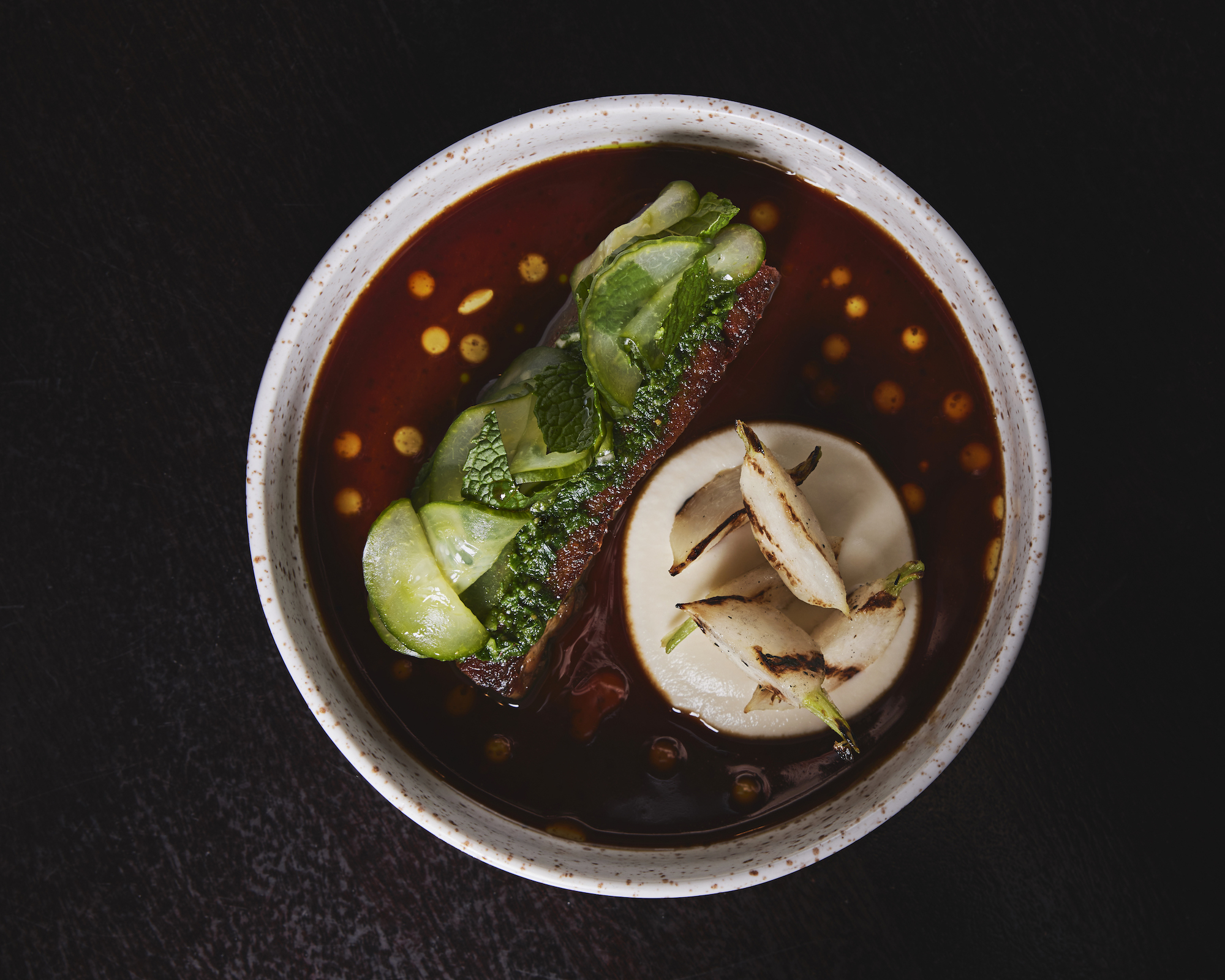 The jerk charred heirloom carrots ($18) arrive looking like an Art Basel painting: they're sliced into thin disks polka-dotting a bowl of herbs and pickled tomato, which hide hunks of stracciatella and more jerk-spiced carrots below. It's an entree-level vegetable dish, but still, those poor, delicious carrots were swiftly overshadowed by what was set down alongside them: the beef rib. Its barky char, the woody smokiness mixed with spices. Fork-tender. Every accompaniment emphasizes how good it is.
Dessert, after all that? It seemed impossible until we heard Ford had brought over Ana De Sa Martins, the pastry chef from Stubborn Seed, to handle the sweets. Here, she's serving up a rich carrot cake ($15), well spiced and with a nice crunch from candied carrot slices over the top. It's decadent—impeccable, actually. But then there's the Dutch Baby ($15), a baked pancake whose sides have been puffed up until crispy, encasing an excellent apple crumble, the whole thing drizzled with hot caramel tableside.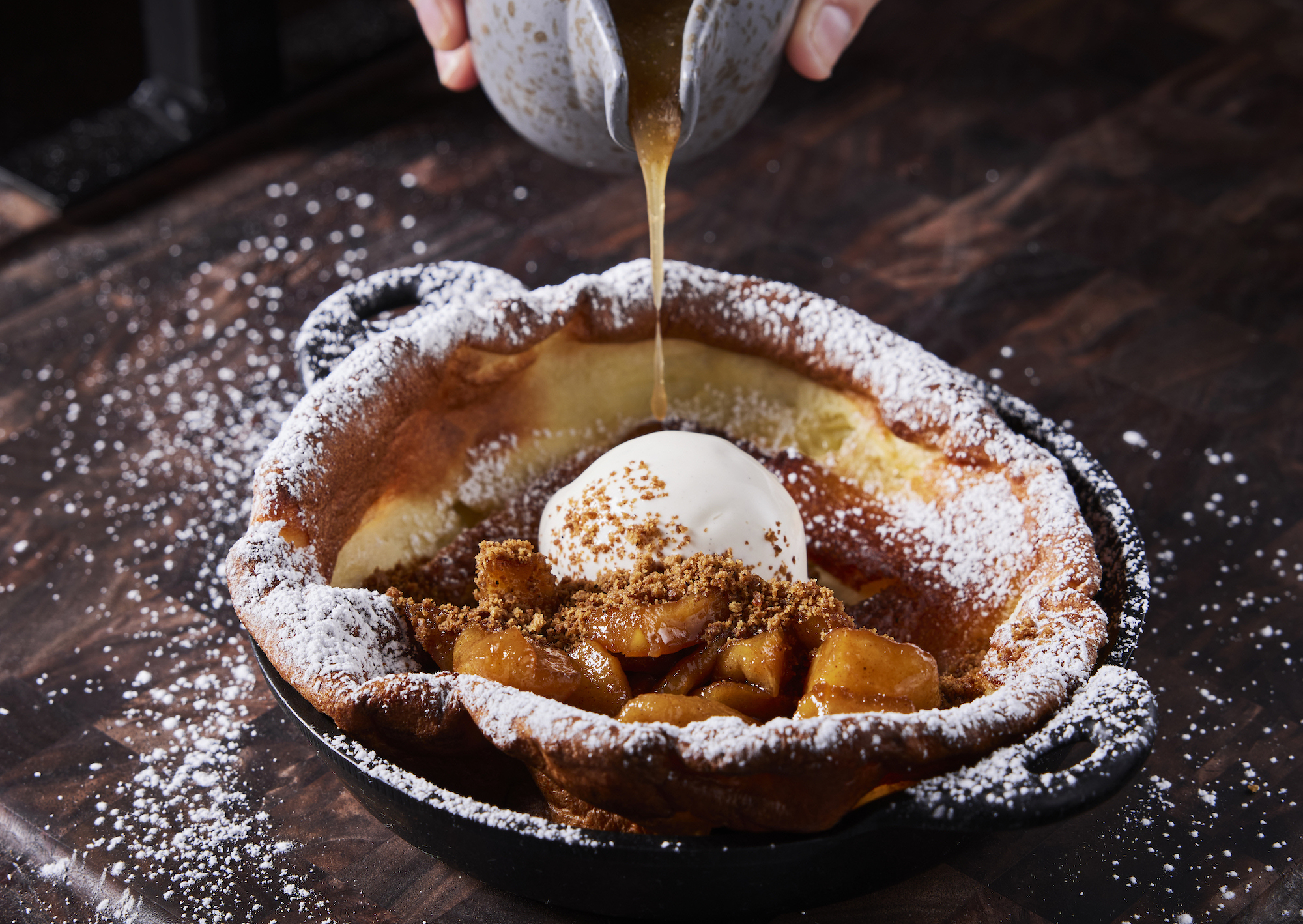 Is it all as good as the beef rib? Few things are. But even when Ford might be challenging us to try things we don't normally order, it's still clear that everything here is done with great command over flavors and ingredients, right down to the little measuring cup of caramel drizzled slowly onto what will be one of your last, very good bites.