I was on my way to use the bathroom at Upper Buena Vista, a Tulum-esque complex with trendy new-age concept shops and al fresco eateries along Northeast 2nd Ave, when I stumbled upon a cute little Israeli deli, Pica Pica Express, that I'd never seen before. I was hungry, it was aesthetic, so I walked in.
The staff was unusually buzzy for a Monday; people weaved from one counter to the next with nervous smiles, throwing around Spanish, English and Hebrew, from what I could hear. Before I could pick up a menu, a chef tatted from scalp to toe emerged from behind the counter.
"Welcome! You're our first customer!" he said.
"Of the day?" I questioned.
"No, ever!" he exclaimed.
And that was the start of the best Monday of my life.
This isn't a review of my great Monday, but it did happen to set into motion some truly memorable food experiences. Not only would I end up devouring a free sandwich that day, but said meal would be prepared by a newly transplanted MasterChef Israel winner, Tom Aviv.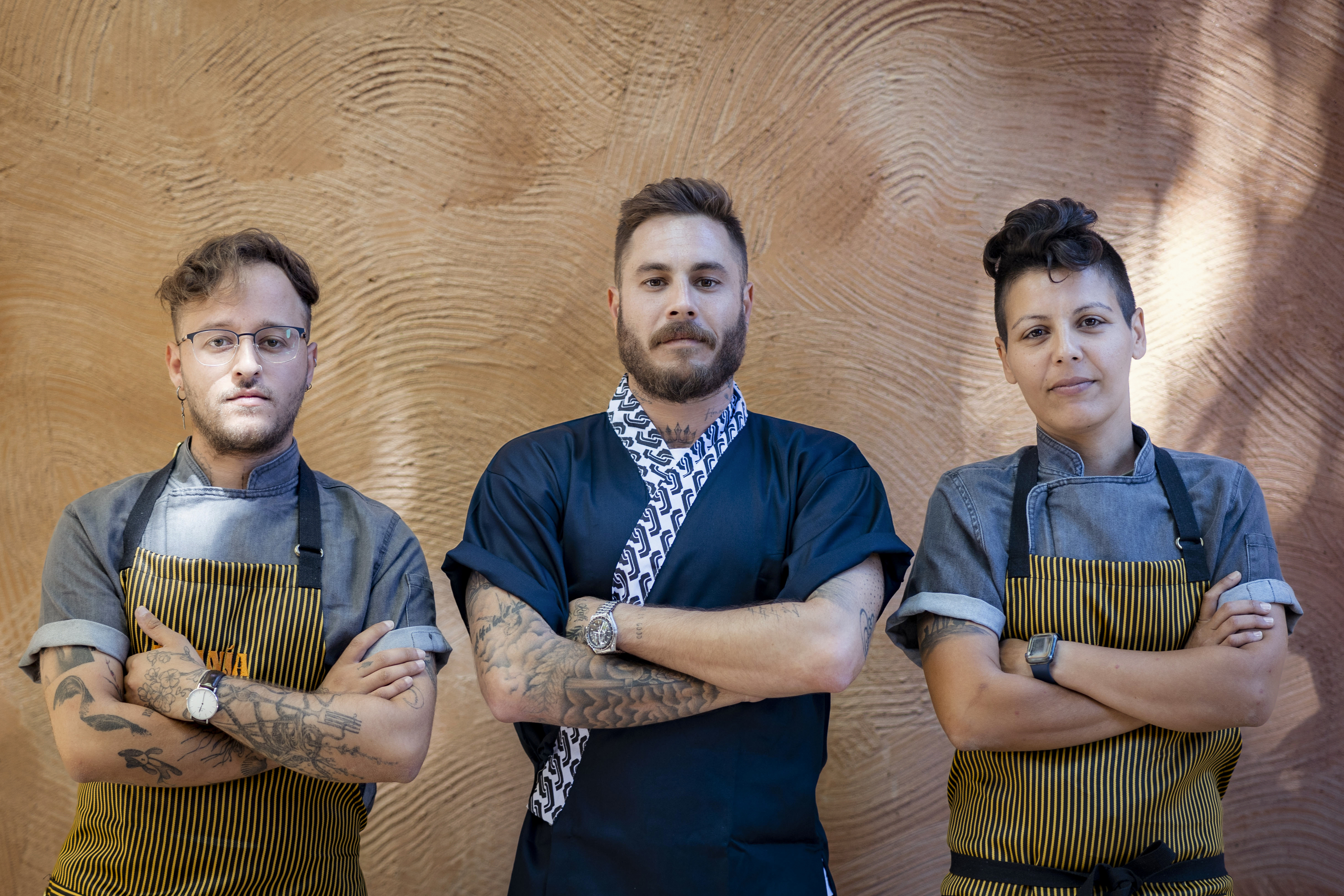 Over an incredible Ashkenazi/Yemenite-style egg salad sandwich and tabbouleh (his version is made with freekeh, lentils, feta and pomegranate seeds), I learned that Aviv's ties to Upper Buena Vista go deeper than a rental agreement: His family co-developed the eclectic shopping and culinary center. I also learned that Aviv didn't just come to the states to open up a sandwich shop. The full breadth of his talents would be expressed just footsteps away.
My head is usually up in the clouds. On this night, my stomach was too.
Branja is Aviv's first U.S. concept, featuring creative Israeli fare in a setting that's very much 1970s den on the inside, reclaimed industrial garden on the outside (let's give that stained glass steeple an Amen!). I booked myself and a friend a seat at its gilded counter (scored from The Delano's closing sale) for Aviv's Kitchen Confidential series, an intimate, multi-course prix fixe experience with a front-row view of the action.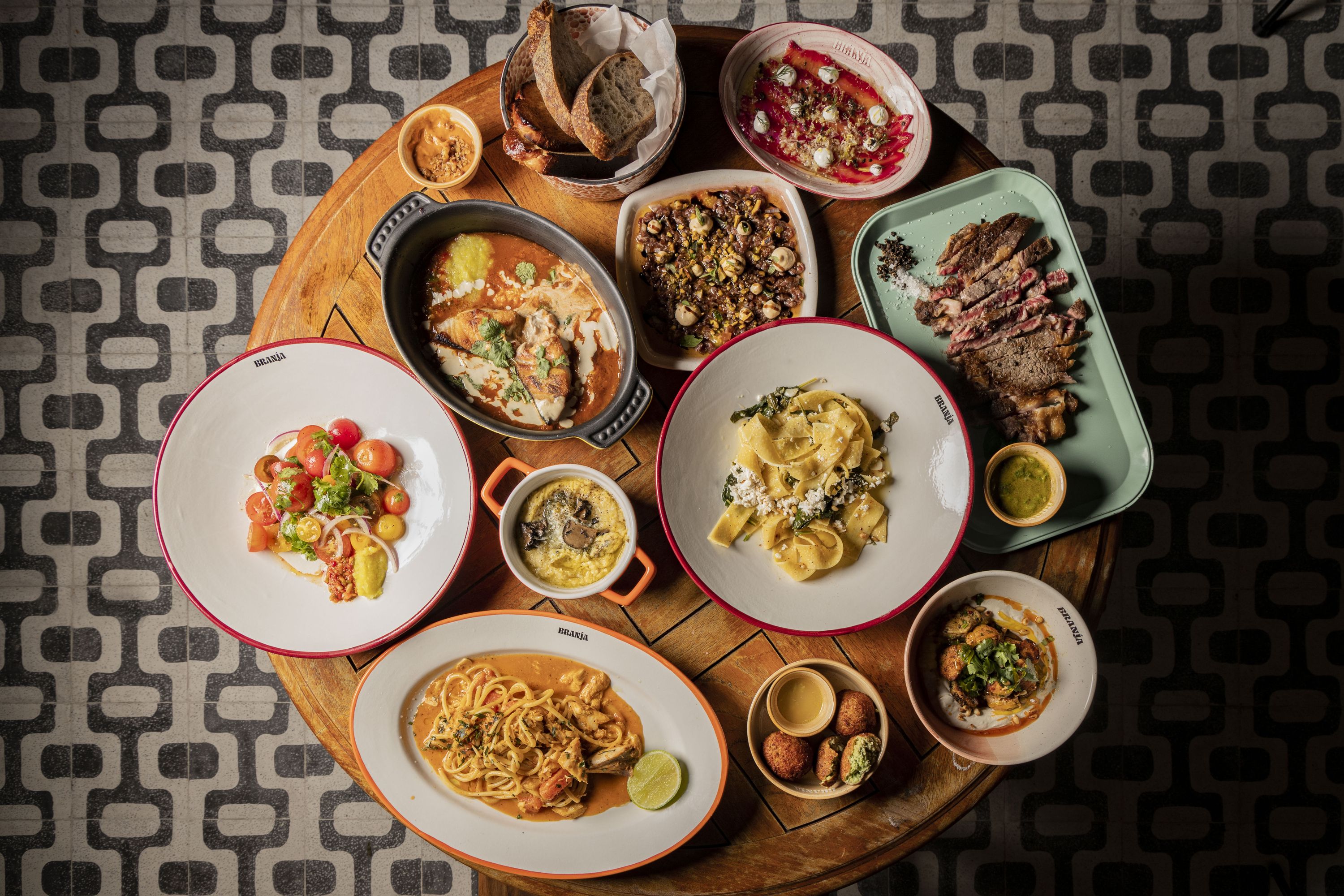 The meal began as most should, with a cocktail. Served in a mushroom-shaped glass, that night's grapefruit, lime and pineapple concoction was elevated by an unexpected sprinkling of cardamom and angostura. This bright start continued with strawberry gazpacho, which we were told took three days to prep and was as lovely as a winter morning at Knaus Berry Farm.
Whether you come for weekend brunch or dinner, the Fish & Bread ($22) is a staple menu item, and rightfully so. This is a savory, ceviche-style dish made with the day's catch, that you yourself whip up with herbs, balsamic glaze and a creamy aioli before spreading over a Pullman toast from Zack the Baker. We then jumped right into a deconstructed kebab ($38) followed by the Mama Ligua "Polenta" ($17), a souffle-like dish with truffle, leeks and parmesan.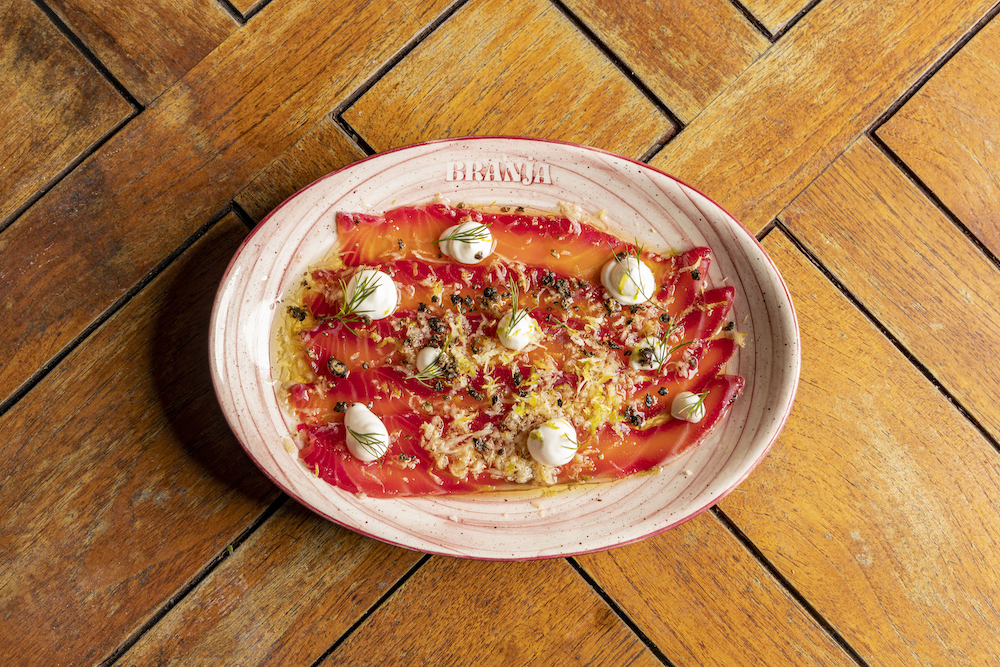 And this was all before encountering the star of the undisputed star of the show: the short rib-style cabbage ($13). How anyone could make such a mundane vegetable taste like a succulent bite of meat is beyond me, but that's why some win MasterChef. I'll admit, the waxy feel of the cabbage was not dissimilar to the latex gloves they tossed us so that we could dig in ("condoms for your hands," they said). But the complexity of the preparation—marinated and heated four different ways—really makes it something to savor.
Just when my stomach started waving the white flag to my brain, Chef Aviv sent out one more dish to cap us off on the savories. The name eludes me and my notes, but it was a deliciously comforting snapper wrapped with lemons, veggies and sage. It was a homey dish, one to be enjoyed by a table over Sunday brunch.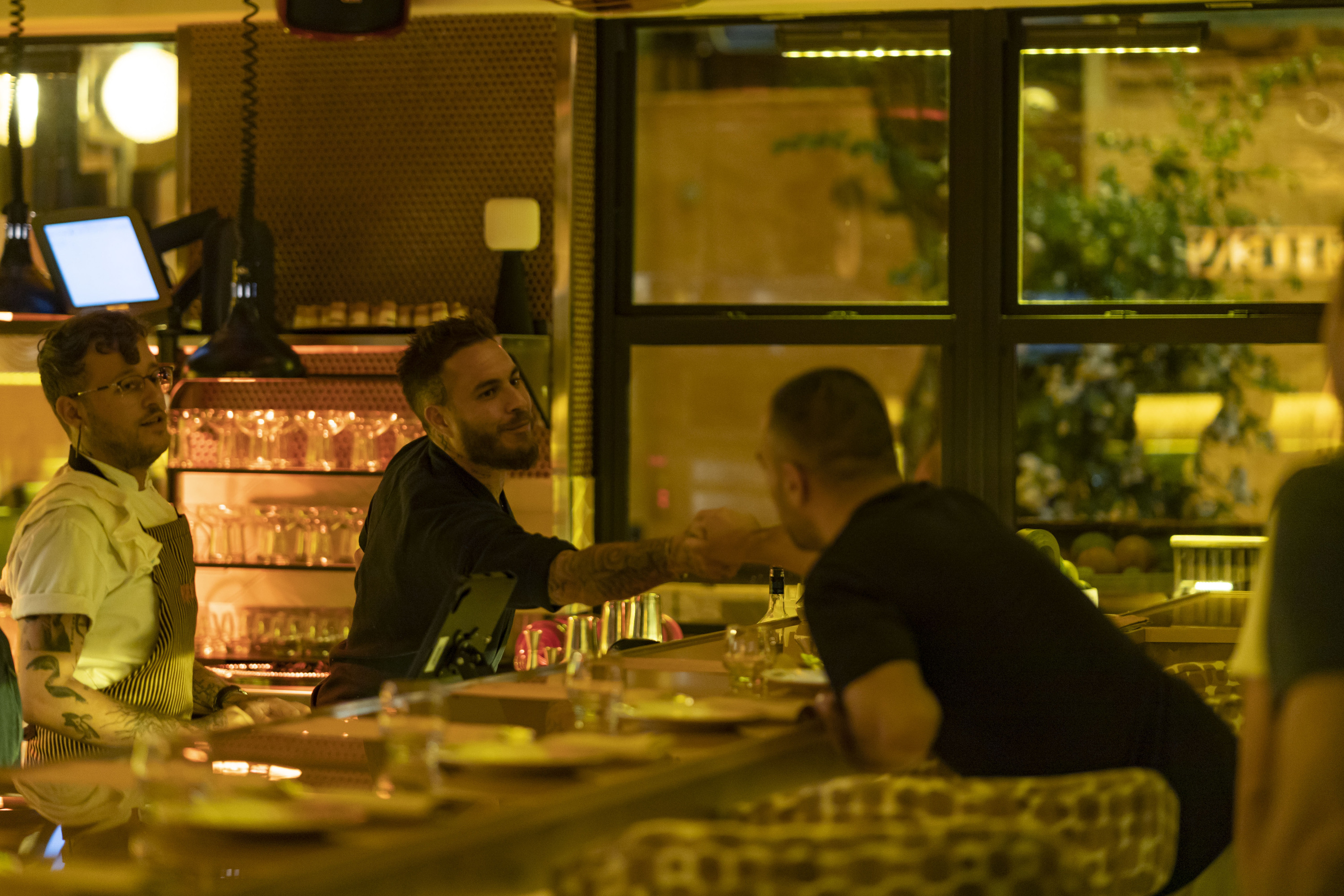 As the savories digest, let's take a moment to focus on the wine pairings. Like the food, they completely broke tradition by going from red to white. The fish and bread were paired with a chilled Israeli red, both soft and supple with a deep underbelly. The polenta paired nicely with a French sparkling brut rosé and the latter dishes, like the cabbage and fish, were complemented by a nutty chardonnay from Washington State.
We enjoyed a group toast of Arak, a traditional anise liqueur, and Aviv said some words. Then, we all went to heaven. The Layali Beirut is an airy semolina cake ($13) sprinkled with delicate edible flowers and protected by a moat of figs and pistachios in a creamy rosewater sauce. My head is usually up in the clouds. On this night, my stomach was too.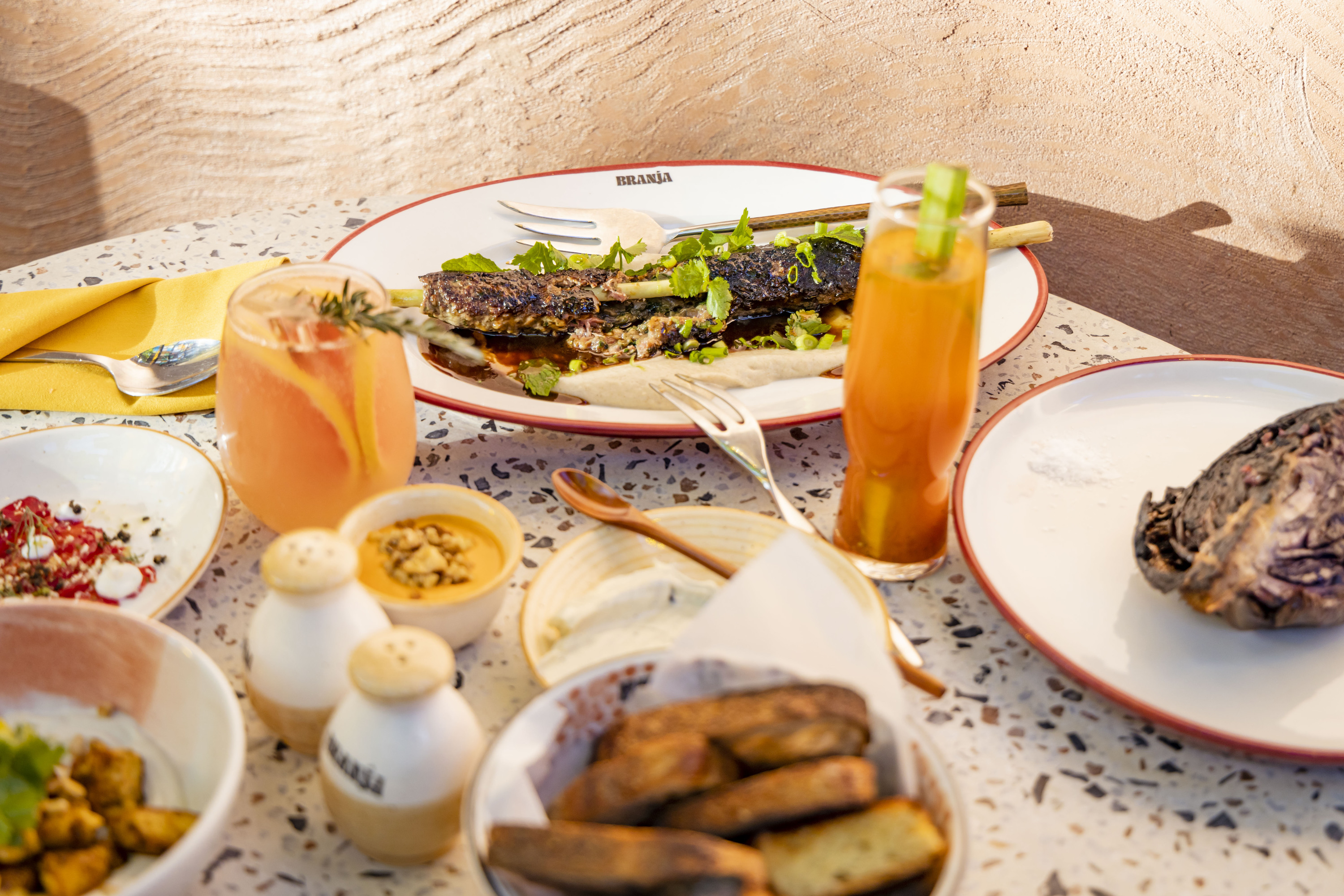 There's no better way to enjoy Aviv and his team's mastery than at the counter, where they're quick to pop in to describe the inspiration behind each dish, or how it was made. Not to be missed this season is Branja's "Don't Call Me Brunch" weekend service, served al fresco in the magical outdoor courtyard. It's $47 per person and includes three courses or the option of shared plates. I'll definitely be returning to take advantage of our delicious Miami winter. Until then, I wish you many happy Mondays. Mazel!