As of this writing, every meal at Erba begins with a candle of garlicky butter carried to the table with slices of focaccia. Our knives just about clanked as we smeared each morsel with the melty butter, the fragrant rosemary sprig wick flickering at the candle's center. Gimmicky perhaps, but also brilliant: right off the bat, this meal feels precious (and tastes delicious).
I'm predicting we'll likely start to see butter candles everywhere, so maybe they won't stick around at Erba forever. Because everything here, from chef Niven Patel's Italian-inspired creations to the restaurant's luxurious, handcrafted aesthetic, has been specially designed to feel, well, special.
To find Erba, look for the glass doors painted with cherubs riding hounds (there's no sign out front). Inside, the moody vibe comes courtesy of warm lighting, elaborate mosaic tile floors, richly hued textiles and dark wood paneling layered throughout. An opulent glass chandelier hangs at the room's center like a frozen waterfall.
The menu is an homage to the time Patel spent in Florence. Like at all his restaurants, the acclaimed chef uses vegetables grown at his own farm here and flavors them with a deft hand. The eggplant, for example, is marinated in fennel, chiles, shallots and rosemary, served at room temperature and adorned with a few leafy herbs.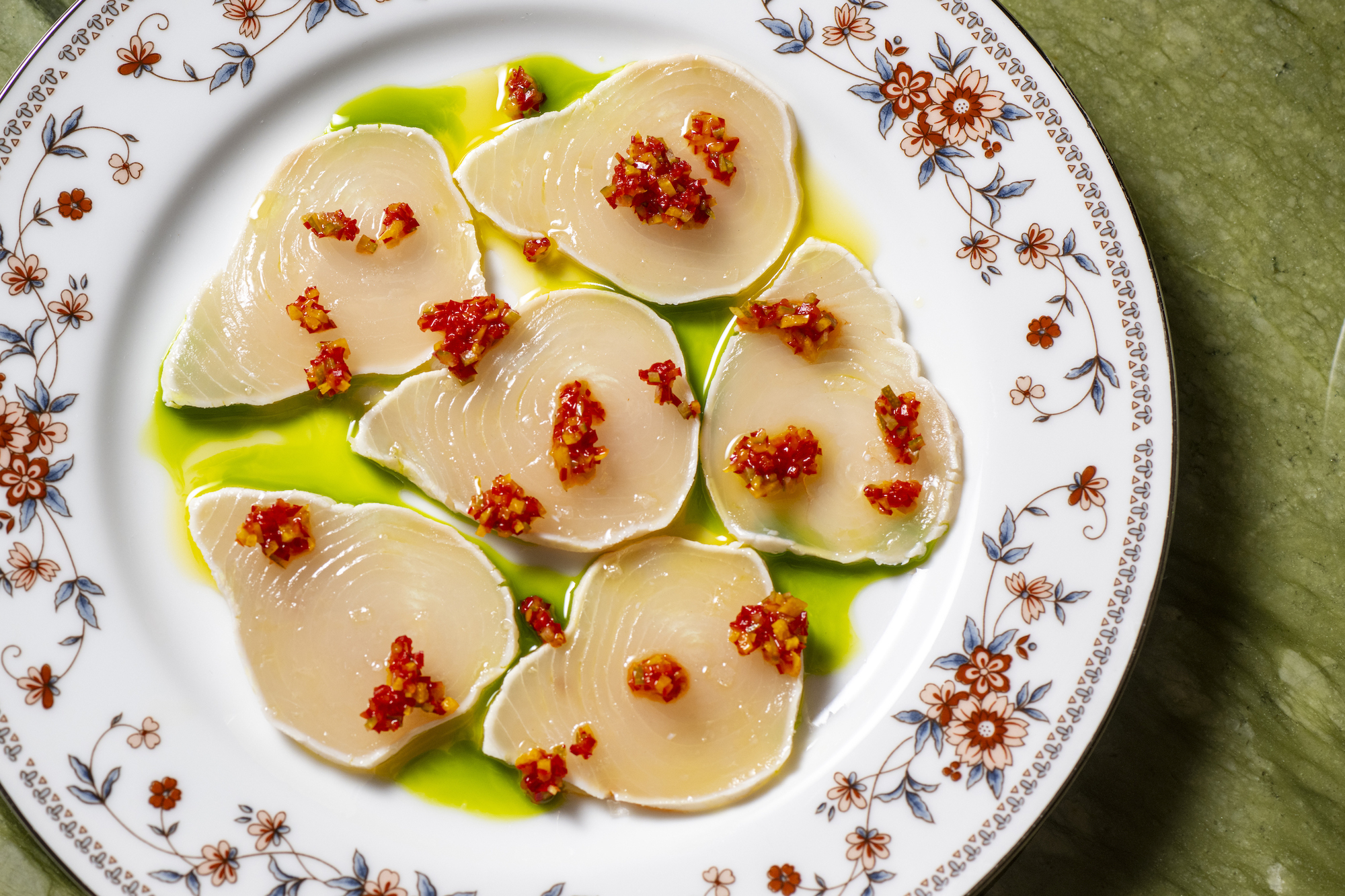 The wahoo crudo comes served as seared slices fanned out like islands, each one populated with little orange segments and Fresno chilis, all floating above a pool of herbed oil, none of it overpowering the delicate flavor of the fish.
As for the mains, the Mishima Reserve Denver Steak is a well-seasoned beef chuck cut that gets a topper tableside of bone marrow and salsa verde, served with buttery turnips. The Ora King Salmon arrives with a cracker-crisp skin and a sweet sunchoke puree that's all pretty spot-on.
The next section of the menu is dedicated to pasta, including a tasting menu option, with the kitchen picking six samples for $45. We went a la carte and got the agnolotti, perfectly al dente parcels in a beefy broth with hunks of beef cheek dotted here and there. Our second pasta was the ravioli, bursting with velvety ricotta stuffing and covered in a creamy sauce dotted with nutmeg and white truffle bits.
That ravioli got us thinking about the prices at Erba, which run from reasonable (like $18 for the eggplant and $38 for the ravioli) to exorbitant (like $62 for the steak). Just know that if you're headed to Erba, everything here, including some of the prices, calls for a special occasion.