There was a time when you wrote off Bayside Marketplace for a number of reasons. It's a place to bring out-of-towners when you don't know what to do with them. The mall itself is attached to the unofficial parking garage of American Airlines (now FTX) Arena. More than anything, it's been a place you generally avoided if throngs of daiquiri-happy cruise goers weren't exactly your thing.
La Cañita delivers elevated Latin-Caribbean fare with an ambiance and view to match. It's where you go when you're craving La Trova but want a little room to breathe and converse.
Michelle Bernstein and husband/business partner David Martinez (of Café La Trova and Sweet Liberty and fame, among numerous other concepts) have brought us a restaurant that's unpretentious and welcoming, connecting us with the cuisines of Cuba, Jamaica, Trinidad & Tobago and Puerto Rico.
The interior is designed to feel like a rum distillery with columns skinned as copper pot stills, palm-print wallpaper and a glorious tiled bar with floor-to-ceiling shelves of top-shelf spirits and an extensive rum collection. Couples and solo travelers sat on bentwood bar stools sipping mojitos and soaking in the rhythms of the bongos and guiro as a live band belted out all the old-school Cuban hits.
The outdoor terrace boasts a glistening panorama of the marina, port and Bayside's giant ferris wheel (SkyView Miami), and we were torn on whether or not to enjoy the view or join the party indoors. Drawn in by the music and spontaneous clusters of salsa dancers, we chose the latter.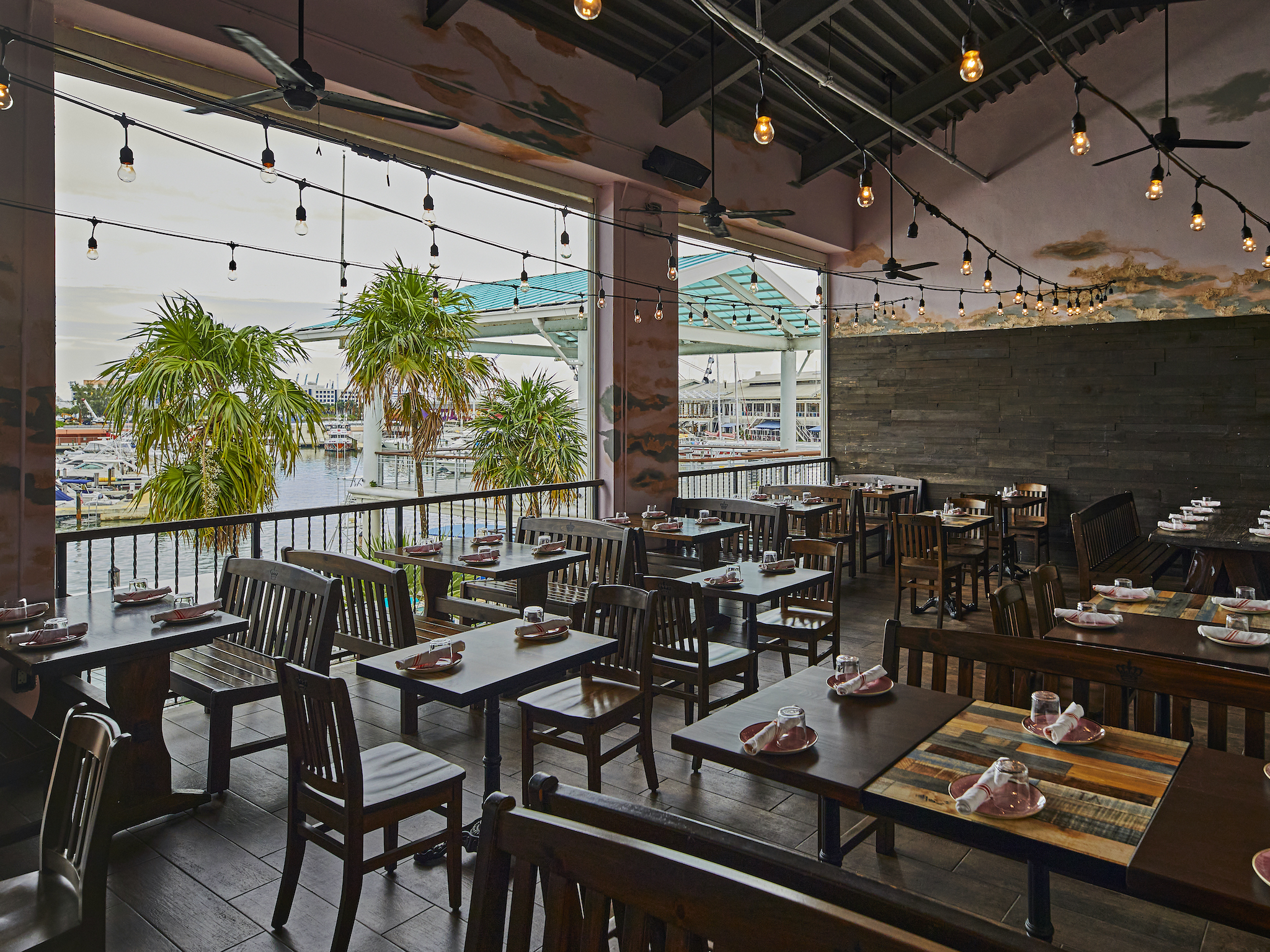 As for food, La Cañita delivers. Stand-out items include the indulgently gooey conch fritters, dusted with powdered cayenne sugar; and the Jamaican jerk-kissed chicken wings, which were tiny, mighty and so juicy they almost popped off the bone. Bernstein's world-famous arroz con pollo, made with her mom's secret recipe, has been a staple at all of her restaurants since the Michy's days, and while we were told it was slightly tweaked for La Cañita, it was still as soul-satisfying as ever. This really is Miami's best arroz con pollo.
We gave the two-item vegetarian menu a spin by ordering the vegan mushroom and farro picadillo with white rice and plantains. It had a comforting consistency, spiced in the same warming way a fall dessert might be and left us happy but not overly stuffed. The watermelon caprese salad was a nice counterbalance to the rest of the meal; refreshing and light, it surprised us with its complex tartness. Being so close to the bay, we were inspired to order the whole snapper. It was large, it was fried, and it was good. The menu offered up other Cuban hits done to Bernstein standards, like lechón asado, a ropa vieja sandwich, chicken fricassee empanadas and shrimp creole.
Being so close to the bay, we were inspired to order the whole snapper. It was large, it was fried, and it was good.
As for cocktails and drinks, the menu skews sweet and tropical, executing the standards splendidly. Then again, what else would you expect from a bar team led by La Trova cantineros Davide Borgia and Orestes Pajon. The piña colada, made with a secret rum blend, was sumptuously creamy and absolutely perfect, while a rosemary-infused Woodford old-fashioned balanced piney notes with just a hint of sweetness. The showstopper, however, is the rum runner. Served in a pastel-trimmed ceramic barrel, it's the poster child for what all rum runners should taste like. There are five different versions of mojitos, as well as a full martini menu touting Cuban versions like El Presidente and Hotel Nacional. There are also other refreshing options like the caipirinha, Mai Thai, berry mule and Palomar for tequila lovers who love elevated takes on palomas.
It'll be hard, but save room for dessert. (This is a restaurant called "little sugarcane," after all.) The 305 rum cake is marvelously moist and sprinkled with glazed fruit and while the papaya adorned "flan de flaca" won't leave you very flaca, it will leave you happy, and that's what counts. Oh, and if you grew up eating pan con timba (or just flat out love guava) wash it all down with the Pan Con Timba martini, a creamy dessert drink that will send you off on a giddy note.
While the papaya adorned "flan de flaca" won't leave you very flaca, it will leave you happy, and that's what counts.
As our meal progressed, tables around us moved like Tetris blocks to accommodate large parties, mostly families, who were either ending their meals with a birthday candle or just having a casual end-of-weekend meal, shopping bags in tow. As the music of halcyon Havana days played on, I felt a wave of optimism. If Bayside Marketplace could change for the better, so could anything, and from where I was sitting, the future looked bright.