Back when it closed during the pandemic, Anthony's Runway 84 was old enough to be a retired postal worker. A generation that grew up in Broward went there with Nonno and Nonna to have mussels and family-sized plates of cauliflower rigatoni. They giggled at the plane fuselage in the middle of the room and decor that felt like the waiting area of a 1980s Disney ride.
The pasta was al dente, the Sunday gravy was reliably good and, for the regulars, the been-there-forever staff made it feel as welcoming as a visit to an Italian grandmother's house.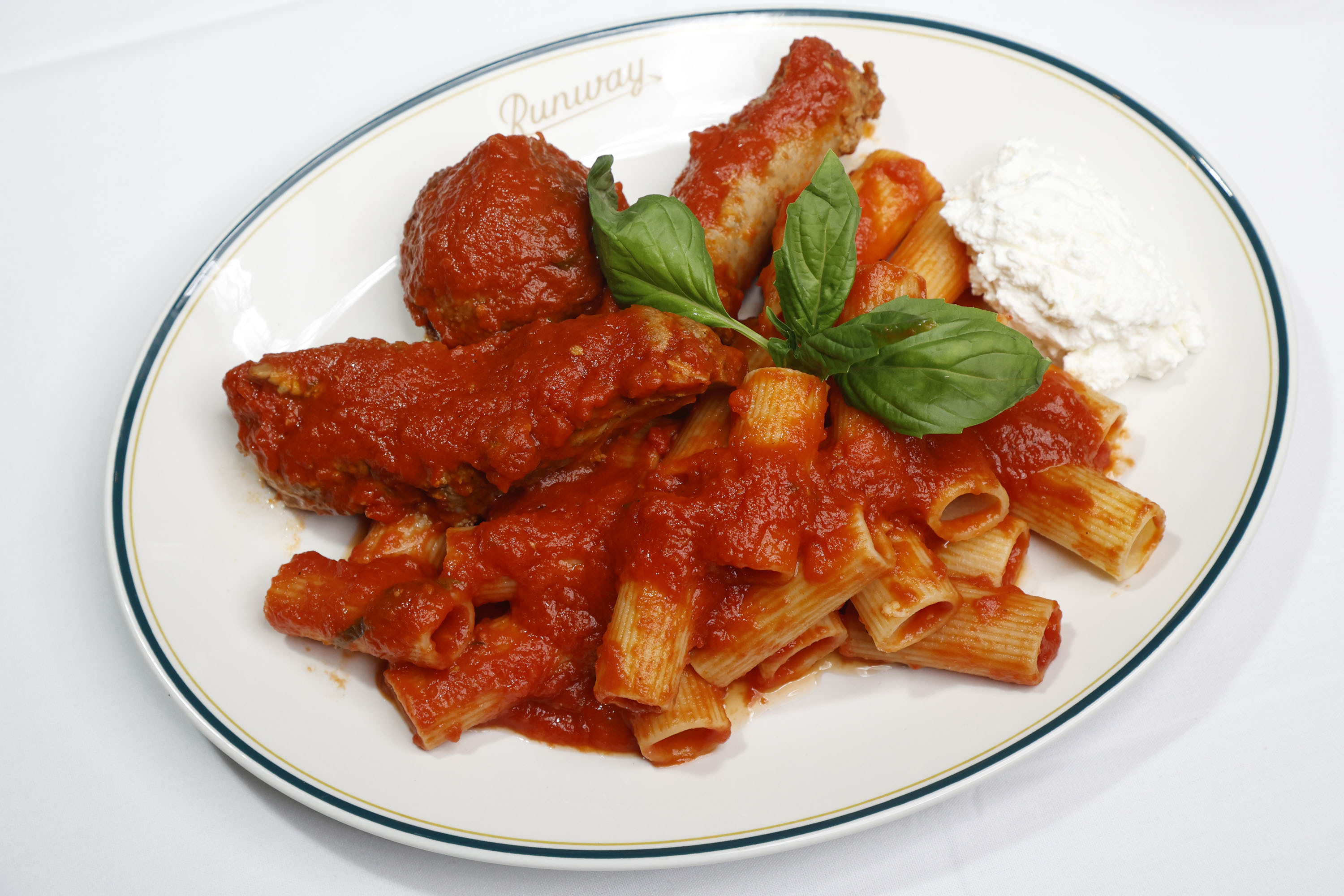 It wasn't a concept that could survive serving takeout during the pandemic, so owner Anthony Bruno wondered how he'd keep the place going. That's when restaurateur Marc Falsetto came in with an idea: an Italian supper club with nightly live music and a design befitting of a mafia movie backdrop.
Actually, he had an exact clip in mind as inspiration for a reenvisioned Runway: the one-shot scene from "Goodfellas" where Henry heavy-tips his way past the line outside Copacabana, whisking Karen through the kitchen to an open table lifted above the crowded room and set up just for them. Falsetto wanted a place that'd make people feel that special. Bruno liked the idea so much that they decided, along with restaurateur Pat Marzano, to partner up and make it a reality.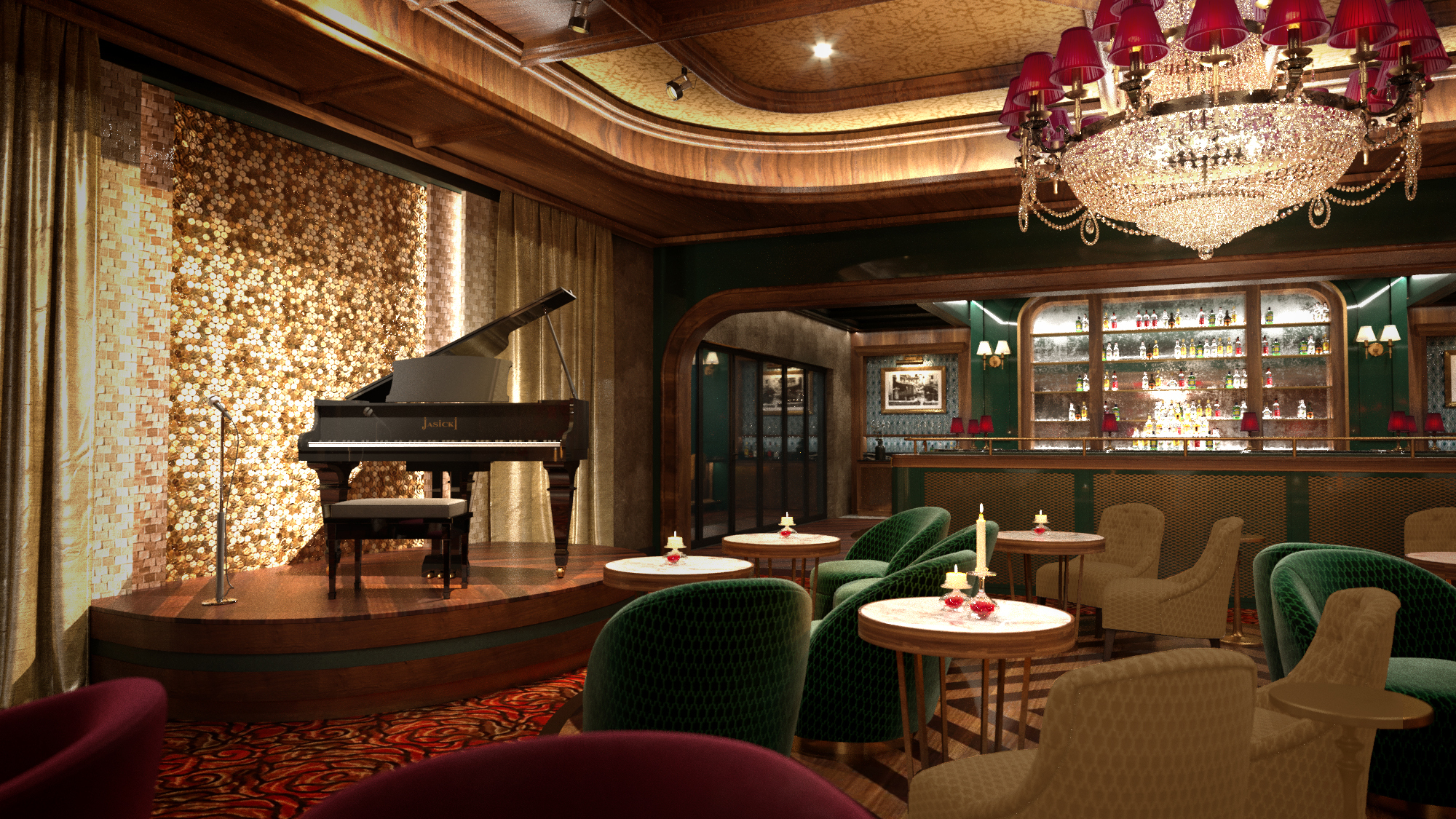 The restaurant reopened in early 2023 with a shorter name and a lot to live up to: Please the regulars and impress the newcomers who've already been introduced to a similar concept in Carbone, where the point isn't just supper but making a meal feel like a celebration. The new Runway 84 competes with any of those big-monied New York exports, a Mad Man fantasy played out with aged steaks and macaroni and embellished tableside presentations. Runway 84 is the capo who rises up to become don.
These are cuts that are dry- and wet-aged so long they ought to be paying rent.
It's like that from the first steps into the place. Gone is the airplane museum theme, replaced instead with big-enough-for-six booths along the wall and tables in the center spread over in thick white linen. There's floral wallpaper, lots of moody maroon and dark green accents and brass handrails separating things, all feeling like the finest restaurant from 1950s Bensonhurst moved south, brick by brick.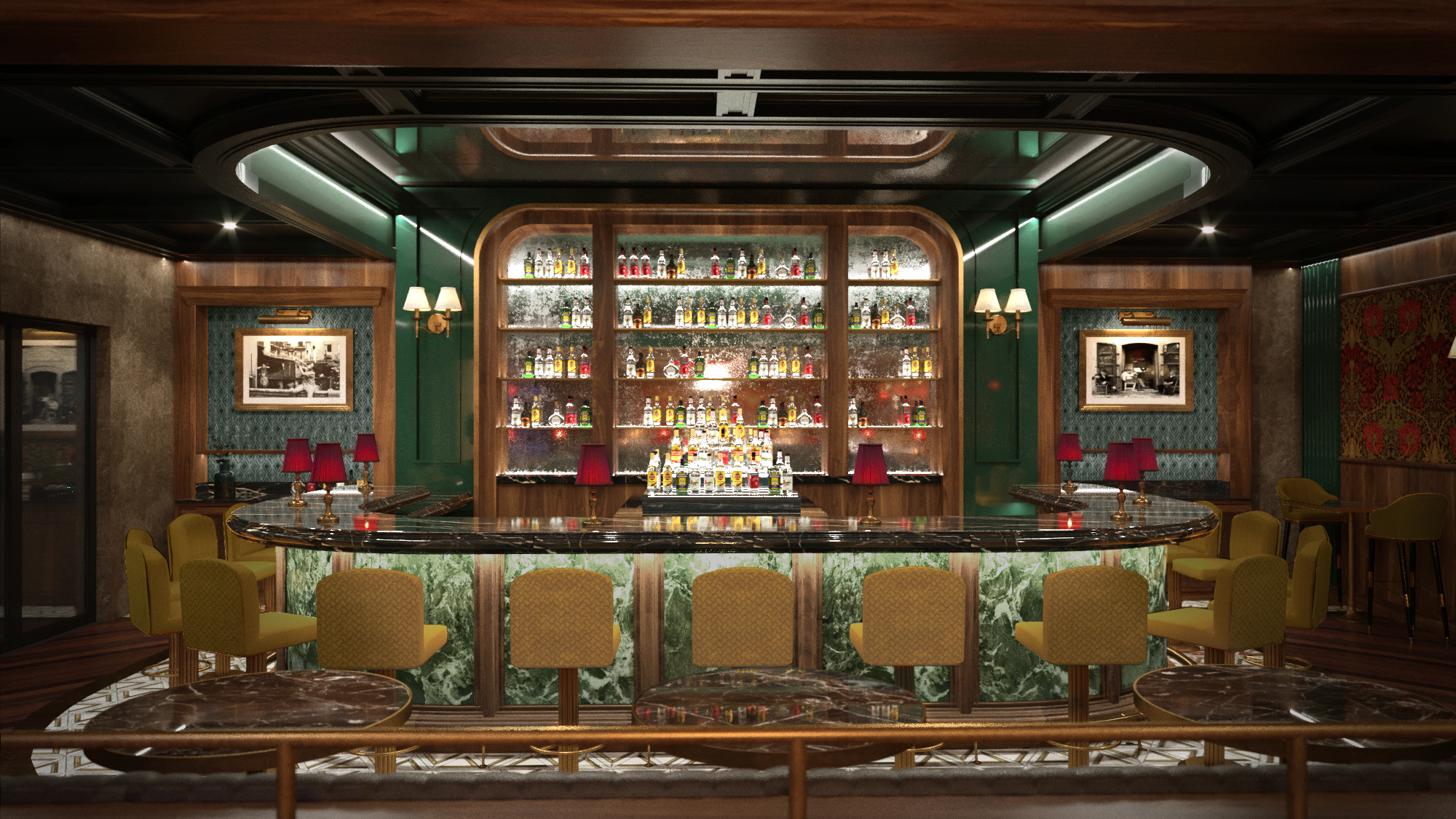 The backlit cutout behind the bar rises up to the ceiling, full of pretty bottles, and there's a stage in the center of the dining room where bands play classics beginning at 8:30. The aviation nods are subtle now, little jetliners on the corners of the cocktail napkins and among some of the old photos that cover the walls. You might spot Bruno and Falsetto, surely decked in suits with no ties, along with a cadre of jovial table captains and maître d', "how-you-doin'" their way through the dining room.
The comparison to Carbone isn't off base here, as Falsetto says he took lessons from Major Food Group restaurants. That's evident in the waitstaff, pros who know how to slow-pace a meal, how to recommend a Chianti, how to make every eight-ounce martini and plate of baked clams sound like an excellent idea.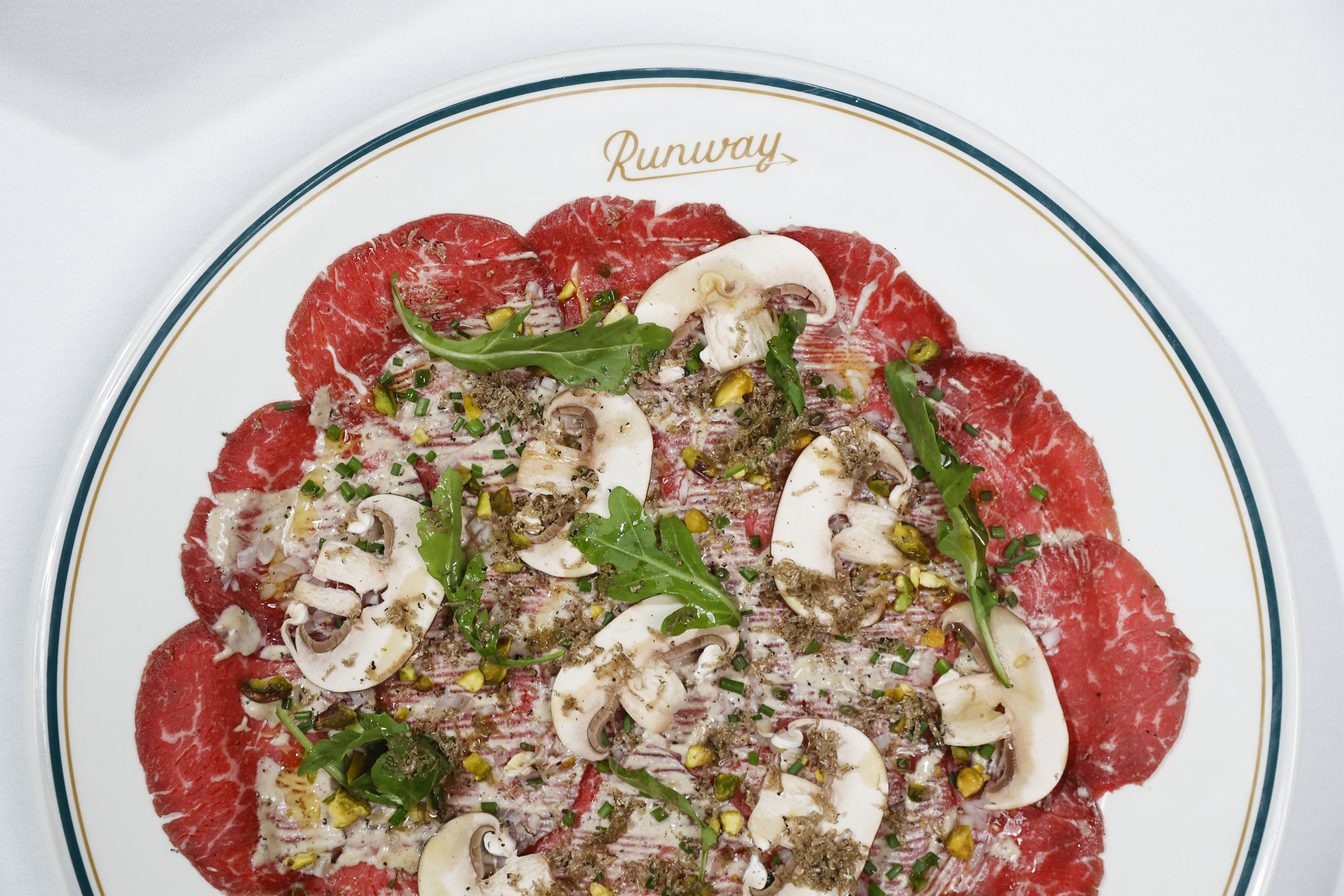 The menu is similarly familiar but updated, inspired by or at least reminiscent of the old Anthony's Runway 84. There are still the dishes regulars expect—that cauliflower rigatoni, the absolutely huge "Sunday feast" plate, the little grandma cup of garlic butter served with the crusty hunk of bread to start. But Falsetto says they rethought every ingredient, like swapping in aged parm and prosciutto, ricotta salata shaved atop the tableside caesar just for something a bit different, and better.
The new items aren't classics like the rest of the menu, but they could be someday. The carpaccio is a thin-sliced wagyu filet, arugula, parm, pistachios, chives, raw mushrooms and a shaving of black truffle. It's worth the trip alone, that dish, but then there's also the twice-baked potato, a big Idaho boy hallowed out, filled with mash, topped with black truffle and served amidst a glorious cacio e pepe sauce.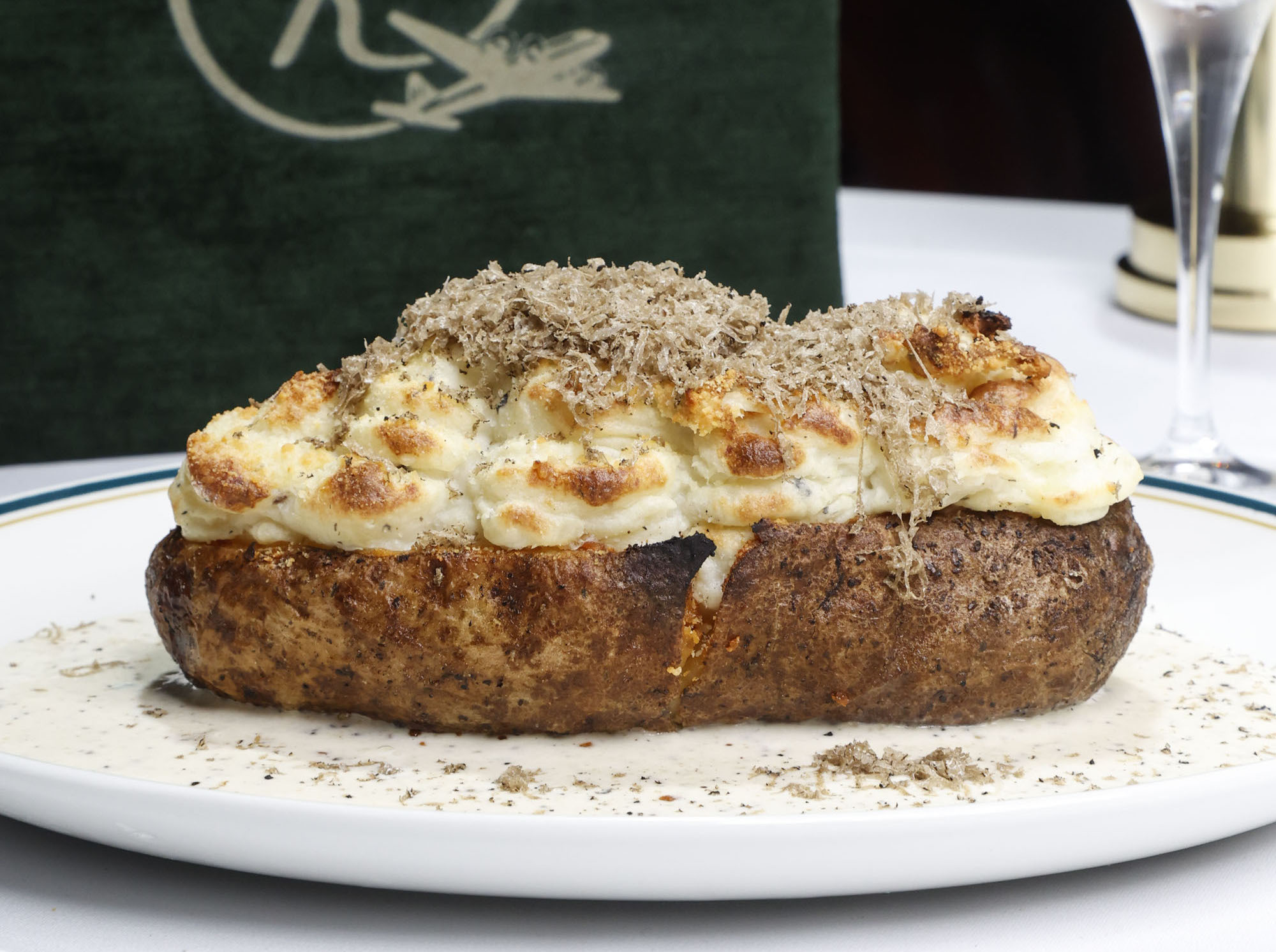 Steaks are making their debut on the menu here for the first time, and Falsetto says it's been his mission to make them exceptional. He interviewed purveyors, Chicago outfits and far-flung farms, before stumbling on the guys who provide the same cuts to Brooklyn's Peter Luger. The end result: steaks equal to the ones served at Luger's—big words, we realize—but these are cuts that are both dry- and wet-aged so long they ought to be paying rent. They're richly flavored, well-marbled without gristle, charred until the outside is blackened, the center warm and pink. These steaks are friends of ours.
All of it, though, serves as foreplay to a dish that's not even on the menu, dreamed up by Marc's wife and wine industry pro Danielle Falsetto, who curated the revamped drink lists. It's a breaded, bone-in veal chop that's fried until the corners are as sharp as a well-pressed dress shirt, the rest of it slathered in an oozy alla vodka sauce, dotted with peas and prosciutto and covered in islands of melted mozzarella. Named after its creator, the Danielle is a dish that, we're predicting, might just end up on Carbone's menu someday.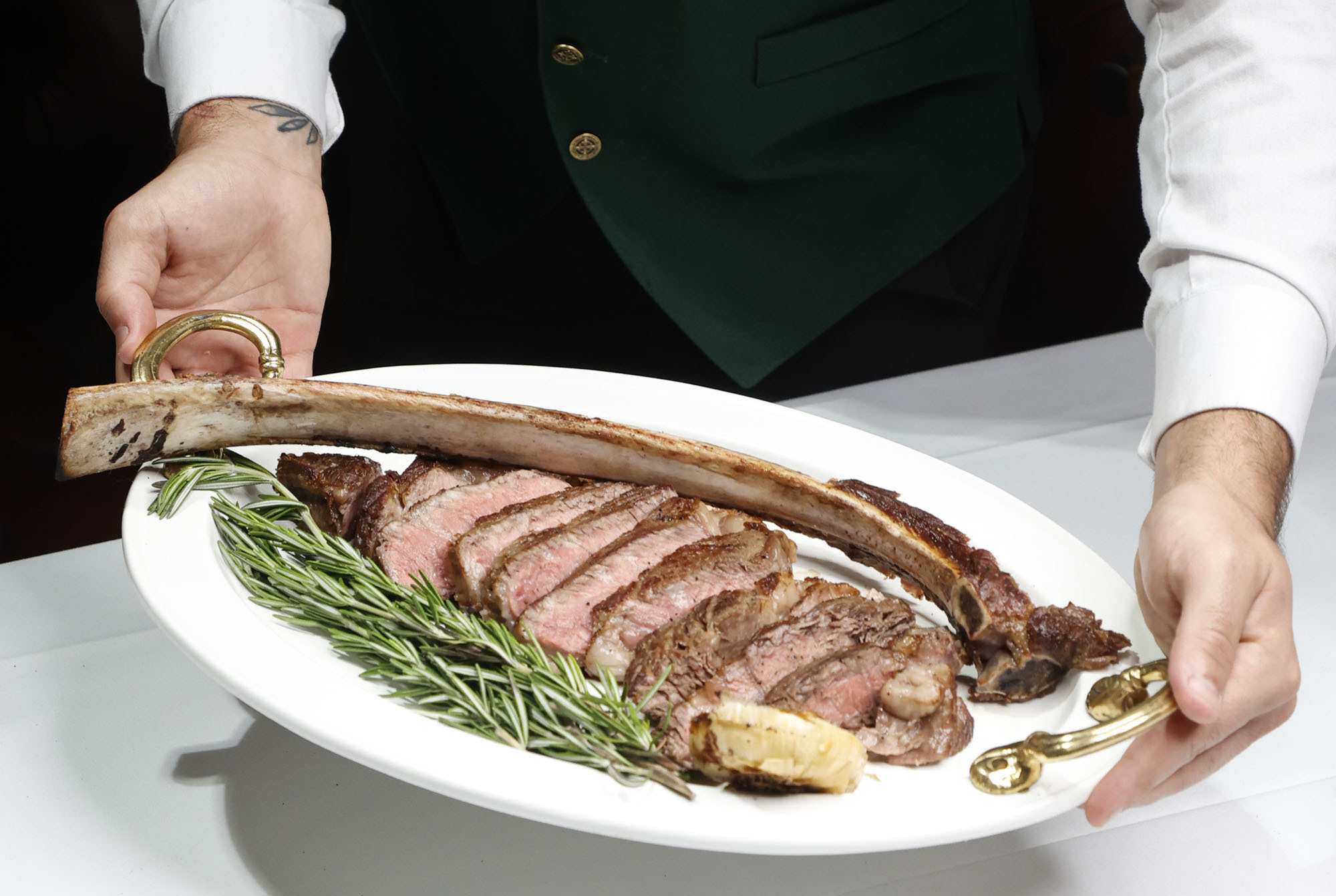 Desserts are what the Goodfellas would expect: cheesecake, tiramisu, a supper club sundae, affogato. We'd suggest the chocolate-chip-dotted cannoli and biscottis from Brooklyn that, after dinner, ought to be dipped in wine.
One of the men in a suit with no tie stopped by not long after that plate of sweets arrived and asked, "You all right, fellas?" Yeah, we're good. We're very good.