Food Envy: Norman Van Aken's shrimp ceviche
We've been eating a lot of food at Time Out Market Miami, and now we're dishing on some of our favorite plates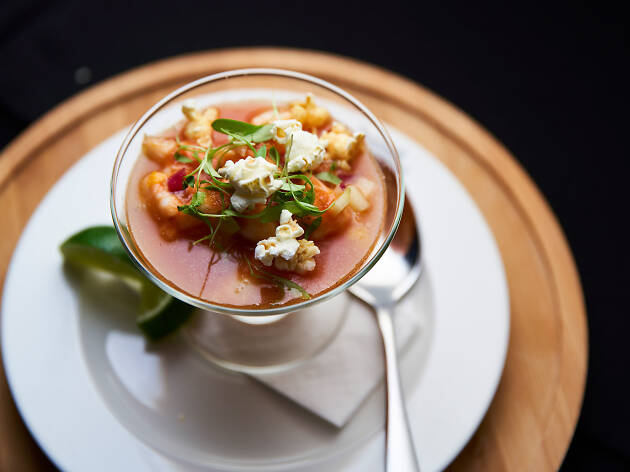 Welcome to Food Envy, where we'll highlight different dishes from Time Out Market Miami that we think you're going to love—partly because we do. This week, a bright, refreshing ceviche from the great Norman Van Aken.
RECOMMENDED: Guide to Time Out Market Miami
Ceviche is to Miami what the hotdog is to Chicago. We've got a lot of it and—for the most part—it's all pretty good. But of course the gap between good and great is a wide one. Norman Van Aken's Shrimp ceviche 'salsa of life' lands clearly on the great side.
It's so light and refreshing, you feel like you could eat a bucket of it and still do jumping jacks in a sauna. The star of the show is the fresh shrimp, which is cut into chunks and given a bath in a lovely sauce of tomato, citrus and charred peppers. It's finished with a sprinkle of popcorn on top, which adds a really nice textural contrast to the whole thing.
It's kind of perfect for Time Out Market because you can start with it (or, even better, split with a friend) and still have plenty of room to try some of the Market's heavier dishes—which you will want to do very, very badly. Or use it as a pre-beach snack if you don't want to hit the sand with a food baby.
Want to see some more options at Time Out Market Miami?
You'll want to come back and eat at every single one