Food Envy: Yasai bowl at Wabi Sabi by Shuji
We've been eating a lot of food at Time Out Market Miami, and now we're dishing on some of our favorite plates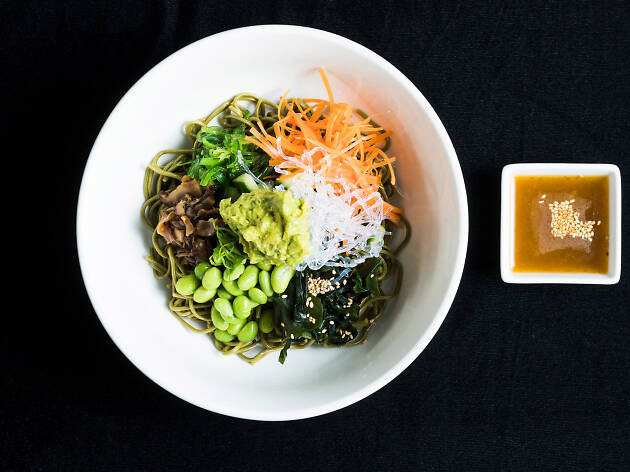 Welcome to Food Envy, where we'll highlight different dishes from Time Out Market Miami that we think you're going to love—partly because we do. This week, a perfectly balanced bowl from Wabi Sabi by Shuji.
RECOMMENDED: Guide to Time Out Market Miami
Lunch is tough. Too much of the wrong thing and all the sudden you're falling asleep during that rather important 3pm conference call. But also, you want something delicious, right? You've been up since 7am, damnit, and you've earned it.
Such was our dilemma—but then we stumbled on Wabi Sabi by Shuji's Yasai bowl on a Monday afternoon in Time Out Market Miami. This was right after a rather long weekend of eating like a toddler who'd stolen a credit card.
And—let us tell you—this was a gift from the food gods: fresh, clean but ridiculously tasty. The Yasai bowl sees cucumber, seaweed, avocado, shiitake mushroom, carrot, radish and scallion laid atop a base of your choosing (we went with sushi rice). The shiitake mushrooms are tender and you get a little bit of all the ingredients in every bite if you do a light mix of your bowl with the chopsticks. This is one we'll for sure be coming back to every time we want a meal—lunch, dinner or anything in between. And at just $11, it's one of the best deals in the Market.
Room for dessert?
Save room for these babies