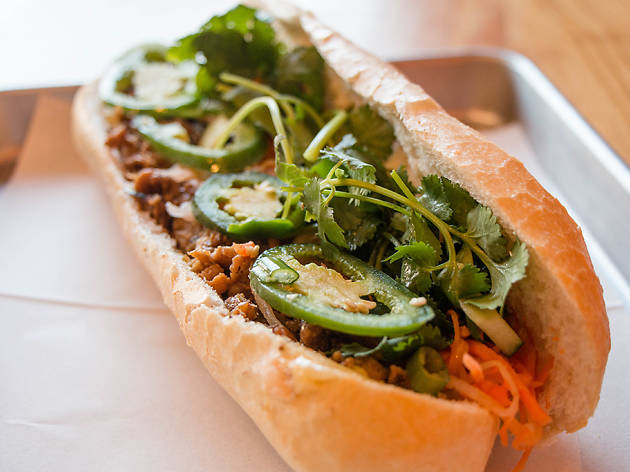 A sizeable Vietnamese population keeps the Twin Cities well fed with above-average pho and banh mi sandwiches. For the latter, we're partial to the grilled pork specimen at Lu's. Inside a crisp-fluffy baguette, the juicy meat is nestled against refreshing cucumbers, carrots and cilantro, along with comforting slicks of mayo and butter.
More
Less
Lu's Sandwiches says
WHAT IS BANH MI?
Bánh mì is a Vietnamese sandwich with a unique history derived from the French colonization of Vietnam in the 19th century. It is a crispy French baguette with savory protein fillings layered with a special butter-mayonnaise, fresh cucumber slices, cilantro, shredded pickled carrots and daikon, and slices of jalapeno pepper. The fillings for Bánh mì include a variety of protein options, the most popular fillings include grilled chicken, grilled beef, cold cuts, pates, ham, fried egg, meatballs, tofu or mock duck. Bánh mì is a fusion of French and Vietnamese food traditions. The baguette, pate, and mayonnaise were introduced by the French. These French ingredients combined with native Vietnamese ingredients - cilantro, hot peppers, meats, pickled carrots and diakon makes the delicious product we know as Bánh mì.
Bánh mì literally translated is "cake made from wheat". Although the word bánh mì only means bread, the word is commonly used by the Vietnamese to describe the sandwiches in general. Additional words are added to describe the specific sandwich. For example, a "Bánh mì Xiu Mai" is a sandwich with a meatball filling.

WHAT TO EXPECT AT LU'S SANDWICHES
Lu's is a family own Vietnamese sandwich shop that's been in business since 2005. Even though Lu's is still young when compare to its neighboring restaurants, but Lu's already working hard and has got many things right. Lu's serves nothing but Banh Mi and only Banh Mi that will leave you drooling for more. Lu's offers a variety of fillings to go with the high quality crispy french banquette, it varies from cold-cuts, grilled beef and pork, to vegetarian options like tofu, mock duck, and many more. At Lu's, you're also guaranteed freshness through out one and every sandwiches you will have. Sandwiches are make fresh to order, prepare the same day, and vegetables from the most reliable suppliers that are located right in Minneapolis. Come to Lu's today to explore your new favorite sandwiches.
More
Less
Venue name:
Lu's Sandwiches
Contact:
Address:
2624 Nicollet Ave
Minneapolis
55408

Cross street:
between W 26th and W 27th Sts
Opening hours:
Daily 10am-8pm
You may be interested in: