There are good chefs in Montreal, and then there are great chefs in Montreal—we want to hear their stories. That's what you'll find in these interviews, a series where Time Out Montreal talks to the incredible women representing the best of this city's restaurant scene, all of whom can be found at Time Out Market Montréal. For our second interview, we spoke to the restaurateur, author and chef Dyan Solomon, co-owner of the Old Montreal cult classic Olive et Gourmando (with a cookbook of the same name released in November 2019), Griffintown's essential fine dining restaurant Foxy and the Italian eatery Caffe Un Po' Di Più. She told us about her career— from tree-planting camps to fine dining—and turning an apartment into a walk-in fridge, confidence in the kitchen, plus where she likes to eat in the city.
This interview has been edited and condensed for clarity.
Dyan Solomon needs no introduction, but we're going to do one anyway: With Eric Girard, whom she met while working at Toqué!, Soloman opened Olive et Gourmando in 1998 on St-Paul West in Old Montreal to dish out homey, simple and comforting dishes to locals and luminaries alike (Bono, Jake Gyllenhaal, and Meghan Markle are but three big fans). Since then, she's presided over a string of other successes (which we're about to get to). Side note: Solomon laughs a lot in conversation, a warm and joyful peal that often punctuates her sentences better than any period ever could.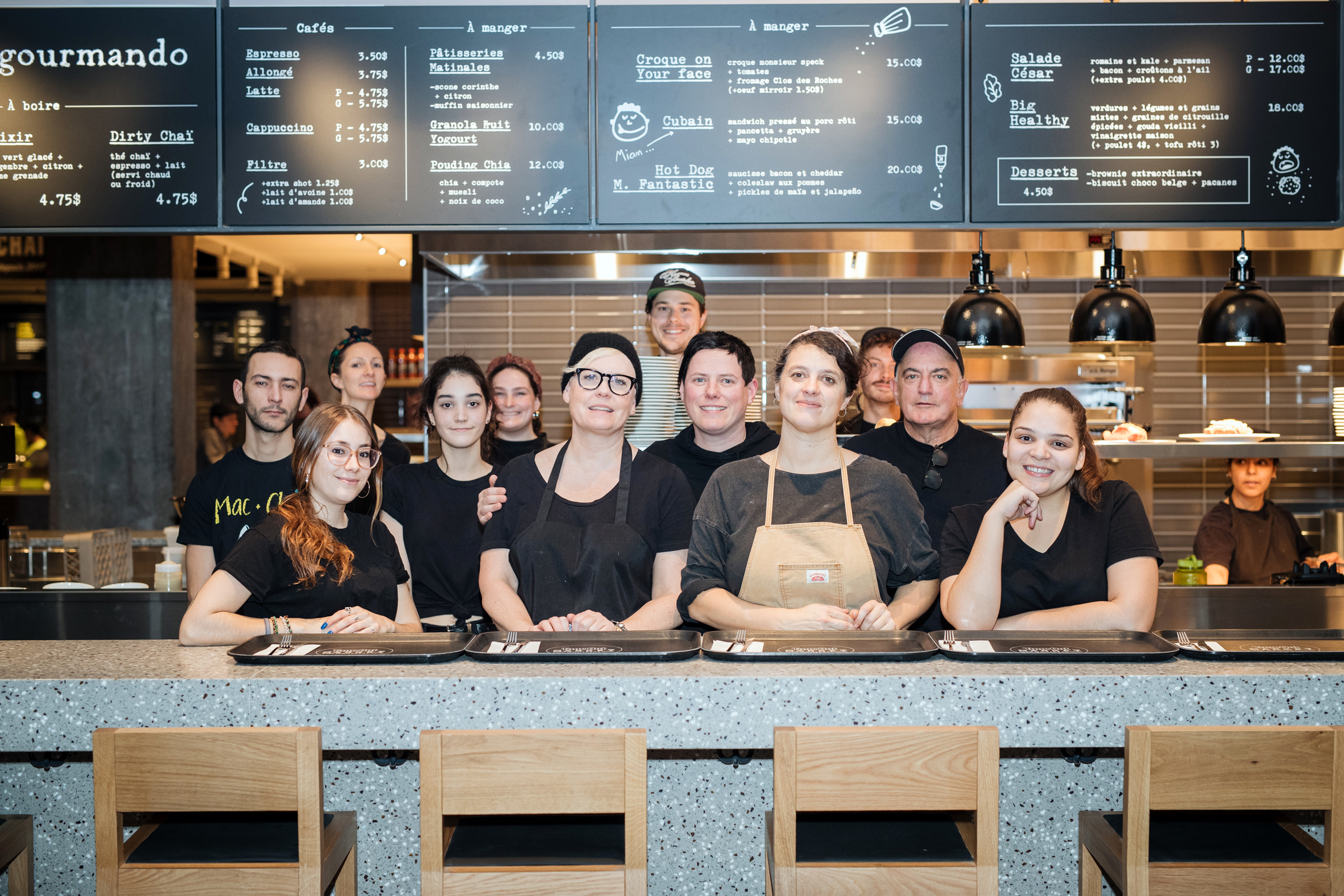 Who are you, what do you do, and how long have you done it for?
My name is Dyan Solomon. I am the co-owner of Olive et Gourmando, Foxy, Cafe Un Po' di Più, as well as two restaurants at Time Out Market Montréal: Olive et Gourmando and Foxy.
When did you start in the food and restaurant industry?
I'm 52 now, and my first job was in a restaurant. I was 15, and I never left the industry from that point [on]. I did, in the interim, go to university, I did two degrees at university, but even when I was doing my Master's I had a mini catering company catering book launches.
What are your degrees in?
English Literature at McGill and a Master's in Feminist Literary Theory.
For your "mini catering company," where did you cook?
My kitchen, and I turned a little room off my kitchen into a gigantic walk-in fridge by just turning off the heat and opening the windows in winter. [Laughs]
Old school!
Very bad idea! [Laughs]
What was the restaurant you started at, when you were 15?
It was called, of all the crazy names, Reuben's. It was called Reuben's, first, and then later she called it Reuben's and Botticelli, god knows why. It was a mini Jewish deli in Kingston, Ontario, where I grew up, and she brought in Fairmount Bagels and smoked meat from Schwartz's. Now that I think back, she was kind of a genius.
Then what?
Then I went and cooked in a tree-planting camp for four summers in a row, which I still think is one of the best formative cooking experiences I ever had. Lots of restaurant work, then my little catering [business] that kind of turned into a big catering [business] at one point. It was my thesis advisor that said "I feel like you're more passionate and into this than you are into your thesis." I was working a lot for him in particular. It was all the permission I needed. I left school within six months and went to cooking school in Vermont at the New England Culinary Institute.
How many women were there, back then?
Quite a few, it was not so bad. Obviously more men, but it was not barren of women. Not that many female teachers, though, lots of crusty old guys from France. The only female teacher I had was pastry, and that's another classic cliché.
You mentioned your thesis advisor giving you that little push. Was that the lightbulb moment for you?
Both of my parents are doctors, both were professors, adjunct professors at McGill and at Queen's. So I came from a family where manual labour jobs — you just didn't consider those kinds of careers. So in a way, my "aha" moment was with that professor, because I just needed someone's permission from that Ivory Tower. He barely finished his sentence and I was out the door. The minute he said it, I was like, "what the fuck have I been doing?"
Between culinary school and Olive et Gourmando, where were your formative kitchen years spent?
I did my first stage at Toqué! back when it was on Saint-Denis, back when it was a really tiny restaurant. It was Normand [Laprise] who hired me. We were three people in the kitchen, it was a very different time for Toqué!, a very exciting time. I did my stage there and I did a second stage in Boston with a woman who was, at that time, very up-and-coming. Her name was Corrina Mozo; she was like the young, rising Chef of the Year in Bon Appetit. I came back to Montreal and I went back to Toqué!, and I stayed at Toqué! for many years, where I met my current business partner, Eric. Eric really wanted to have his own place and he kind of just dragged me with him. I was not dreaming of being my own business owner.
Why?
I didn't have the confidence. I was like, "oh my god, no, I need to slave away for another ten years."
In every industry there are so many voices that want you to not believe in yourself. Now that you look back at the person who didn't want to jump in, were you just underestimating your capacity?
Yeah, because I'm a woman. I think women tend to do that a lot. Even when I was at McGill, I would get an "A" on a paper and think, "oh, I fooled them." I never owned my ability, never. And still to this day, I'm kind of a shy owner. I don't assume and own my success, I tend to still feel like I'm scraping by. I still have that little nagging voice, which, to be honest, I'm grateful for. It's what makes me a good boss, it's what makes me a decent person to work for. I can keep myself in check. But I think women have a really hard time with that little mini bravado.
The question "is it hard to be a woman in a professional kitchen" isn't interesting, but it is important. What has your experience been with respect to kitchen culture?
For the most part, my experience has been great. There's a lot of luck, there's always luck. My first job, I worked in a restaurant owned by a woman, and there were [also] a lot of women on the team, so I put my first foot into the restaurant industry from that standpoint and then I chose my jobs accordingly. I never went to work with someone who was some sort of macho psycho. It didn't interest me, and I didn't feel like I had to. I always felt like there was a better choice, so I worked for Corrina, and for Normand Laprise, who is probably the least macho guy that I know who also has an incredible business partner, Christine Lamarche, who is 50% of their success. I walked into his kitchen and there were no women, and there were no anglophones, and he was so welcoming to me, and made such a spot for me. Even though I worked with a couple of creepy guys, I felt very respected and needed in his business. That gave me the strength to keep going and find the people in the kitchen who I could relate to. I had a really decent time in my kitchen career, which is rare for a person of my age.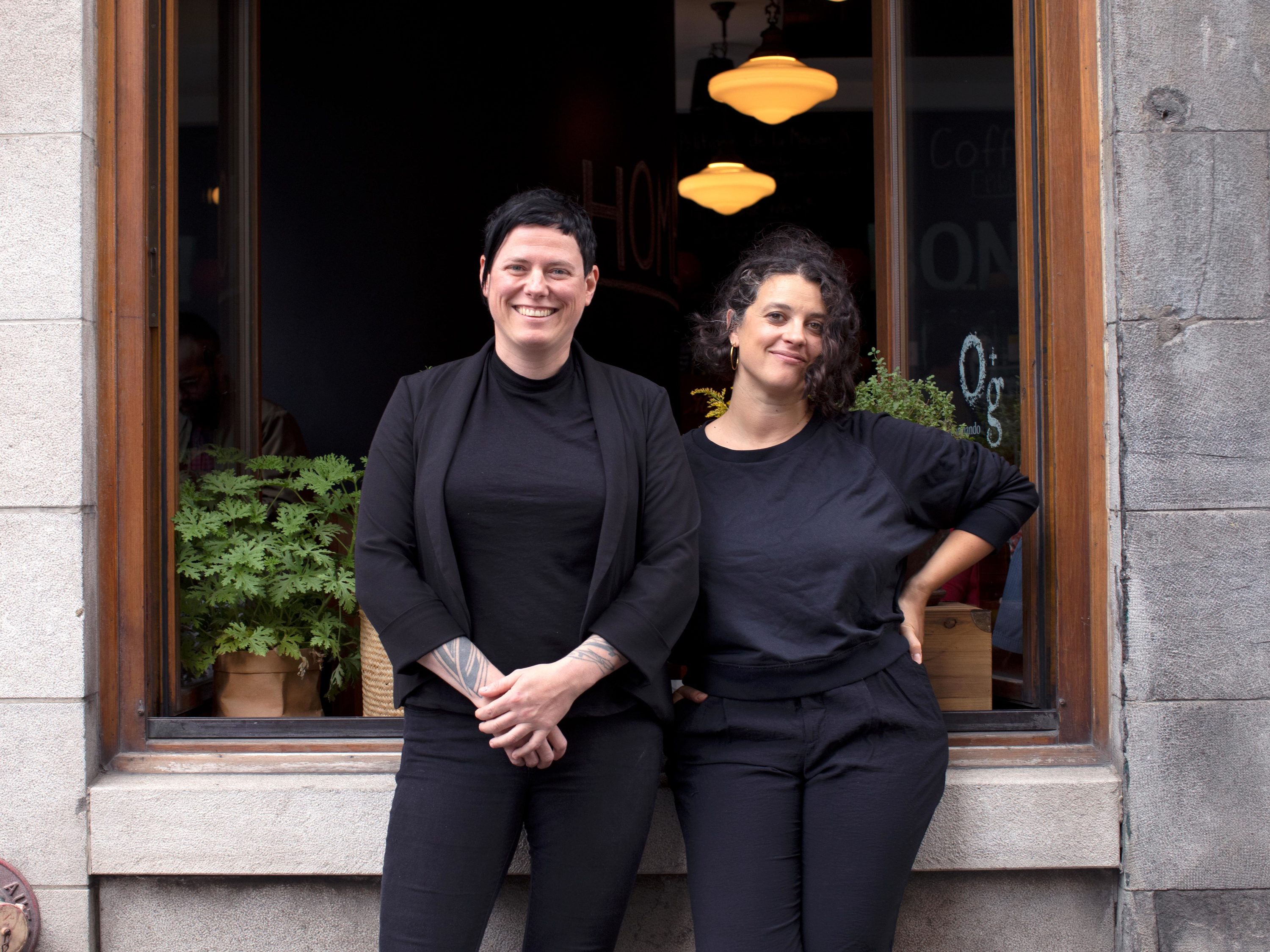 Where does Dyan Solomon go out to eat in Montreal?
Elena is up there with my all-time favourites. I literally live in their backyard and Ryan [Gray] is one of my greatest friends — I'm so proud of him. Loic; Liam [Barron] is one of the best chefs in the city. He's incredibly talented and people don't know what's going on there, food-wise. L'Express has always been there, it always will be there. It's a staple in my life.