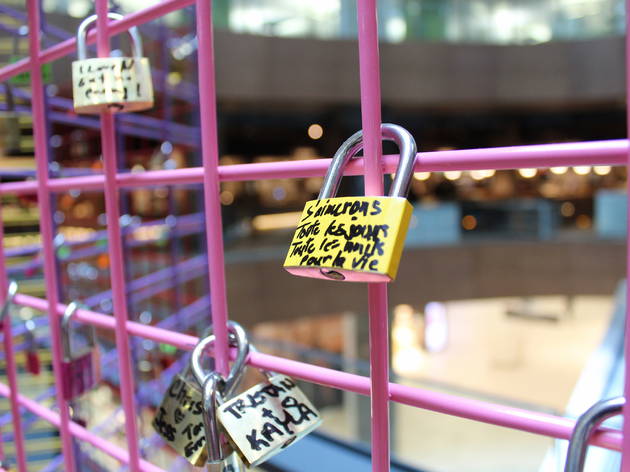 Our favourite love stories from Time Out Market Montréal's Pont des Amours
Posted: Friday March 6 2020, 10:39a.m.
For a month now, the Pont des Amours at Time Out Market Montréal—our ode to Paris' Pont des Arts, a famous bridge where lovers 'lock' down their relationship by attaching locks to it—has been seeing tons of contributions.
The best part is that, as part of our contest which ended in February, people have been sharing photos of their celebrations of love with amazing stories alongside the hashtag #timeoutmarketmontreal, and we've selected our favourites and are giving them prizes! Those were the only rules: Tell us a story about love—loving yourself, loving someone else, heck, even loving that you're alive and living in an amazing city—and share it with us on your 'gram.
We want to share with you some of our favourites, the winners of our contest, who tell amazing stories of true love and passion, the kind of stuff that just choked us up.
Coming in at third place is this story from @gab_c137 about how an awkward moment turned into 11 wonderful months and counting:
One evening, while I was working at the bar in my neighborhood, a pretty young girl arrived with her friends (who already had a drink or two too many).

She came to apologize for the behavior of her friends and asked me my name. As the music was loud, she did not understand my last name (Careau). So, I mimed her a "square" with my hands (or, How to Look Like a Fool in Front of a Pretty Girl 101).

I still think she found it "cute", because this evening took place 11 months ago and we have been together, 24/7, ever since.
In our second most favourite love story from @garnet214, it starts by noting that love stories won't be perfect, but they're made beautiful by embracing their imperfection; and while the author says this, it sounded like a pretty perfect story to us about finding love where you least expect it:
Not every love story is a perfect and flawless fairytale. In my opinion, that's what makes them all the more beautiful and strong.

About 6 years ago, I was with my boyfriend at a bar for a birthday party. I was in a bad place… overwhelmed by this sort of inescapable sadness you can't fight against. I wasn't in the mood for anything, and didn't want to be there, or much of anywhere for that matter.

At some point in the night one of my boyfriend's friends came to speak to me. He was looking to see if I was ok, I think he could tell I was down and came to just talk about life. He was married and was expecting a little boy, and spoke in a way that made my heart beat faster. I immediately felt that his wife must be the most fortunate woman in the world to have a guy like him by her side. In a sad twist of fate, he unintentionally managed to make me cry instead of cheering me up. Of course, my boyfriend wasn't happy with the situation and we never saw his friend again.

Fast forward to January of last year, I received a strange friend request on Facebook. I looked him up and asked myself ''Who the heck is this single dad? '' while subsequently completely ignoring the request! You know, I'm cool like that. It's only a few days later I had a sudden flash of recognition and remembered that the request was the guy who was friends with my now ex-boyfriend.

We started speaking and messaging every day. It always made my days brighter and more hopeful every time he would message me. Eventually he invited me out for a drink. The second I saw him, I knew this was something special. It's like this law of Surprise that makes you think ''Oh ok I'm in definitely trouble now!''

Our lives are pretty different, and there's difficulties… But I'll forever prefer this challenging life by his side than an easy, boring one without him. You helped me grow so much and made me a better person. I'm so glad our path crossed again because I know you told me I never left your mind that night… and you never left mine 🙂
…We're not crying, you're crying!
Finally—drum roll, please—this post from @tanveernaseer.mtl shows us how love can inspire someone to write pure poetry out of everyday life. We're pretty sure everyone has wanted this exact thing to happen to then on a late summer night waiting for a bus, somewhere in Montreal, where you wait to catch the next ride just to spend another moment with that special someone. That's pure first place material.
For their "Pont des Amours" installation, Time Out Market has invited Montrealers to share a love story. Here's mine...

28 years ago, she waited for me on Viger Street. She waited, hoping to catch me as I made my way home from my evening class. We weren't attending the same university and we were no longer working at the same summer job, so this was her chance to reconnect with me. (It was) to see, as she would tell me years later, whether that spark she saw between us was real or just imagined. While she hoped she hadn't missed me, I was blissfully unaware. For me, it was just another night like any other.

As I made my way to the bus terminal, she called out to me, catching me by surprise. We ended up hanging out and talking that night, as bus after bus came and left. What was on her part a hope for a chance encounter soon became our regular routine—of hanging out after my evening class ended, talking and laughing as we walked the streets of Montreal. It was the beginning of a love story, our story, one where we've spent more of our lives together than we have apart.

A love story that started out as her and me, and eventually because us.

A love story that saw the birth of our first daughter, then our second, and then our last.

A love story that has lead us to experience both life at its best ... And life at its hardest.

A love story that has helped me become the man I am today.

And all because of her, my best friend, my wife.
Don't forget: You can still contribute to the Pont des Amours at Time Out Market Montréal! Come by the market during opening hours, pick up a lock (or bring one of your own from home), and click it on. The contest may be over, but by using the hashtag #timeoutmarketmontreal, you'll be loudly and proudly sharing that there's love in your life, no matter what form it takes.
Want to see more contests at Time Out Market? Follow the market on Instagram, check out Time Out Montreal's website or Time Out Montreal's Facebook page to stay up to date!
Share the story