Redefining the art of brunch wasn't always in chef Arnaud Glay's plans when he opened his restaurant Le Passé Composé in 2010—but it was the moment that customers told him that what they really wanted: A good, hearty brunch.
Like any good chef, Arnaud listened to his customers and set out on a mission to prove that brunch can be as refined, of gourmet quality, and as well-executed as dinner in a fine dining address.
"Let's face it, restaurant lunches are too often denigrated, Americanized, fast... I wanted to bring some of the nobility back to brunch by taking it to another level. I wanted the experience to be as gastronomic as when you go out to a restaurant in the evening," says Arnaud, when the Time Out team went to meet him.
More than 10 years later, it's a mission accomplished, and it's with the greatest of honors that Time Out Market Montréal hosts its Le Passé Composé among its eateries.
View this post on Instagram
"The dish that changed everything is definitely the two poached eggs and foie gras," says the chef. It's been on the menu since Day 1, and it's definitely the best seller at both the restaurant and at Time Out Market.
The traditional Eggs Benedict may be common among Montreal's breakfast menus, Chef Glay's version stands out as a rare species: First of all, why use a simple English muffin? Here, the chef proposes a huge slice of soft, well-buttered brioche. To avoid the unpleasant texture of a bread soaked in sauce and to add texture, a crunchy prosciutto chip is placed on the bread. This is followed by a beer onion compote, a poached goose egg, a creamy foie gras sauce with just enough acidity, some arugula shoots, and then poppy seeds—his trademark.
If I use ordinary products, the result will be ordinary.
It's moist, crunchy, delicious, and particularly well balanced so there's a willingness to plunge the fork back into it over and over again; if you're feeling even more greedy, however, it would be foolish to miss another favourite of more than 10 years: The panko-encursted French toast, served as though they were large steak fries alongside one maple syrup dip and a lime yogurt.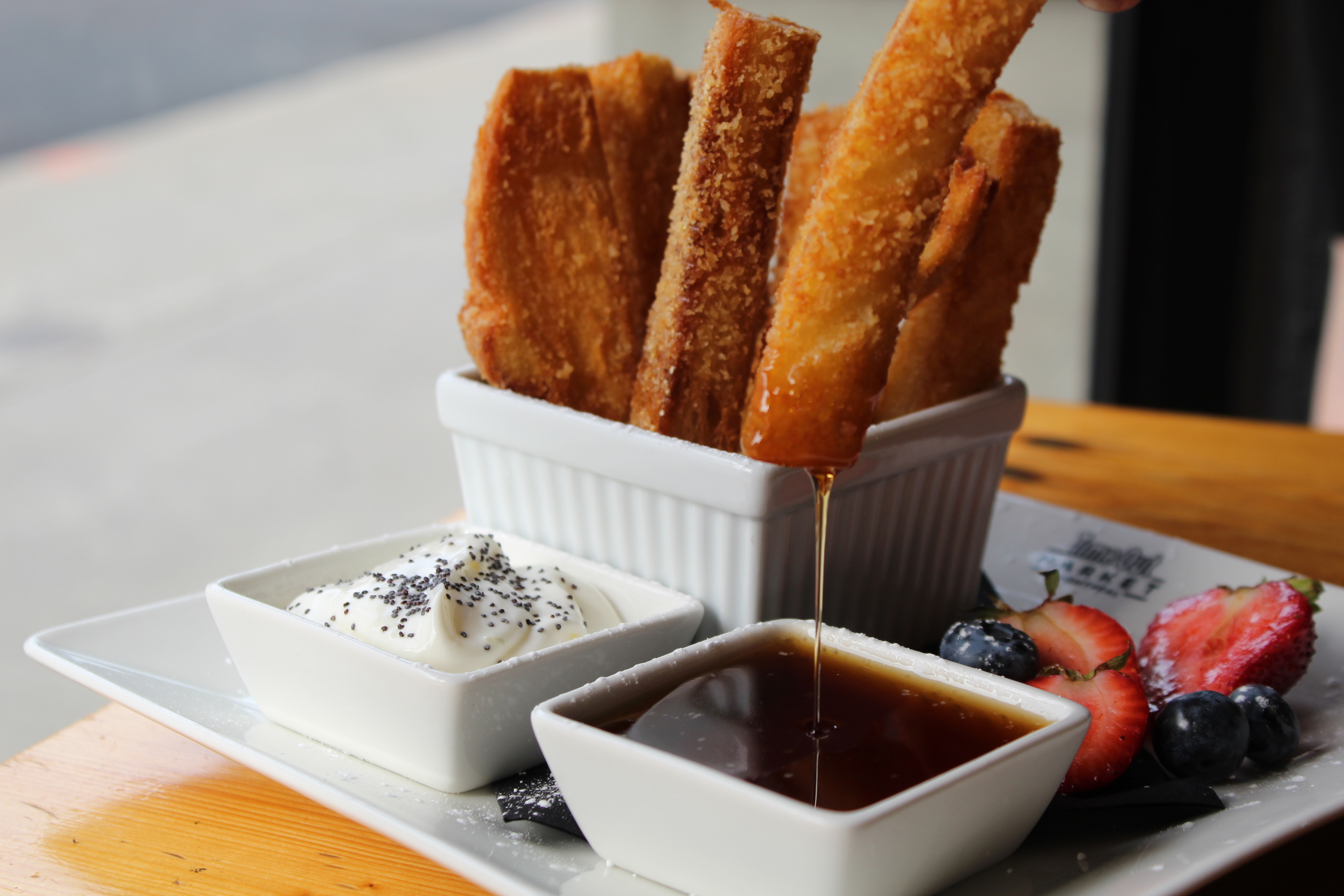 In the wake of the pandemic, Montreal's brunch ambassador has made it his mission to source almost everything on the menu locally: "I'm not doing it for the trend, but to showcase our producers, and to prove to customers that it's possible to buy from Quebec all year round," says the chef.
"That's what I call investing in what's on the plate. If I use ordinary products, the result will be ordinary. Yes, in the end it's less money in your pocket, but it's so rewarding to dine on."