On December 15, 2020, the City of Montréal announced that it would be gradually setting up 26 'stations hivernales' or winter stations across 18 boroughs of the city, each of unique to their area.
The project began as a way to encourage local shopping by giving Montrealers spaces equipped with urban furniture and colourful lighting to enjoy during the holiday season. Christmas is done and gone for now, but the spaces in public squares, parks, parking and vacant lots are still up and running (like in Verdun, pictured above) or coming soon.
The first one to catch out attention was this the winter station that's opening in Notre-Dame-de-Grâce, a 360° cyclorama screen showing projections of the Northern Lights, as of late January.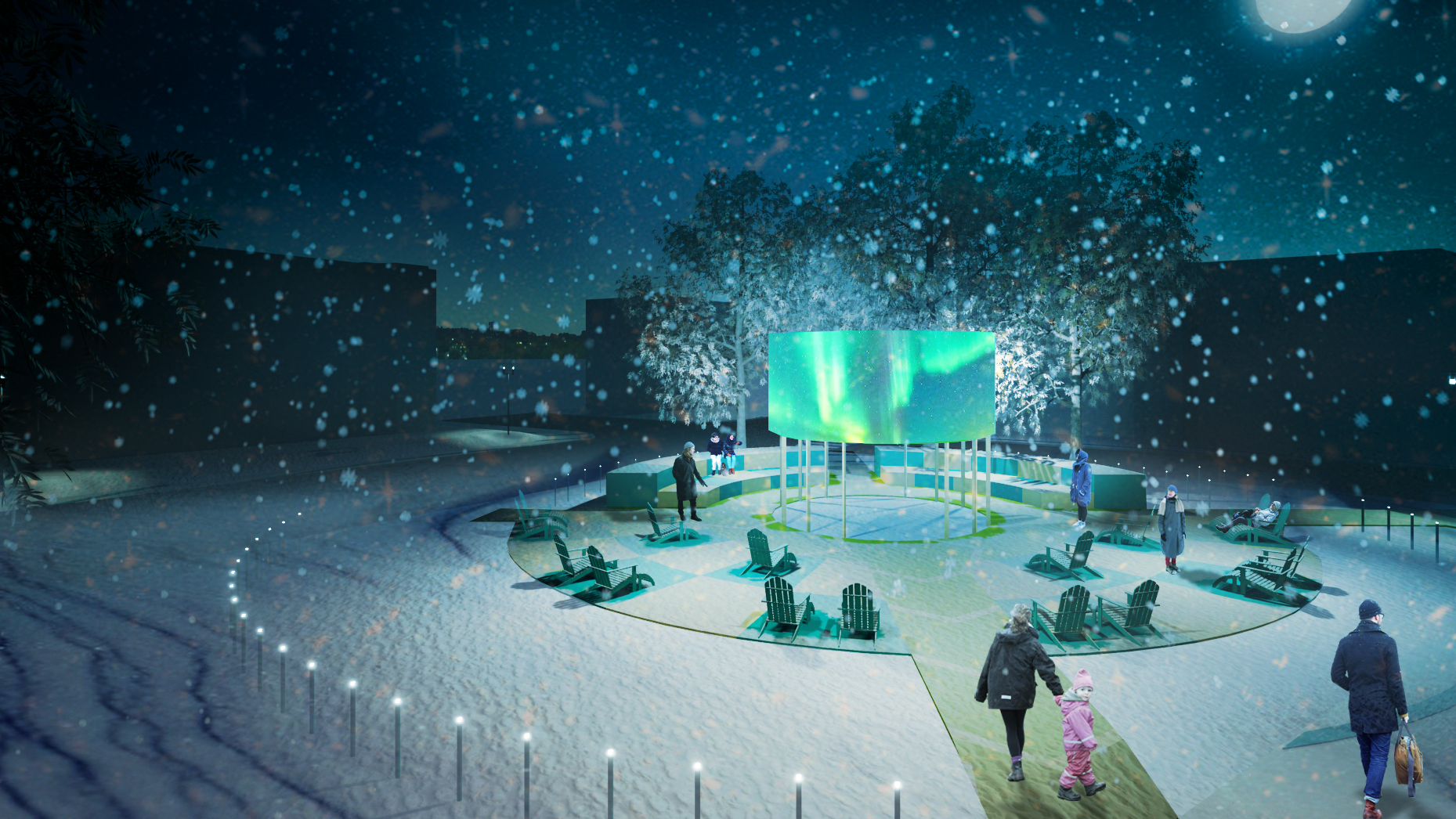 While there's supposed to be a renewal, extension and expansion of a complete second lockdown in the province of Québec that will be announced by Premier François Legault tomorrow, outdoor spaces like this shouldn't be rendered completely inaccessible within curfew hours.
The project comes from 20 multidisciplinary teams made up of local designers and architects organized by Design Montreal, working in factors like designs that allow for physical distancing and are approved by the regional public health authorities and the city's emergency response committee (health guidelines as well as the maximum capacity are posted at each station).
Even the materials are taken into consideration: "Nearly half of the winter stations feature wood from recently cut down ash trees in Montréal, giving these trees a second life," the project's main page reads.
If you needed evidence of why Montreal is a UNESCO City of Design, this is one way of finding out why.
The latest from Time Out Montréal
- There are plans to open a free illuminated winter playground next week south of Montreal

- Parking is free on weekends in downtown Montreal this month for your essential lockdown prep

- This is the last week to see the Montreal Museum of Fine Arts' virtual exhibits online for free

- Miss live shows in Montreal? The Plateau's L'Escogriffe is hosting a big online show this Thursday

- Montreal is headed for a second complete lockdown this weekend, sources claim—here's what to expect