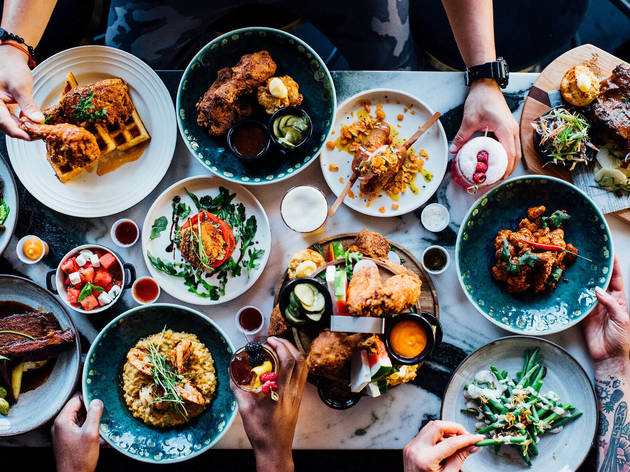 The best new delivery and takeout in Montreal to try this week
Every week, we've got the latest and greatest—the best new delivery and takeout in Montreal open and ready for action
Tired of ordering from the same places each and every week? Restaurants may have been forced to close down their dining rooms, but every week there are new names opening up, soon to join our collection of the best takeout and delivery in Montreal. Until our city opens back up again, we're taking time to collect the cuisines and comforts we know and love, the names that are now open with either food you can pick up yourself or have brought to your door, whether it's classic eats like the best poutine in Montreal or wine delivery and beer delivery for high-grade libations.
RECOMMENDED: Full guide to the best things to do at home in Montreal
The best new delivery and takeout in Montreal right now
View this post on Instagram
ICYMI, the big news is that Mon Lapin in Little Italy has shifted into a BBQ operation where sourdough fried chicken, seasonal veg dishes and luscious desserts like rhubarb-sesame ice cream sandwiches are available. Orders needs to be placed a day in advance, and it's pickup only from Tuesday to Saturday 5pm to 9:30pm.
View this post on Instagram
Pleasing news in the dessert department comes from Uncle Tetsu in Chinatown West, a stone's throw away from the downtown Concordia University campus: The Japanese cheesecake to end all Japanese cheesecakes is up for grabs if orders are placed in advance (maximum of 10), available for pickup from Wednesday to Sunday, noon to 7pm.
View this post on Instagram
Warmer weather can only mean one thing: It's officially acceptable to eat ice cream. Opt for some of the best from either the NDG or Plateau locations of this keep-you-on-your-toes ice cream joint and its flavors like roasted marshmallow, Oreo-coconut, blood orange sorbet, cotton candy and more. Buy it buy the swirl, scoops or pints and while away an afternoon in some gorgeous summer weather.
View this post on Instagram
Constant demand for takeout has caused this fine dining destination in Hochelaga-Maisonneuve to develop meal boxes that keep things interesting. While it's been available for some time now, the new innovations bear some serious need for attention: Ricotta cavatelli, tandoori octopus, chicken tajines and a lot more. Beer and wine and cocktail kits are also available, plus a selection of groceries. Just make sure to order by Wednesday afternoon at the latest to pick up your order from the restaurant, Thursday and Saturday between 3pm and 7pm.
View this post on Instagram
Griffintown is seriously clucked up with the fried chicken and the accompanying attache of other comfort food at Bird Bar. Every Wednesday to Sunday—pickup from 2pm to 8pm, delivery from 4pm to 8pm—you can get your hands on poutine, truffled mac'n'cheese, burgers, popcorn chicken both meaty and vegan, and yes, that crispy and juicy fried chicken.
View this post on Instagram
Middle Eastern eats are on point at this fantastic restaurant near the corner of Parc Avenue and Mont-Royal in the Plateau. Cold and hot mezzes galore are available, but strong recommendations go to the crispy croquette-ish kibbeh, layered plates of fattet makdous (meat, sauce and pita), and the beef kabab served in a sweet cherry sauce.
View this post on Instagram
It ain't takeout, it's cake-out: This dessert bar has been hard at work since the closures hit, but that hasn't affected the abolsute quality and masterful work they do. Classic and conceptual, there's a sturdy selection of cakes and doughnuts to pick from, and they're always—and we mean always—worth it. Place an order from Sunday to Friday from noon onwards and pick it up from the dessert bar between 4pm and 8pm on Friday or Saturday.
View this post on Instagram
This snack-and-sip destination in Outremont has found itself retooling until further, but it's to more than a welcome effect: Sandwiches and supple wines to go during the day, ready-to-eat menus fit for kings during the evenings. Order up between Fridays and Sundays, 11am to 3pm, for takeout or delivery.
View this post on Instagram
Since May 15th, Montreal's premiere Jewish style nosh bar is up and at it again with breakfast and lunch, plus weekly brunch specials. Finally, we can all dig into McArthurs sandwiches again or luxuriate in one of the best brunches in town. Available for takeout or delivery via Uber Eats or Skip The Dishes, Wednesday to Sunday, 9am to 4pm.
View this post on Instagram
One of NDG's favourite dining destinations is fighting the good fight by feeding Montrealers once more. Food and wine is available on Tuesdays, Thursday and Saturdays for pickup if the order is being places 24 hours in advance between 3pm and 7:30pm. Enjoy ready-to-go Caesars or exceedingly cheap wines with classic bistro eats like lobster salad, ready-to-grill marinated bavettes, or a blueberry-honey-rosemary bread pudding we'll always order seconds of.
Thirsty?
Brought to your doorstep or picked up, this wine delivery in Montreal will make staying indoors a little more bearable.
Get suds sent straight to your home with these lovely local options for the best beer delivery and takeout in Montreal.