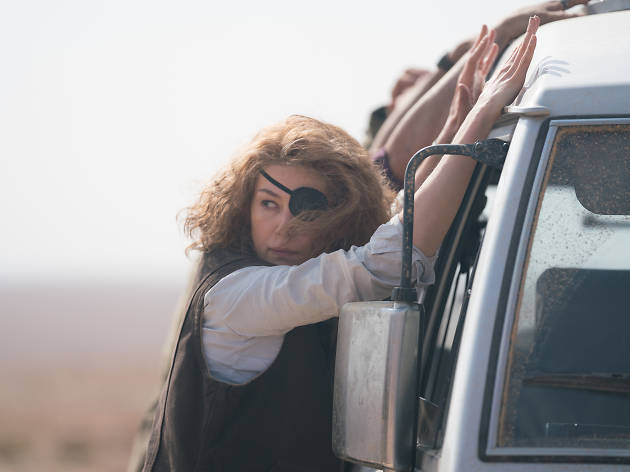 Time Out says
Rosamund Pike brings complex, earthy commitment to the role of late war correspondent Marie Colvin.
'You used to be so beautiful,' says an ex-lover to the battle-scarred journalist Marie Colvin ('Gone Girl's underutilised Rosamund Pike), a drunken shambles on her London doorstep. It's a hissable line because she's still so beautiful: bold in her disarray, driven to the truth, owning that eye patch like a pirate. 'A Private War', about the real-life Colvin, who died reporting from Syria in 2012, feels like the kind of movie that would have been designed for Meryl Streep or Sigourney Weaver back in the day, filled with moments for devastating monologues yet never so obvious as to be self-aggrandising. Colvin's pain – she had PTSD, it's been theorised, and blocked out the horrors of what she saw – plays like a death wish at times.
Pivoting ably from his hot-spot documentaries 'Cartel Land' and 'City of Ghosts', director Matthew Heineman supplies plenty of realism to the front lines, the bullets pinging in your ears (they'll make you jump). Even more impressively, he pushes Arash Amel's script, based on a Vanity Fair article by Marie Brenner, into the realm of acutely observed dramatic minutiae à la Michael Mann's 'The Insider'. Pike's Colvin is a full-bodied creation, surrounded by totems of her Long Island past, her difficulties in having children (she never did), her relationships with unworthy men – and better ones like her devoted photographer Paul Conroy (Jamie Dornan) and protective editor Sean Ryan (Tom Hollander). It was a life lived in the back of jeeps, rarely at ease. Given the fine-grain detail that even makes room for Colvin's penchant for luxury La Perla bras, it's too bad that the film as a whole isn't given an overall shape. It ends as it must, the passions of a crusader memorialised and scrutinised, sometimes fearlessly.
Details
Release details
Rated:
15
Release date:
Friday February 15 2019
Duration:
110 mins
Cast and crew
Director:
Matthew Heineman
Screenwriter:
Arash Amel
Cast:
Rosamund Pike
Tom Hollander
Stanley Tucci
Jamie Dornan