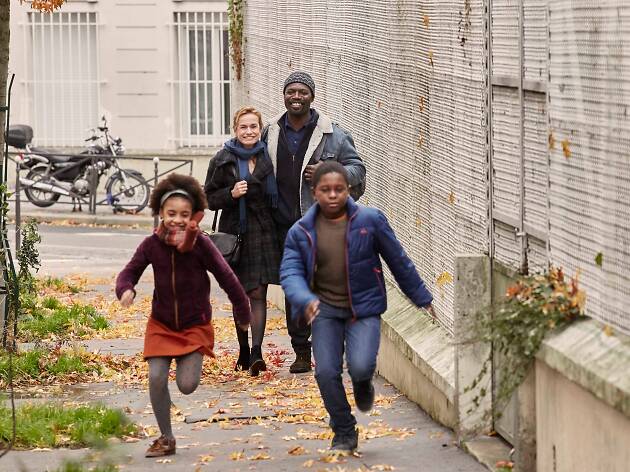 Time Out says
There's deep compassion in this story of African migrants trying to get purchase on their new lives in France.
Moments of joy fade into moments of despair in this sad, insightful drama about a family from the Central African Republic who are trying to make a new life for themselves in France. Middle-aged Abbas (Eriq Ebouaney) was a teacher back in Bangui, his country's capital. But he, son Yacine (Ibrahim Burama Darboe), daughter Asma (Aalayna Lys) and brother Etienne (Bibi Tanga) are living a new reality in Paris. This solid, likeable man is doing everything he can to ensure a future for his family. He's holding down a job at a market and is in a new relationship with Carole (Sandrine Bonnaire), a loving woman who is kind to his kids. Yet any kind of stability is hard to come by. He has troubling visions of his wife, Madeleine, who died during the family's escape, and as his asylum case remains unresolved, the threat of extradition grows greater each day.
The bureaucratic fences erected by the state are clearly too high for Abbas to jump. But Chadian writer-director Mahamat-Saleh Haroun avoids an 'I, Daniel Blake'-style escalating conflict between one man and The Man. Instead he homes in on small moments between individuals, or within the family, and only occasionally shocks us with major, devastating events in their lives – jolts that hit hard. Most of Haroun's previous films, such as 'Abouna' and 'A Screaming Man', have been set in Chad and concerned with displacement, migration and war. Here, he turns the tables, looking at migration from the perspective of those arriving, and showing how it can eat away at a person's dignity and autonomy – impotence is a recurring theme here, in work, in the family, even in the bedroom. It's a compassionate and observant film that's deceptively quiet, but beneath the surface it rages.
Details
Release details
Rated:
12A
Release date:
Friday June 14 2019
Duration:
101 mins
Cast and crew
Director:
Mahamat-Saleh Haroun
Screenwriter:
Mahamat-Saleh Haroun
Cast:
Eriq Ebouaney
Sandrine Bonnaire
Aalayna Lys
Ibrahim Burama Darboe