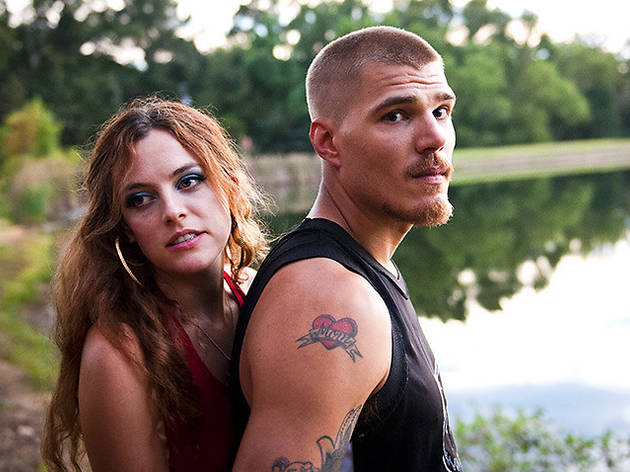 Time Out says
Vivid Mississippi locations can't quite find a drama to support in this romance-crime mélange.
Striding right up to the unkempt front lawn of white-trashploitation (and occasionally trespassing), Hank Bedford's indie feature debut marshals a pungent Mississippi stink at the expense of a deeper dimension. Stop us if you've heard this caricature before: Kermit (The Leftovers' Chris Zylka) was recently released from prison—he tried to murder the guy he found in a hot tub with his mom (Faith Hill)—and his impulsive ways could be behind him after he sets sights on Rachel (Riley Keough), the sad-eyed stripper in the star-spangled bikini. A more promising future beckons, even as his past associates in the local drug trade come to his side.
Written by its Southern-born director, Dixieland is sincere in its portrayal of trailer parks, two-bit carnivals and dead-end dreams. But a thick sheen of luscious lens flares and Terrence Malick–like poetic lulls feel like icing on an undercooked mud pie—Bedford's script deserves a stronger engagement with its characters' desperation. Instead they collide in a clichéd ending that feels padded. The actors do what they can, especially the leading duo, steering obvious plot developments toward a more engaging interiority. It's a love story that seems embarrassed by its own promise.
Follow Joshua Rothkopf on Twitter: @joshrothkopf
Details
Release details
Cast and crew
Director:
Hank Bedford
Screenwriter:
Hank Bedford
Cast:
Chris Zylka
Riley Keough
Faith Hill