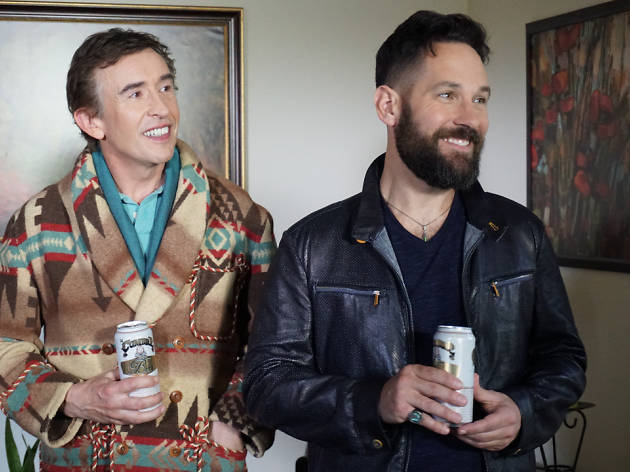 Time Out says
This tale of a middle-aged gay couple is warm-hearted but short on the observational wit of an Ira Sachs film.
The magic of stunt casting brings us Steve Coogan and Paul Rudd as a bickering gay couple – Alan Partridge and Ant-Man – in this mainstream comedy about daddy issues. To some extent Coogan is playing relatively true to type, as cringe-making Brit abroad Erasmus Brumble, whose Santa Fe-based gastronomic TV show displays his misguided self-importance to a flamboyant degree. There's a hint of Partridge here, but rather a lot of queeny flounce that's just about the right side of caricature. Thankfully, Rudd tones it down as his long-suffering partner. Their fractious, if loving, relationship comes under strain with the arrival of Coogan's ten-year-old grandson Bill (Jack Gore), who's been cast adrift when his dad is shipped off to jail.
Since the kid's issues are partly down to Erasmus's past doomed attempt at a heterosexual parenting relationship, we wonder whether he'll do any better for his grandson within the context of settled gay coupledom. There's an essential good-heartedness here, as the movie roots for gay dads everywhere, though the rest of it is a bit ramshackle. The young lad in the guest room seems more plot contrivance than real kid, for instance, and there's only modest laughter from a script keen to find fun in stereotypes. That said, it never asks its protagonists to tone it down: they're centre-stage in the sort of multiplex entertainment where so often the gay characters are peripheral comic relief. Funnier would have been better, but the warm inclusiveness makes its point.
Details
Release details
Release date:
Friday July 6 2018
Duration:
91 mins
Cast and crew
Director:
Andrew Fleming
Screenwriter:
Andrew Fleming
Cast:
Steve Coogan
Paul Rudd