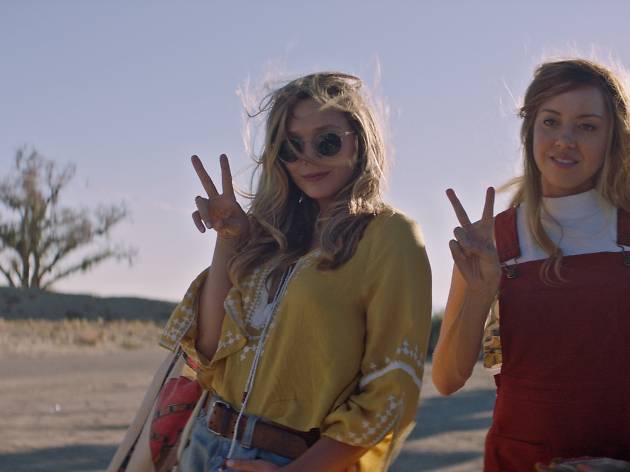 Time Out says
Aubrey Plaza shines in this half-successful Bret Easton Ellis-y social media satire.
With her huge eyes and bugged-out desperation, Aubrey Plaza makes for a perfect stalker in the half-sharp 'Ingrid Goes West', which represents both her best work and her most savvy piece of casting. Her title character is a walking version of Edvard Munch's 'The Scream': she's obsessed with petty snubs on Instagram, is buried in her smartphone and – after being discharged from a mental institution – yearns for someone to follow. That unlucky person is Taylor (Elizabeth Olsen), a naive, sun-kissed Californian skimming on the surface of her sponsor-supported lifestyle. Ingrid relocates, gets a beachy hairdo, steals Taylor's dog and contrives a friendship that you wait to turn sour.
For all its timeliness, the movie works best when it ups the vapidity of Ingrid's prey (as a coked-out party boy who catches a whiff of her obsessive scheme, Billy Magnussen from 'The Big Short' deserves his own spin-off). However, the script has no idea what to do with a sweet, wannabe screenwriter character played by O'Shea Jackson Jr ('Straight Outta Compton'), who for all his likability can't pull off a persuasive crush on Ingrid. Why is this distinctly dark comedy trying to get real? The film loses its satirical bite – all its teeth, basically – during the wrap-up, but before it gets gooey, the cringe moments are delicious.
Details
Release details
Rated:
98
Release date:
Friday November 17 2017
Duration:
97 mins
Cast and crew
Director:
Matt Spicer
Screenwriter:
Matt Spicer, David Branson Smith
Cast:
Aubrey Plaza
Elizabeth Olsen
O'Shea Jackson Jr.