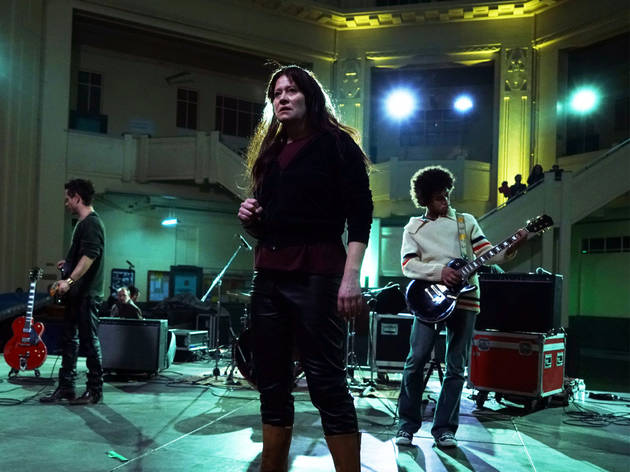 Time Out says
She'll always be the ennui-tinged voice of the Velvet Underground to us, but in this raw, distancing dramatization, Nico is at the end of her rope.
Rock biopics are notoriously hard to get right. How does one dramatize a rock star's life without veering into cheesiness or excessive poetic license? When there's a built-in fan base and a real artist (or their estate) to take into consideration, the pressure's on. Nico, 1988 takes a somewhat novel approach to the subgenre, focusing on the darkest days of a musician who has too often been romanticized as a muse. Director Susanna Nicchiarelli's strategy is purposefully alienating: Casual fans who know Nico (Trine Dyrholm) only from her association with the Velvet Underground may find the total avoidance of that era to be more frustrating than elucidating.
Fans of her later music—the dark period—are well served, although Nico, 1988 doesn't offer much biographical detail or plot. It's essentially a road movie following the artist on her final tours. Trine Dyrholm, who does all her own singing, captures Nico's distinctive drone and drug-addled wariness. There's no melodrama in this portrait of a tragically fated icon, and Dyrholm isn't afraid to act prickly. While the film deserves praise for its unglamorous approach to a sad-girl icon, the narrow focus can be tiring, and Nico's relationships with the other characters, including her estranged son, are frustratingly enigmatic. Even Nico enthusiasts might wish this claustrophobic character study offered a little more breathing room.
Details
Release details
Cast and crew
Director:
Susanna Nicchiarelli
Screenwriter:
Susanna Nicchiarelli
Cast:
Trine Dyrholm
John Gordon Sinclair
Anamaria Marinca