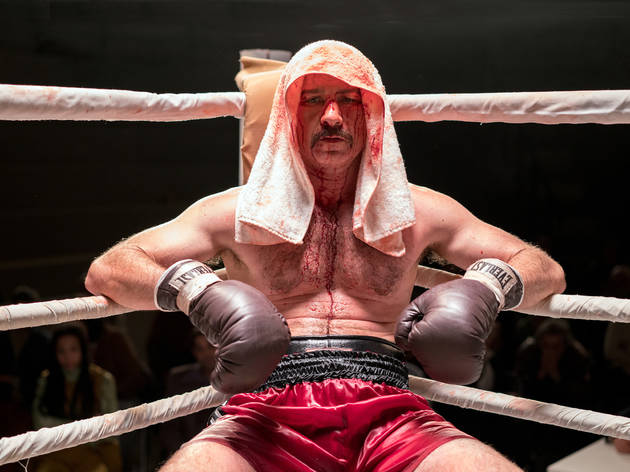 Time Out says
Liev Schreiber piles on the pounds to play the 'real-life Rocky' in a nostalgic rose-tinted boxing biopic
This mildly entertaining 1970s and '80s-set rise-and-fall boxing story feels so familiar that you'd be forgiven for thinking you've seen it a hundred times before. Chuck Wepner (Liev Schreiber, pumped up and endearing as a mostly well-meaning loser) was the 'Bayonne Bleeder', a heavyweight fighter from New Jersey famous for gushing blood during matches. He went 15 rounds with Muhammad Ali in 1975 and his story is said to have inspired Sylvester Stallone to write the 'Rocky' movies. (What the film doesn't mention is that in 2006 Wepner and Stallone settled out of court after Wepner filed a compensation lawsuit.)
Wepner's moment of glory in the ring was brief, and he suffered the indignity of quickly becoming a has-been and watched ringside as the 'Rocky' movies took off without him. His marriage to Phyllis (Elisabeth Moss) hit the rocks and he suffered drink and drugs problems, and had a serious run-in with the law.
Director Philippe Falardeau piles on a grainy period look, so that when he cuts in archive footage it doesn't look entirely out of place. But the film's sense of period feels distinctly secondhand, not helped by the obviousness of the music choices (the first track we hear is by Hot Chocolate. Later on, it's Rodriguez, a little too soon after 'Searching for Sugarman'). Luckily, there are some credible performances, especially from Schreiber and Moss (although Naomi Watts as Wepner's second wife has far too little to do).
The best and certainly most moving moments arrive when Wepner mouths along to his favourite movie performance. It's a melancholic choice – a washed-up Anthony Quinn in 1962's 'Requiem for a Heavyweight'. Elsewhere, there's a feeling that this authorised biography isn't willing to spend too long in the gutter with Wepner. 'The Bleeder' is one for forgiving fans of macho nostalgia fests. Everybody else might want to revisit 'Raging Bull' or the 'Rocky' movies.
Details
Release details
Cast and crew
Director:
Philippe Falardeau
Screenwriter:
Jeff Feuerzeig, Jerry Stahl
Cast:
Liev Schreiber
Elisabeth Moss