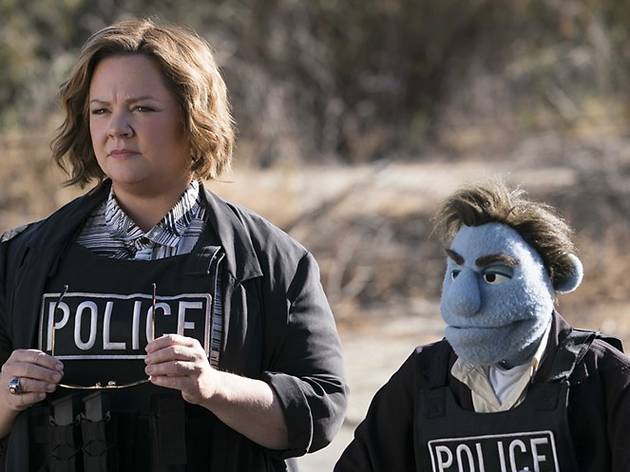 Time Out says
Stuffed with lifeless gags, this cringe-worthy puppet provocation is too pleased with its own naughtiness.
If you watched 'The Muppet Show' and secretly wished for them to cut to a little doggy-style (that's not a reference to Rowlf the Dog), you were way too old for that show. Still, your dreams come true courtesy of the trashy 'The Happytime Murders'. But have bigger dreams. Have better ones. Long before 'The Lord of the Rings' won him a boatload of Oscars, director Peter Jackson tried this with 1989's perversely gory 'Meet the Feebles' – and largely succeeded. Conversely, 'Happytime's director Brian Henson (son and collaborator of late Muppets godhead Jim Henson) doesn't have much on his mind apart from shanghaiing his dad's legacy, lifting the murder-mystery plot of 'Who Framed Roger Rabbit' and constructing purple-furred puppet labia so as to make crude 'Basic Instinct' jokes.
In a generic-feeling L.A., where puppets coexist uneasily with humans (where's our Trump–Putin joke?), a bed-headed, blue-skinned detective – voiced by Bill Barretta – hops along the mean streets, chain-smoking and grumbling. After his famous brother is torn apart by dogs, Phil, the puppet private eye, must reunite with his human ex-partner still on the force, Connie (Melissa McCarthy, who needs to fire her agent immediately), to get to the bottom of the crime. The humor toggles between lamely cute gags (drug-dealing puppets snort lines of uncut Pop Rocks), more swearing than a Scorsese saga and hyperactive hand-manipulated mania, as when Phil experiences a neck-flopping orgasm that drenches his office in white gunk. And what are Maya Rudolph – playing a human secretary called Bubbles – and Elizabeth Banks doing in this thing? Calling it fluff would be too kind.
Details
Release details
Rated:
15
Release date:
Friday August 17 2018
Duration:
91 mins
Cast and crew
Director:
Brian Henson
Screenwriter:
Todd Berger
Cast:
Melissa McCarthy
Elizabeth Banks
Maya Rudolph