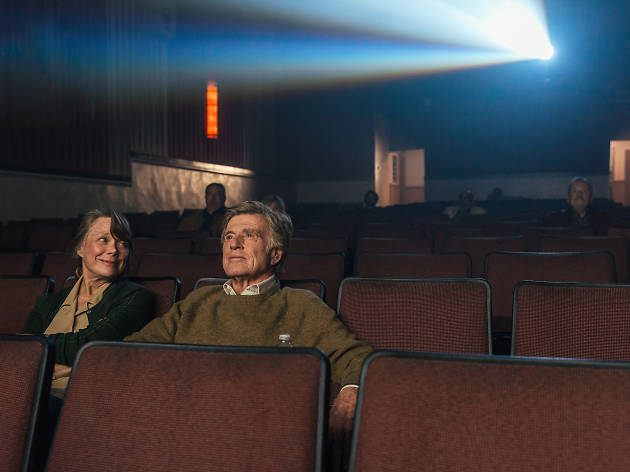 Time Out says
With Robert Redford and Sissy Spacek as irresistible headliners, this gentle heist movie has a languid vibe and bags of charm.
Loose-limbed and rascally, 'The Old Man & the Gun' is a throwback to an era when making beautifully understated crime comedies was the peak of Hollywood's ambition (before all the spandex took over). The movie's weathered star, Robert Redford, shone in some of the best of them – dad films like 'Butch Cassidy and the Sundance Kid' and 'The Sting' – and if his latest feels premature as a farewell, it's impossible to think of another actor who could do the twinkle as persuasively. Redford plays Forrest Tucker, a real-life bank robber who doesn't see the point in quitting the game even after several stints in jail (and numerous escapes). Casey Affleck is the rumpled Dallas detective on his tail, nodding as delighted witnesses describe the mystery codger as 'very polite' and 'sort of a gentleman'.
Working from his own adaptation of a 2003 New Yorker feature, director David Lowery ('A Ghost Story') shows himself to be maturing into a new Richard Linklater: relaxed, humane and concerned with the small moments. 'The Old Man & the Gun' plays like a long-winded joke with a sneaky punchline, that warms you belatedly, like a shot of bourbon. Lowery knows it's not enough to stick with his amber-hued nostalgia, which is why he brings on his secret weapon, Sissy Spacek, still a live wire and exactly the kind of person our hero should slow his roll for. Forrest does, and these scenes – two pros flirting in a diner booth or sitting together in a cinema watching 'Two-Lane Blacktop' – are impossibly charming. 'Maybe you should just stay put,' she tells him with a smile as he sniffs out another job. She's got a point.
Details
Release details
Rated:
12A
Release date:
Friday December 7 2018
Duration:
93 mins
Cast and crew
Director:
David Lowery
Screenwriter:
David Lowery
Cast:
Robert Redford
Sissy Spacek
Tom Waits
Casey Affleck
Tika Sumpter