The Strangers: Prey at Night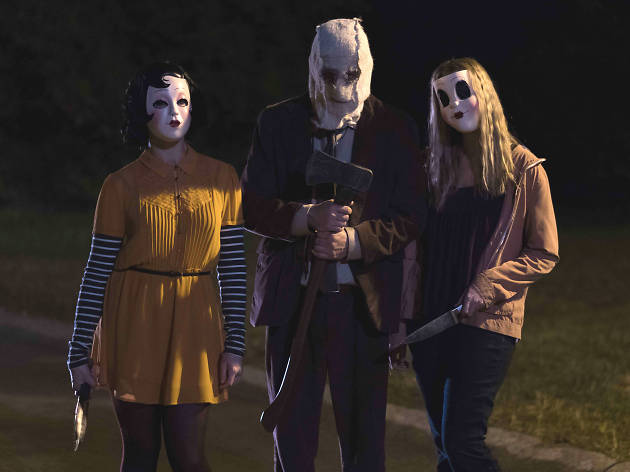 Time Out says
Bland, artless and unoriginal, it's a horror sequel as faceless as its mask-wearing killers.
A sequel to 2008's spooky 'The Strangers' via its baby-doll masks alone, director Johannes Roberts's generic slasher film flaunts a deep nostalgia for John Carpenter's 'Halloween' and 'Christine', but has scant ideas of its own. It desperately wants you to pretend that these fog-laden midnight streets – perfect for chase scenes with relentless knife-wielding nuts and a terrified teen girl (Bailee Madison, who really should learn how to flee without making so much noise) – are as fresh as a daisy. As for composer Adrian Johnston's seesawing synthesiser score, Carpenter's lawyers could well be in touch directly. In the current horror climate, when movies like 'Get Out' and the forthcoming 'Hereditary' are earning praise for their adventurousness, these retro scares feel especially out of touch.
Then again, maybe you're in the mood to smile at the obviousness of a family driving into a deserted trailer park where their re-bonding getaway is doomed to fail. Perhaps there's a thrill to be had when they discover that their cell phones have been smashed somehow by unseen interlopers. Possibly you're the type who loves the 'ironic' deployment of a parade of '80s cheese classics: Kim Wilde's 'Kids in America', Air Supply's 'Making Love Out of Nothing at All' and Bonnie Tyler's 'Total Eclipse of the Heart'. Even if your standards are that low, you won't find any pleasure in the film's wasting of Christina Hendricks (trapped in a disposable mum part), or the perverse way it all eschews any of the slow-burn scares that made the first 'Strangers' admirable.
Details
Release details
Rated:
15
Release date:
Friday May 4 2018
Duration:
85 mins
Cast and crew
Director:
Johannes Roberts
Screenwriter:
Bryan Bertino, Ben Ketai
Cast:
Bailee Madison
Christina Hendricks
Martin Henderson
Lewis Pullman