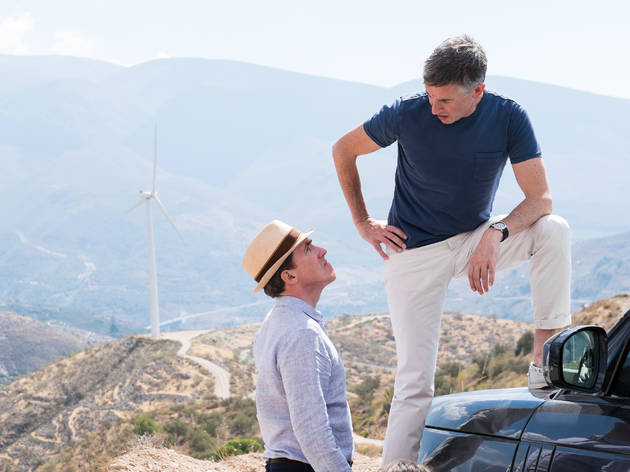 Time Out says
It's diminishing returns for Steve Coogan and Rob Brydon, who reunite for an amuse bouche that once tasted spicier.
If you know the premise of this series, the third installment won't surprise you: Delicious plates of garlic-sautéed scallops and other mouthwatering delicacies are scarfed down in exotic locales by two old frenemies (Steve Coogan and Rob Brydon, playing versions of themselves), both comedy virtuosos, who trade celebrity impressions to hide their own insecurities. The Trip to Spain plays like warmed-up leftovers, as did, to a lesser extent, the first sequel, The Trip to Italy (2014); the freshness of The Trip (2010), which had you shocked that a plot could be so simple yet so profound, is long evaporated.
Impressions-wise, only a new pair of dueling David Bowies reaches the heights of past films' Michael Caines. Sneakily, the subject of career dissatisfaction has the most resonance this time: Coogan, once a screenplay Oscar nominee for Philomena, seethes over recent ignominies. (Brydon, for his part, can't stand his companion's constant crowing over a Judi Dench movie.) Yet as exposed as the actors allow themselves to be, their mostly improvised script never takes them anywhere, and the rough edge of their banter seems to acknowledge as much. At least they get to eat.
Follow Joshua Rothkopf on Twitter: @joshrothkopf
Details
Release details
Cast and crew
Director:
Michael Winterbottom
Cast:
Steve Coogan
Rob Brydon
Claire Keelan