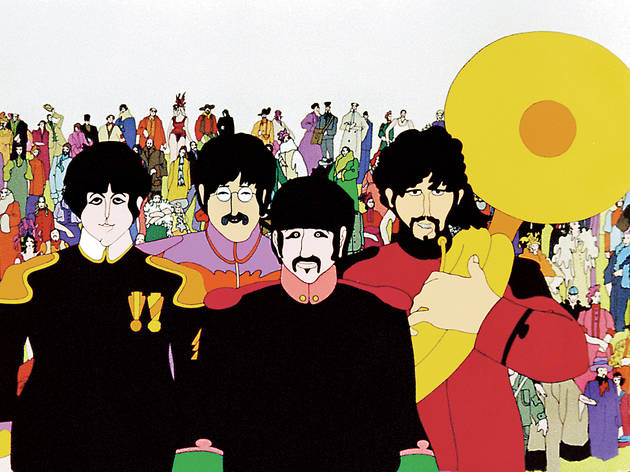 Time Out says
Trippy and tune-filled, The Beatles' aquatic animation is back on the big screen.
The Beatles put their name to no fewer than five films in their quick decade together, and while 'Yellow Submarine' isn't the best of them (surely that's 'A Hard Day's Night'?), it's the only one to feature their 'Sgt Pepper' alter-egos in a trippy animated fantasy that feels like a Terry Gilliam-designed album cover come to life. Now that the title track has become a nursery-school standard, you half expect this to be a kids' cartoon. But it's weirder and scrappier than that, pitched somewhere dreamlike between childhood and adulthood. Clearly influenced by Lewis Carroll's Alice stories, 'Yellow Submarine' features a version of the band on the run through a series of hallucinogenic set-pieces involving bad folk called the Blue Meanies who are running riot in the seriously out-there Pepperland. Only The Beatles can help, and so an old sailor pitches up to Liverpool in a Yellow Submarine to collect them and take them on a mission to defeat the Meanies.
The fantastical story is happily all over the place, and the handful of songs written especially for the film aren't especially memorable. But when already-existing songs like 'Eleanor Rigby', 'Nowhere Man', 'All You Need Is Love' and 'Lucy In the Sky With Diamonds' kick in, the whole thing soars and makes a strange sort of psychedelic sense. It has flashes of winning silly humour ('What day is it?' 'Sitar-day'), and who can resist the submarine turning into a cigarette lighter to the tune of the Hamlet cigar commercial? The Beatles themselves didn't give a great deal to the film. They're voiced, a bit oddly, by actors and only appear briefly in a larking-about epilogue. In Beatles terms it feels like a 'Sgt Pepper' side project with a load of other off-cuts and outside influences merrily chucked into the pot. But it still has an irresistible late '60s spirit all of its own.
Details
Release details
Rated:
U
Release date:
Sunday July 8 2018
Duration:
87 mins
Cast and crew
Director:
George Dunning
Screenwriter:
Al Brodax, Lee Minoff, Jack Mendelsohn, Erich Segal
Cast:
Paul Angelus
Geoffrey Hughes
Dick Emery
John Clive
Lance Percival