In an era before the internet, July 20, 2016, at the Troubadour in L.A. would have been the stuff of legend. No phones were allowed inside the venue at Alicia Keys's one-off surprise gig, during which she debuted never-before-heard material with purpose. It chimed with events from two weeks earlier: the police shootings of African-American citizens Alton Sterling and Philando Castile, incidents that galvanized the movement Black Lives Matter. "And so it persists, like a bottomless kiss, an illusion of bliss, an illusion of bliss," the soulful singer-songwriter, pianist and self-assured maverick spoke-sang over gutsy chords. A straight-shooting New Yorker, she threw her hands at her piano while standing upright. Her hair towered Cleopatra-style, her face was bare—revealing every bead of sweat—and she beamed and performed with carnal sensuality like her life depended upon it. This still-untitled track hit the hardest with lines like, "Sick of being judged, sick of being sick / I don't wanna be a fallen angel." Afterward, she turned to the transfixed crowd and said, "The world has lost its motherfucking mind." I had goose bumps, even before I noticed Pharrell Williams was standing behind my shoulder.
"I've decided I don't want to sit at a piano anymore!" she tells me about the gig two months later over the phone from her car in NYC. "It's constricting, you know? You have to stand to play this type of music." The Troubadour performance was the first taste of a forthcoming, as-yet-untitled sixth studio album, her first in four years. Like a lot of big records these days, it's hush-hush, without a release date or even song titles. "It all started with uncensoring myself," she tells me of the album's impetus. "We allow ourselves to become censored because we don't want to offend people. We'll be whoever everyone wants us to be. I didn't want to be that anymore. This was the first time I created music with such intention," she admits. "Coupled with the fire that's in the world is the inescapable fire in myself." Don't mistake this flammable rhetoric as picking up where 2012's Girl on Fire left off. In the years since, the star born Alicia Cook in Hell's Kitchen has taken off her makeup while locating the sweet spot where expression and social consciousness meet. This is the Alicia Keys you've wanted her to be ever since Songs in A Minor catapulted her to global fame in 2001. She's standing tall again.
In the middle of getting into more heady descriptions, Keys pauses, graciously. "This is strange, and I do apologize. But can you give me five minutes? I need to run in and get my son out of his class. I'll be right back." I patiently wait on the other line, a position I'm sure a lot of people have been in with Keys these days. Because the 35-year-old is, in short, busy as hell. Take this year alone: She performed at July's Democratic National Convention (technically speaking, former President Bill Clinton opened for her) and endorsed Hillary Clinton. She wowed at the UEFA Champions League final. She's even joined as a coach on reality show The Voice, which hounded her to sign on for years. (Despite her initial reservations, she's loving it: "To be the first black woman coach—a producer, a writer, an arranger and the crafts maker of my career—sharing that experience with people who want this is one of the most fun things I've ever done," she says.) It makes sense that organizing a time to speak with her proved nearly impossible.
Fifteen minutes after leaving the phone off the hook, her eldest son, Egypt, is in the car sounding gleeful. "You're a trooper," she says to me, apologizing again. "So where did we leave off?" When she does hop back on the phone, she's sharp, present and calm.
I want to know more about that song that blew me away in L.A.—let's unofficially call it "Illusion of Bliss"—which reminds me of "Fallin'," her 2001 Grammy-winning breakout hit. The theme is about freeing yourself from chains. I pose that the sonic similarities are a wink at the journey Keys has endured to get to where she is now. "Interesting. That song does reflect what I'm aware of now, yes," she answers. "It's about addiction. Some of us are addicted to attention, some of us are addicted to drugs, some of us are addicted to sex, some of us are addicted to drama…" She talks in musical stanzas, like a spiritual leader, repeating phrases, building to a climax. She gathers her thoughts. "I've always been in the front seat of my creative process, without question," she adds. "Now I'm blossoming. The 'Illusion of Bliss' song is nuts. It sends me out the window every time I sing it. Which isn't that often. Yet."
Beyond the glimpse of the new record I caught at Troubadour, I'm allowed to listen to five other finished songs—in (and only in) Keys's publicist's office— before this interview, and they're among the best compositions she's written. They're the visceral counterpart to the Jay Z collaboration "Empire State of Mind." She's called upon writer-producer Mark Batson (Eminem, Jay Z), as well as former cowriter Harold Lilly, Pharrell ("my brother") and producer Swizz Beatz, her husband. The focus she's heeded to lyrics will surely bat away past criticisms of her weaknesses there. "This is a conversation between all of us [about] what we're going through as women, men, young people who want to change the planet, people who are sick of being silenced."
A single from earlier this year, "In Common" (which may or may not be on the LP), is one indication of what could come. It's a tropical house-infused track about unifying ourselves despite our outward differences. "There's only one of each of us in the whole world," she says. "Only one. If we just look at each other and celebrate that, we can meet each other where we are. How dope is that?" Elsewhere, the music is gospel, driven by classic soul. There's a retro song about pawning all her material wealth, a cascading arpeggiated track painting images of heroin users, cockroach-infested slums and gritty reality. It's a record about unrealistic projections of identity, success and happiness.
Big topics, indeed. And they're delivered in an appropriately passionate manner. "It's an imperative time to be loud," she says. "We're not going to be silenced. All of us are battling wars: sexism, ageism, racism. We're fighting the war of borders. We're fighting a war as women. As a black woman raising black sons, I'm seeing so much systemic racism exploding in our faces. These days you have to be afraid to be killed just because you're black! It's devastating." She breathes. "Outrageous statements are made out of fear and hate. The intolerance is not acceptable. It's ancient and patriarchal. The way to propel our country forward is not by building walls. Anyone that thinks that is out of their mind."
"We allow ourselves to become censored because we don't want to offend people. We'll be whoever everyone wants us to be. I didn't want to be that anymore."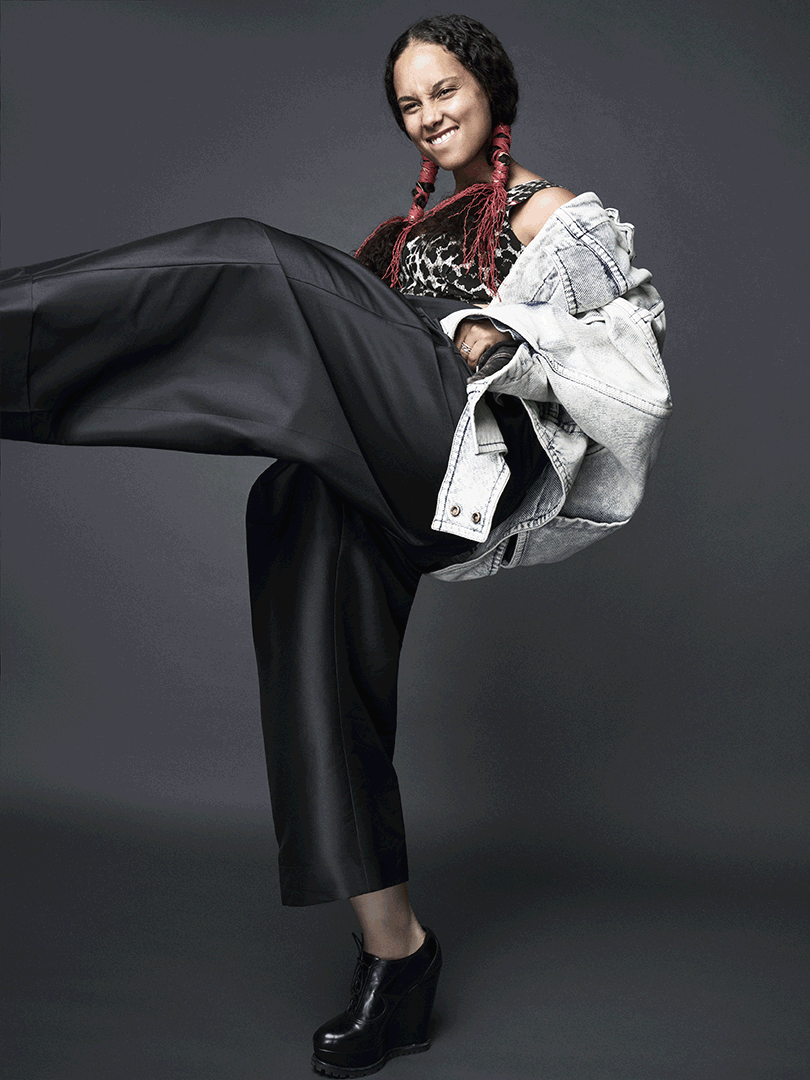 Photograph: Zoltan Tombor
New Yorkers can get a taste of Keys 2.0 in person next month; we can exclusively reveal that she plays a surprise show on her home turf October 9. (The details on where are still on the down low and will be revealed next month. For more highly anticipated shows, check out the best NYC concerts in October.) "Ay-yai-yai!" she laughs when I ask about the gig. "I've never done this before. I guess that's where I'm at right now. I've never done any of it before. You're going to get a taste of how art and activism cross over in a way that's so emotional, so triumphant." It also happens to be on John Lennon's birthday, which is intentional; together with Bob Marley, Curtis Mayfield, Nina Simone and Marvin Gaye, Lennon's use of music as a vehicle for awareness inspires her.
It's logical that Keys realized she couldn't have these hard-hitting conversations before she uncovered things herself, including her face. A hashtag she used haphazardly on Twitter (#nomakeup) has been the subject of recent debate, particularly following red-carpet appearances this summer at both the BET and MTV Awards, where she showed up with a bare face.
Keys penned an article for Lena Dunham's website Lenny about the decision to go makeup free in May. She never intended to start a movement, one that some have misinterpreted as antimakeup. "I promise you I had no idea that it would be such a touchstone. I was just sharing this revelation: I realized I'd been covering up in so many ways. What if I don't want to put on makeup, heels, get all dressed up?" She talks about standards of beauty imposed on us all from a young age. "We're trying to break out of our inherited stereotypes and misinformation. It's screwing us all up. I'm trying to work on loving myself the best that I can."
Of course, the superficial is a reflection of what's on the inside, and Alicia had to work on mending those insecurities, too. She's spoken in the past about the side effects of being in a male-orientated industry since her teen years. How could she possibly take on societal injustice if she felt tongue-tied in her own decision-making skills? "As I said before, I never thought I was artistically compromised. Between my first manager [Jeff Robinson], my former A&R [Peter Edge], who is now head of RCA, and Clive Davis, none of them told me what to do. At the same time, I didn't have the knowledge I have now." She resists. "But you're absolutely right. I did have to find my freedom. There comes a time when you have to become a woman, stand on your own two feet. That's why this music has such a surprising, relentless, raw New York energy."
Despite two decades of eye-watering achievements, including 15 Grammys and more than 35 million album sales, Keys still carries with her a reputation of being safe and unprovocative in an era of Beyoncé, Rihanna, Kendrick Lamar and Kanye West. All of that is set to change. Brace yourselves for Alicia: uncut.
Alicia Keys performs a secret show in NYC October 9 and at the Tidal X charity concert at Barclays Center October 15.