The best NYC concerts in October 2016
We've narrowed down our list of the most exciting NYC concerts in October, from DJ Shadow to Sigur Ros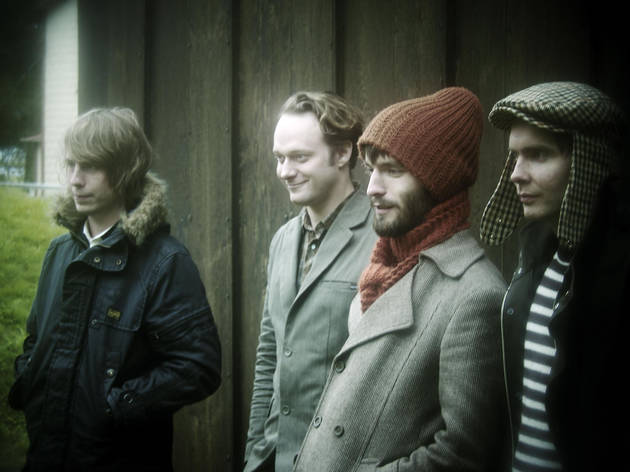 You can't fool yourself anymore: with September out of the picture, summer concerts in NYC are totally over. But even though summer music festival season might be up, the upcoming slew of stellar fall concerts in NYC means there's no reason for any concert-goer to fret. So bundle up in your sweater weather finest and head out to hear everything from big-name pop-stars to local indie-rock bands.
RECOMMENDED: Full guide to the best concerts in NYC
NYC concerts in October
Formerly known as the man behind Lightspeed Champion, Devonté Hynes has risen to the status of omnitalented alt-pop visionary: producer to Sky Ferreira and Solange, Hollywood soundtracker (Palo Alto) and—working as Blood Orange—'80s-obsessed soul-pop mastermind. This year's Freetown Sound, Hynes's third record under that moniker, was a complex, swirling affair, an upbeat ode to dance one moment and a soul-searching dirge the next.
Read more
Icelandic band Sigur Rós maintains a seemingly unpiercable facade beyond its remote native land—blame it on the combo's brainy, loose dreamscapes, which turned unexpectedly turbulent and aggressive on its most recent effort, Kveikur. The group pared down in recent years to a trio after the departure of keyboardist Kjartan "Kjarri" Sveinsson, but you can expect the trim lineup to craft an enormously expansive, otherwordly experience nonetheless.
Read more
Born out of an L.A. punk scene that prized efficiency, the Descendents have been delivering 90-second fastballs of buzzed-up bubble gum off and on since the late '70s. The band went on several extended hiatuses in the '90s and aughts; its new, excellent LP, Hypercaffium Spazzinate, is just its third in three decades­. The songs might be more mature, but they're still as fast and concise as ever.
Read more
Two of the most influential voices in rap right now grace the house that Billy Joel built—er, plays all the friggin' time—with this four-night stretch at Madison Square Garden. Expect to hear cuts from last year's team-up album, What a Time to be Alive (unavoidable viral hit "Jumpman" is a shoo-in), and plenty from Drake's latest LP, Views.
Read more
After years of wayward traveling through dance music's many realms—IDM, deep house and so forth—Machinedrum's Travis Stewart settled into a distinctive niche of spastic vocal-sample–heavy UK bass music with 2011's Room(s). After a few EP's and a follow-up LP, Vapor City, he's refined that style with the addition of his own voice, famous drum-sample Amen breaks and acoustic guitar to make for a potent live set.
Read more
DJ Shadow became an instant headphone hero in the '90s with his debut album, Endtroducing…, a stone-cold hip-hop classic that set off nearly two decades of a scene swamped with imitative efforts by fellow sample slayers and turntable terrors. The man himself will be rocking the decks tonight in Williamsburg, as he tours behind a new album, The Mountain Will Fall, which trades '90s turntable sounds for contemporary Ableton production.
Read more
It's easy to see why Chvrches emerged as one of the most heavily hyped bands 0f 2013. The coed Scottish trio's swooning, Prince-meets–Kate Bush synth pop, captured on exquisite singles such as "The Mother We Share," is an irresistible sonic confection. Now the cosmic popsters land at Radio City Music Hall, in support of their sophomore 2015 album, Every Open Eye.
Read more
Thanks to the ascent of ladies such as Ingrid Michaelson, Sara Bareilles and Christina Perri, the female quirk-pop field is a lot more crowded now than it was when Regina Spektor broke through with "Fidelity," her oft-licensed semihit, in 2006. Yet one needn't proceed too deeply into Spektor's latest to remember what an idiosyncratic talent she remains: On Remember Us to Life (released on September 30), the NYC songstress returns to form.
Read more
Five-time Grammy-nominee Sia brings all her electro-pop dramatics to the Barclay Center with her "Nostalgic for the Present Tour." At 40 years old, Sia might seem like an unusual artist to dominate the charts, but her powerhouse vocals and aesthetic are not to be missed. Critically acclaimed R&B artist Miguel and electronic duo AlunaGeorge join as the special guests.
Read more
Looking for new music?
Every month, our music and nightlife critics cherry pick the best new songs recently released—listen to them here
Read more