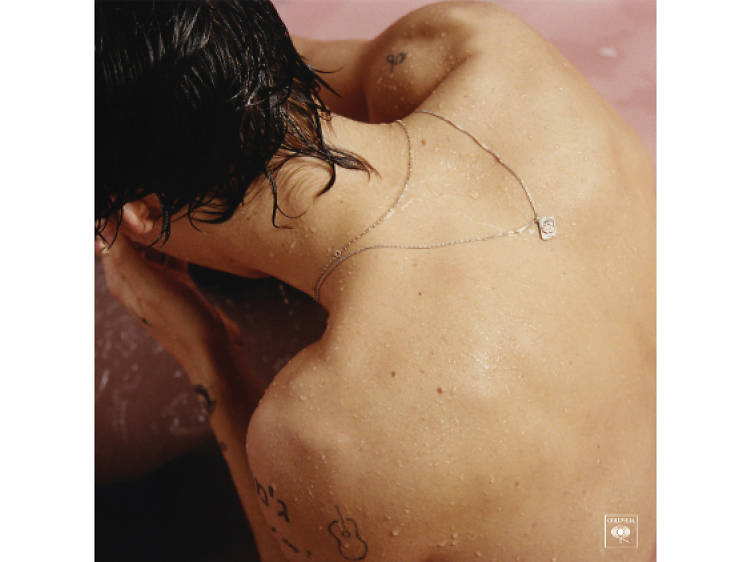 Harry Styles – 'Harry Styles'
Because he's funny, charismatic and has rock star good looks, Harry Styles attracts more hyperbole than any other One Direction member. When he wore a pink suit on TV recently, fans tweeted that he was 'destroying gender norms'. Before his debut solo album was even announced, music industry rumours suggested it could recall 'regal' British rock music like David Bowie and Queen.
Obviously it was never going to reach such lofty heights of ambition – but there's no denying this self-titled album finds Styles vying for old-school rock credibility. Stately lead single 'Sign of the Times' is written from the viewpoint of a woman who's told she's dying as she gives birth – it's a long way from perky 1D hits like 'Best Song Ever'. Fortunately, other songs aren't so self-consciously sombre. 'Carolina', for example, is an infectious rootsy pop song, while 'Two Ghosts' is a melodic slice of West Coast melancholy.
Parts of the record are unavoidably derivative – 'Sweet Creature' owes an obvious debt to The Beatles' 'Blackbird', and the intro to 'Woman' recalls Elton John's 'Bennie and the Jets'. While raucous rocker 'Only Angel' is lots of fun, it also echoes the Rolling Stones a little too closely. Styles doesn't just evoke the riffs of that era, by the way. 'Couldn't take you home to mother in a skirt that short,' he leers at one point – something no horny young man has said since at least 1963.
If you're also keen to hear Harry Styles sing about having a sad wank, you're in luck. 'Woke up alone in this hotel room / Played with myself, where were you?' he asks on 'From the Dining Table', an otherwise lovely folk-pop song.
Clunky lyrics aside, Styles actually, ahem, pulls off everything he tries – even the surprisingly hard-rocking 'Kiwi'. This album is no masterpiece, but it still feels like a promising start to his solo career.