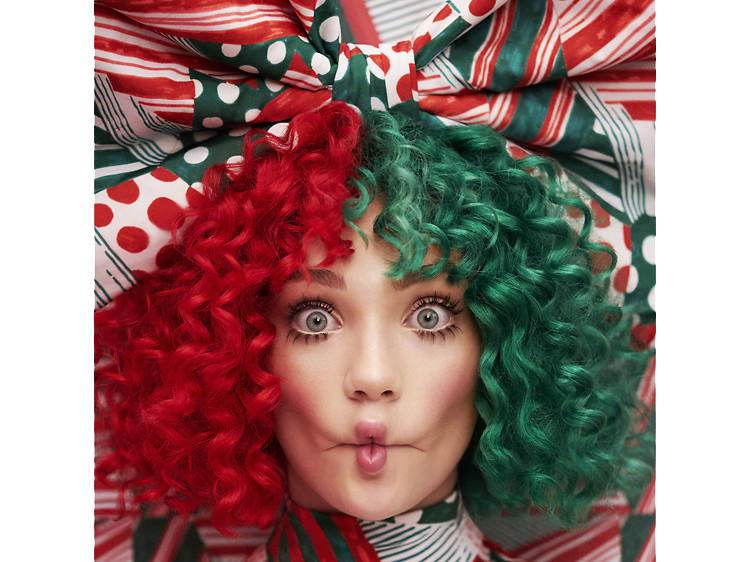 Sia has written songs for megastars such as Beyoncé and Rihanna, scored a string of chart-topping hits, directed a feature film and penned an anti-fame manifesto. But now she's gone where very few artists would dare – the Christmas album.
Co-written with powerhouse producer Greg Kurstin, Sia's collection of holiday originals, 'Everyday Is Christmas', marks her first release for new label, Atlantic. As Christmas albums go, it favours substance over novelty. The album presents ten individually wrapped songs that harness a range of festive-friendly styles – from emotive ballads to office-party pop – and mines a level of sonic depth rarely glimpsed in the cookie-cutter Christmas canon.
First single, the ominously titled 'Santa's Coming for Us', is as busy as your dad's Christmas jumper, knitting together bar-room piano boogie and a lilting calypso melody with fuzzy horns and guitars, while 'Candy Cane Lane' is a Phil Spector-esque classic, topped with a flurry of sleigh bells.
There are tearjerkers too. Take 'Underneath the Mistletoe', with the heartstopping lyric: 'Run to me, run to me, through the white night, I'm waiting for you'. Or Underneath the Christmas Lights', which contains just the right sprinkling of schmaltz. But the title track also suggests that this record doubles up as a love letter to an unnamed recipient: 'Every day is Christmas when you're here with me , I'm safe in your arms, You're my angel baby,' croons the pop alchemist.
Elsewhere, there are a few dud panto turns, such as the overripe silliness of 'Puppies Are Forever'. Plus it's a shame that the glass-shattering voice that gave us 'Chandelier' and 'Alive' isn't quite stretched to its full potential here. However, the strength of this album lies in its ability to be both clever and timeless. 'Everyday Is Christmas' is a meta-pop classic for all the family.