The xx's new album 'I See You' – their third, and poppiest yet – is exultant, and here on the couches of an O2 Academy Brixton dressing-room, its vibe is being embodied by its three human ambassadors. Romy, Oliver and Jamie are not quite displaying Tom Cruise levels of sofa-jumping, but spirits are high as we discuss their upcoming, record-breaking, sold-out seven-night run here at the Academy.
From March 8 to 15, the band are broadening their residency into a festival of sorts, which they're calling Night + Day Brixton. It will include an enviable array of support acts, a radio station team-up, film screenings, and, on the Sunday, a bladder-bursting eight-hour DJ set from Jamie – in his own right one of the most celebrated DJs in global clubbing. 'London is still the most inspiring place for me,' he says of the band's hometown. 'When I think about it, it makes me want to make music.'
So, seven nights here. Was that number plucked out of a hat?
Romy: 'It got suggested to us. We'd played Brixton once before [in 2012], which was an incredibly special moment for all of us. Separately, we'd come here for our first gigs – my first gig was here at 14, and the guys came together to see The White Stripes.'
Jamie: 'Me and Oliver went with his mum. She was right at the front, holding all the moshers off of our backs because we were getting squished up against the barriers.'
Oliver: 'She was a massive, massive White Stripes fan. So she just treated me and my friends as companions to go to gigs with, because none of her friends wanted to go. She took me and Romy to our first festival when we were 14, to go to see The White Stripes.'
What makes the Academy so special?
R: 'I can't explain exactly what it is, there's a magic about it. Maybe its all the history in the walls. Even the stage floor is like the deck of a ship. When we played here, I felt these grooves in the stage where people have moved around for years and years. I think that's amazing, it really feels like you're steeped in the history.'
O: 'That downstairs floor is the buzziest venue in London. Out of all of them, that is the one that always seems to go off. I don't know if it's that floor slant, but yeah, that's where I've always found it to be the most riotous, or the most engaged audience.'
Your run of shows sold out in one day. Did anyone say, 'Hmm, maybe we should add another one...'
J: 'I think seven seemed ridiculous enough.'
It's a record, for a band at Brixton. Do you wanna be in the Guinness World Records book or something?
O: [laughs] 'Erm… no! I think Mighty Boosh hold it for the same amount of nights, though.'
Well yeah, some non-music acts have done silly stints. French circus act Archaos did 12 Brixton shows in 1996. They didn't sing. But they did fire breathing and a wall of death. So maybe… some of that?
R: 'Wow. Okay. Get the motorbike out then!'
'The Academy is the buzziest venue in London'
For your festival, Night + Day, you organised a ton of activity on top of the music. Is that the plan for your Brixton shows, too?
J: 'Definitely. We're going to have a bunch of different stuff outside of the Academy during the day. We're gonna collaborate with Reprezent FM, a radio station based in Pop Brixton. We want to come on and do guest spots on their shows. They'll also be recording a set I'm going to do on Sunday daytime. It was originally our day off but we had the venue hired already so now it's gonna be a daytime party for charity. It'll be fun. Eight hours. When you DJ for that long it becomes quite meditative!'
R: 'I have respect for Jamie for doing that on his day off! He's gonna be exhausted.'
And you're showing some films at The Whirled Cinema too?
R: 'Yeah, because it turned out that music in films was something we all loved. Like the 'Romeo + Juliet' soundtrack – that was something Oliver and I had when we were growing up. Also skate videos were big for us. Jamie and I were really into skateboarding. In fact, loads of music – bands like Portishead and The Cure – I got into through skate videos. So we hope to show some of them and some films we like, just [to] let people in on different sides of our personality. We'll hopefully try to go and see them as well, if we have time.'
You were skaters?
R: 'Me and Jamie, yeah. It was a big part of our friendship when we were younger. Getting out and exploring London, and feeling independent. And that whole culture and the music that goes with it has been more of an influence than I realised. I've personally slowed down on it. I used to take a skateboard on tour but I realised if I fell over and broke my wrist or something…'
You'll be on a throne like Axl Rose. Jamie, you used to live in Brixton – how have you seen it change?
J: 'Well there's a cheese and champagne shop in the village now. That wouldn't have been here ten years ago. I was living here when things like the squat on Coldharbour Lane still existed. They all got moved out, and now they're turning it into nice flats. Elements are getting lost, but that's just what happens in London.'
Does the gentrification that's destroying a lot of heritage make you sad?
J: 'Yeah. But it's nice that so many people are sad about it and are trying to make a difference.'
R: 'I definitely want all this to be a collaboration with Brixton. I don't want people to think we're attempting to take over. We want to get involved with local charities and organise guestlist donations, and things to help the area. We're just thrilled to have the opportunity to make it more than just a gig.'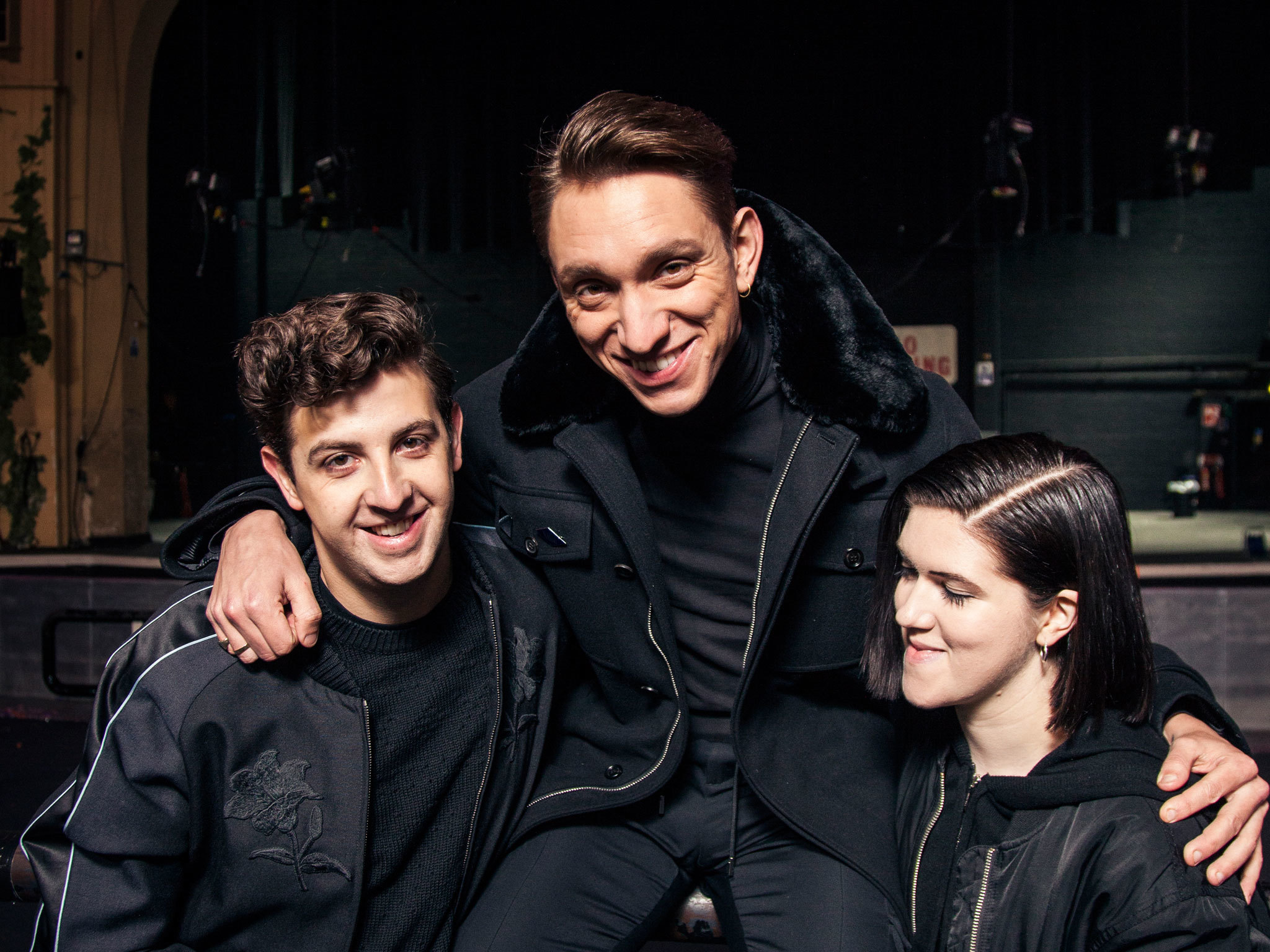 'I came to see Jamie play here and there were T-shirts with him as Christ'
Do you hang out here much still?
J: 'I do. I've come here slightly less recently because of that change. Also because all my pals who lived here have now moved to Peckham because of the gentrification, because it got so expensive around here.'
What are the best parts of Brixton today? Where would you take someone to show it off?
J: 'It's nice that The Windmill is still here. And The Effra for jazz and jerk chicken. Then maybe go to the Dogstar for a pint, for old times' sake. And then on to 414 for a rave.'
How has the live music scene changed in Brixton? Lots of London venues have been disappearing.
J: 'Yes, some of my faves. 414 is about to get closed down, I think. But it's nice that Plan B has turned into Phonox. I don't think being down about it is the way forward. People are seeing all this stuff closed down and making an effort to start new things. World Unknown is a really good club – really small, dark and loud. It used to happen in Loughborough Junction, under the arches, I think it's just moved to Peckham.'
You have an amazing line-up of support acts – people like Robyn, Sampha, Kelela and Floating Points. Who are you particularly excited about?
R: 'Cat Power. For me. She's such a legendary, inspiring person and musician. I have a lot of memories of having friends who lived in Camberwell and listening to Cat Power on the bus coming through Brixton back to Putney. When we found out that she could do the show, that memory of being 16 came back to me. It's gonna be a very haunting performance, I think. I can't wait for that.'
O: 'Robyn is quite a surreal one! Hats off to all of these people for doing it. But she's a big pop star. I'm just dead excited to see her perform.'
R: 'A lot of these people shouldn't be supporting us. They're more like special guests. They can play their own massive shows, they have huge fanbases, and we feel really happy that they respect us and wanna play with us.'
Something that's unavoidable and kind of bonkers about the Academy is coming out after a gig and being besieged by all the bootleg merch. What do you think about that, regarding your own stuff?
R: 'I always find it quite fascinating, what they pick. I was here for Jamie's DJ gig...'
O: 'Oh that was brilliant. I came to see Jamie play here in 2015, and came out and there were T-shirts with Jamie as Christ [all laugh]. It was brilliant. I got four of them.'
Jamie, what did you make of that?
J: 'It was amazing! I think it was an internet meme.'
Have you ever worn one?
J: 'Err… no I don't actually have one. I wish I'd got one.'
Well he's got four!
O: 'I do'.
Do you feel Christ-like?
J: 'No.'
The xx play the O2 Academy Brixton from Mar 8-15.
Read more about The xx's outrageously awesome plans for Brixton.