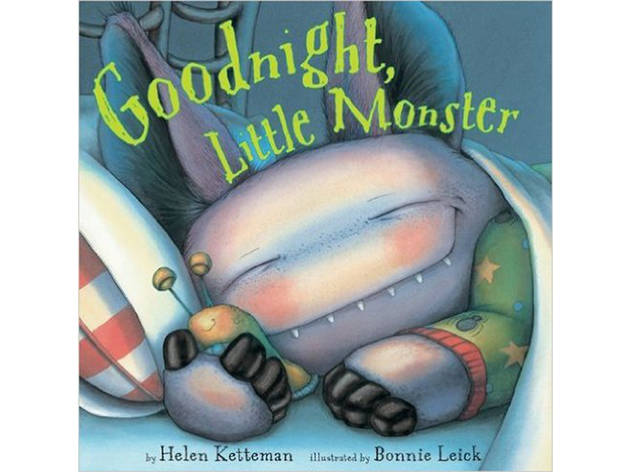 Best Halloween books for kids and families
Head to the library for the best Halloween books for kids. There's something for all the little monsters in your brood.
We certainly hope you have the nightlight at the ready! The best Halloween books for kids will have your crew sleeping with one eye open this spooky season!
Selections like Scary Stories to Tell in the Dark, Coraline and the Nancy Drew series are guaranteed to send shivers down kids' spines, but if your goblins and vampires are a wee bit young for a dose of horror, treat them to favorites like Clifford's First Halloween—totally fun and scare-free!
RECOMMENDED: Halloween for kids in New York City
Happy Halloween, young ghouls! We recommend indulging in these Halloween kids' books and some scrumptious candy. To make the Halloween season even sweeter, visit these haunted houses, explore the coolest Halloween events for kids in NYC and binge the most epic Halloween movies.
Best Halloween books for kids
1. Big Pumpkin by Erica Silverman
This witch is in for one wicked disaster. She's grown a wonderful pumpkin that's perfectly suitable for the pie she's planning to bake. But Unfortunately there's a problem: She can't seem to get the ghourd off the vine. She's elicited the help of other spooky creatures such as the mummy and vampire, who haven't had any luck, either. A bat swoops in to lend a hand (er, wing) to help rectify the situation. Will she get her pumpkin pie? Ages 4–8.
2. Pinkalicious: Pink or Treat by Victoria Kann
The Halloween festivities have come to a screetching hault. When the lights go out in Pinkagirl's town, the mayor cancels the seasonal celebration, which means no pumpkins, no candy and—perhaps worst of all—no costumes. How will Pinkagirl be able to show off her pretty in pink attire? This kick-butt superhero isn't about to let the holiday go by without a celebration, so she swoops in to save the day. Ages 4–8
3. Clifford's First Halloween by Norman Bridwell
Our favorite red dog is getting the orange treatment. In celebration of Clifford's first Halloween celebration, his owner Emily Elizabeth dons the pup in a cute ghost costume as he embarks in traditional festivities—bobbing for apples, trick-or-treating and more. Ages 2–3.
4. Goosebumps series by R.L. Stine
No horror collection is complete without the work of R.L. Stine. From A Night in Terror Tower to Monster Blood, this Goosebumps anniversary set celebrates one of the spookiest series on the shelves. We wouldn't recommend a reading session before bed! Ages 8–12.
5. The Hardy Boys by Franklin W Dixon
Super-sleuth with the coolest kid detectives in the biz. This set of Hardy Boys novels will introduce readers to the first 10 books of the series, which includes The Secret of the Caves, The Tower Treasure and other classic tales. For a dose of mystery, horror and adventure, these go-to stories can't be beat. Ages 8–12.
6. Nancy Drew series by Carolyn Keene
Reading a Nancy Drew book is a rite of passage for young girls. In this 10-book set, children are introduced to the beginning of her spooky mysteries—The Hidden Staircase, Nancy's Mysterious Letter and other crime-fighting goodness. Ages 8–12.
7. Coraline by Neil Gaiman
Coraline quickly discovers all that glitters isn't necessarily gold. She opens the door to another—seemingly better—home and thinks she has hit the jackpot. But when this new family catches wind of her arrival and won't let her go, things get hairy. This marriage of fairy tales and horror is a must for all kids. Ages 8–12.
8. Scary Stories to Tell in the Dark by Alvin Schwartz
These frighteningly delightful tales are as irresistible on Fourth of July as they are on Halloween. Any little horror aficionado will delight in the creepy illustrations and stories that guarantee to turn dreams to nightmares. Anyone will certainly think twice before entering that graveyard on a dare after skimming through this fan-favorite. Ages 8 and up.
9. The Headless Horseman Rides Tonight: More Poems to Trouble Your Sleep by Jack Prelutsky
Clever wordsmith Jack Prelutsky bring us another collection of scary poems as a follow-up to his book, Nightmares: Poems to Trouble Your Sleep. These 12 spine-chilling tales accompanied by black-and-white artwork—including the eerie account of The Legend of Sleepy Hollow—will creep kids out just the right amount. Ages 6 and up.
10. The Witches by Roald Dahl
Roald Dahl paints a seriously scary picture of child-eating witches in this eerie chapter book. A young boy and his grandmother move to England, prompting her to teach him about the various bands of witches throughout the world. When he accidentally wanders into a gathering of the English witches, led by the Grand High Witch herself, he sets out to warn others about their evil plan. Ages 8–12.
11. Little Blue Truck's Halloween by Alice Schertle and Jill McElmurry
Hop inside the Little Blue Truck! He's picking up his animal friends and taking them to a Halloween costume party. Each character is hiding behind a costume and it's up to little fingers to lift the tabs and figure out who's who. The Little Blue Truck series delights young readers with this seasonal adventure that will spark their imagination. Maybe they'll even find costume ideas in the pages of this board book! Ages 2–3.
12. Room on the Broom by Julia Donaldson and Axel Scheffler
When a witch and her cat encounter an unexpected gust of wind during a flight on her broom, she loses three items in the night—her hat, her bow and her wand. Three animals help the witch recover her lost possessions, but in return they want to hop on her broom for a ride. The witch has to decide if there's enough room for them all, but when a hungry dragon attacks, she might just be glad to have all the help she can get. Kids expecting a spooky, evil witch will be pleasantly surprised by our generous friend. Ages 4–8.
13. The Berenstain Bears and the Spooky Old Tree by Stan Berenstain and Jan Berenstain
Our littlest Berenstain Bears muster up the courage to explore a creepy old tree by going into, up, through, over, down and out on the other side. Kids will get the slightest chill while learning about directions through rhymes and bright visuals. Ages 4–8.
14. The Night Before Halloween by Natasha Wing
In a cute twist on the famous poem "The Night Before Christmas," friendly ghosts and ghouls prepare their haunted mansion for Halloween night. This not-so-spooky book is sure to get your youngsters in the spirit with fun rhymes and colorful illustrations. Ages 4–8.
15. The Monster at the End of This Book by Jon Stone
Little ones who can't handle being spooked too much will love this silly book, starring Grover from Sesame Street. As the title warns, there's a monster lurking in the final pages, and Grover does all he can to warn you before it's too late! The blue, fuzzy guy will have tots giggling the whole way through. Ages 3 to 7.
16. Goodnight Little Monster by Helen Ketteman
Your kids' bedtime rituals might be a bit different than Little Monster's! Before he tucks in, he'll have to drink his worm juice and scrub his scales—but don't forget the night light! The adorable watercolor illustrations in this fun, Halloween bedtime story make monsters less-than-scary for the little ones. Ages 3–5.
17. The Gruffalo by Julia Donaldson
With so many stories about scary creatures with terrible tusks, claws, teeth and jaws, how are we to know what's real and what's make-believe? In Julia Donaldson's award-winning picture book, a brave little mouse believes he's spinning a yarn about the frightening Gruffalo to ward off some predators in a dark wood…but what's that lurking nearby? Ages 3–7.