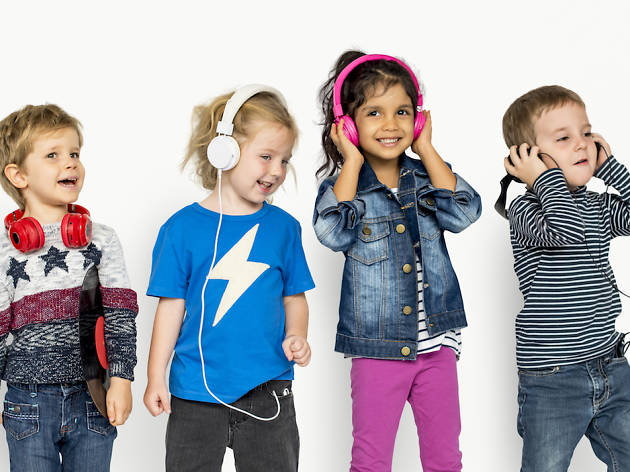 Best podcasts for kids of all ages
The best podcasts for kids entertain and inform. These podcasts are so much fun the whole family will want to listen!
This is the golden age of podcasts, and the selection for kids has never been better! The best podcasts for kids will spark imaginations, or teach new ideas, or make kids laugh so hard they snort apple juice out of their nostrils. Sometimes, a podcast like Wow in the World will accomplish all three!
Our list of the best podcasts for kids has something for everybody to enjoy. From mysteries and comedies, to fairy tales and scientific quests, these podcasts are so riveting the whole family will want to tune in. After listening to a podcast like Smash Boom Best, you can take an adventure IRL and go to one of these amazing museums for kids.
These podcasts are perfect for car trips, dinnertime or just chillaxing. Some can help at bedtime as well, and set the mood for when you crack open one of the best children's books to read your kid to sleep. There are so many great podcasts on this list you can listen to a new one every day!
When the weekend rolls around, you could have a movie night, and watch one of the best family movies to watch together. The family that streams together, stays together. Be sure to also check out our daily storytimes with the New York Public Library!
Looking for something more suitable for mum and dad? Check out our definitive list of the best podcasts to listen to right now. Plus, we've got our very own podcast – 'your city or mine?' – in which Time Out Group CEO Julio Bruno talks to thought-leaders and pioneers about the innovations and ideas shaping our cities.
Best podcasts for kids
Photogrpah: Robb Hohmann
The goofball science podcast Wow in the World is packed with as much comedy as information. Hosted by Mindy, a klutz with a time machine, and Guy, her uptight foil, Wow in the World takes on serious scientific inquiries and makes learning fun—even for parents. (After all, the podcast is from NPR.) The expanding cast of silly characters, led by Reggie the carrier pigeon, keeps the episodes fresh. A few listens and your kiddo will want to be a Wowzer, too.
Courtesy Curlee Girlee
2. Curlee Girlee's Crackin' the Kid Code
The beloved Curlee Girlee book series is a celebration of determination and uniqueness. It works to keep young children in a positive mindset, and its podcast gives parents a sneak peek into "Crackin' the Kid Code." Author Atara Twersky teams up with Grace Cross of The Baby Spot to interview experts and celebrities on ways they can keep their kiddos feeling empowered. Don't forget to order the second Curlee Girlee's Got Talent book, which hits shelves Nov 26, 2019!
Perfect for the budding feminists in your life, Girl Tales is a podcast that reimagines beloved fairytales through an empowering lense. Don't expect a damsel in distress here!
Perfect for curious kids (8+) who aren't afraid to turn off their nighlight, Unspookable offers a family-friendly take on popular urban legends, scary stories and myths (think clowns, vampires and other topics that'll give 'em the heebiejeebies). Whether your littles are camp-bound or in the Halloween spirit 24/7/365, this is the perfect podcast for budding horror fans. Be sure to tune in this April for the new fourth season!
A debate show for kids and families from the makers of Brains On!, Smash Boom Best takes two ideas, smashes them together and lets you decide which one is best. It teaches critical thinking, and how to take oppositional viewpoints. It also is a lot of fun. Past topics include Aliens vs Robots, Pizza vs Tacos and Invisibilty vs Flying.
6. Spare the Rock, Spoil the Child
Indoctrinate your tykes with this weekly playlist of "indie music for indie kids." Not only will children enjoy starting the day listening to music made for kids, but parents will be delighted to discover that age-appropriate tracks from some of their favorite bands routinely make the cut. Why not off start the day (dancing) on the right foot?
If you have a budding scientist on your hands then Tumble is an absolute must. Experts in the field stop by to discuss their own work, uncover phenomenons and ask questions that will inspire curious minds. This podcast will make your kids fall in love with science.
Five Minutes with Dad is not unlike the conversations that happen in your family. You'll love how this pop and his two kids tackle everyday issues, from staying positive in school, to losing a tooth, to showing appreciation for your relatives. The hosts are as charming as they are relatable.
Here's how Story Pirates works: Kids supply the ideas and the characters, then sketch comedians bring the tales to life. While the stories are good and silly, the performances are terrific fun. Even better? You can also see their live shows on stage in NYC and around the country!
10. The Radio Adventures of Dr. Floyd
Imagine the Rocky & Bullwinkle Show crossed with Nova and told like an olde-timey radio show and you have the Radio Adventures of Dr. Floyd. it follows the journeys of the kind Dr. Floyd and the wicked Dr. Steve. The two are always at odds as they lead listeners on adventures that cover history, geography and science—a fun and unique way to spice up school subjects.
Do your kiddies have a burning question? Perfect! Send 'em in! Brains On! finds a different expert for each episode who will address tots' curiosity. Anything from animal farts (yuck) to narwhals have been covered!
12. The Alien Adventures of Finn Caspian
Take a sci-fi trip with Finn Caspian, his friends and their pet robots as their hurl through space aboard the Famous Marlowe 280 Interplanetary Exploratory Space Station. Kids will follow their misadventures as they explore strange planets, meet aliens and gather feedback from listeners on where their intergalactic journey should take them next.
Storyteller Eric James O'Keefe turns kids' questions into wacky scenarios in What If World, so if your tots are inquisitive, send in their question and let the fun unfold from there!
When eyelids get heavy, tuck the kids into bed and select the perfect adventure on Story Time. These 20-minute-long podcast episodes are perfect for the end of the day, and are split up according to age brackets.
Older children who still want to hear a great story before drifting off to sleep will enjoy this storytelling podcast. Not only will they discover original tales and timeless classics, but they'll also learn new vocabulary and cut back on screen time right before bed.
Everyone need to feel calm and zen. Thanks to Peace Out, youngsters can tackle the subject of mindfulness as they're guided through activities, relaxing stories and breathing techniques.
17. Saturday Morning Cereal Bowl
When it's time to boogie, start up this musical show for fun tunes that'll have kids shaking out the sillies. Each playlist contains two hours of music, which is also perfect come birthday party time.
With a touch of humor and a helping of curiosity, Short & Curly focuses on ethics while exploring topics in pop culture, tech and everyday life. Some previous episodes include, "Was Robin Hood right? Should you rob the rich to help the poor?" and "What's the point of a school uniform?"
19. Little Stories for Tiny People
Wind down at the end of the night by tucking in, turning on the nightlight, grabbing a teddy and listening to original content from Little Stories for Tiny People. Think of this podcast as a bedtime story in audio form.
Tweens looking for new books to add to their collection will find new ones to dive into after listening in on this biweekly podcast. They'll hear other kids chatting about a great story, along with other literary recommendations and celeb guests who will read an excerpt from the week's chosen title.
21. The Unexplainable Disappearance of Mars Patel
Calling all fans of Stranger Things—this one's for you! This Peabody Award-winning podcast that's appropriate for middle-grade students uses a cast of actual middle school kids to tell the tale of an 11-year-old boy who goes off in search of his missing buddies. The series wrapped up in 2019, but if you're new to it start from the beginning!
Adorable nine-year-old Eva Karpman and her mom Olga interview celebrities, entrepreneurs, award-winners and experts in a variety of industries to answer questions and encourage kids to dream big.
Storynory has it all—fairytales, myths, educational stories and even music and poetry.
It's storytime all the time. Circle Round takes folk stories from across the world and adapts them to a modern tale for little listeners. Get ready to swoon: This podcast has recorded with Stranger Things star Noah Schnapp, among other notable entertainers, so you know you're going to be in good company.
Interested in what the future of our cities looks like?
In 'your city or mine?', Julio Bruno – Time Out Group CEO, culture guru and global citizen – chats to the world's most influential trendsetters, thought-leaders and policymakers about the stuff that's shaping our cities.
Best selling Time Out Offers