The best summer books for kids and tweens
Looking for some great summer books for kids? Look no further! They'll love great stuff like The Night Gardner, Home and George.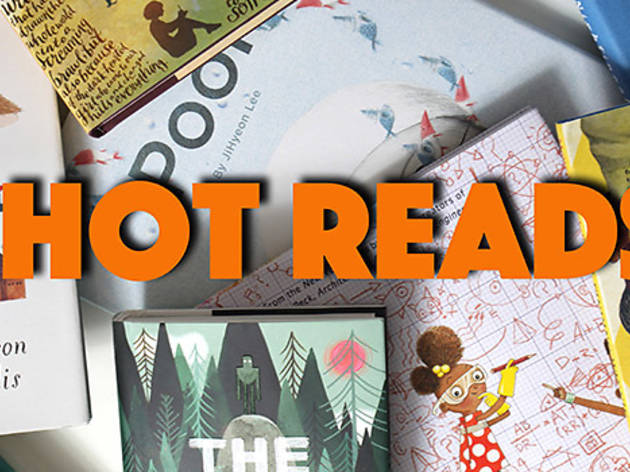 Plan ahead for some great summer reading this year! Our list of summer books offers everything from picks for brand new readers to picks for tweens (ya know, the ones who can't put down the iPhone). These summer books offer a great opportunity for all ages to unwind with a great story, whether told through pictures or shared through chapters.
Looking for more great kids' books? Check out our guide to the best kids' books around, books about kindness and these truly wonderful baby books (where you'll be doing the reading)!
The best summer books for kids
1
The Wild Robot by Peter Brown
Perfect for fans of the classic kids' flick The Iron Giant or stories of Robinson Crusoe, this quirky book follows a lovable robot who finds herself marooned on an isolated island. At first, Roz the Robot feels out of place in nature, but she gradually adapts to the natural world and vice versa. But can a factory-designed robot ever fit in among the birds and trees? It's a big question that Brown handles gracefully. Note: The book does contain some mild violence, so parents may want to scan pages first. Ages 8–11.
2
The Princess and the Pony by Kate Beaton
Parents familiar with Beaton's Hark! A Vagrant comics will be especially keen to pick up the author's first children's picture book, which retains her playful artistic style and emphasizes her rejection of convention. The bright story follows Princess Pinecone, "the smallest warrior," who wants a big, strong horse for her birthday. Instead, she receives a small, pudgy, gassy pony. But the pair's shared adventure, which comes with a healthy dose of silliness, is an inspiration of teamwork and of daring to overcome one's apparent limitations, whether a princess or a pony. Ages 4–8.
3
Ada Twist, Scientist by Andrea Beaty, illustrated by David Roberts
The author-illustrator pair known for creating inspiring STEM stories for kids put together another hit offering in 2016: "Ada Twist." This little scientist leads readers through her own scientific discoveries, seeking out the answers to big questions like, "Why are there hairs up inside of your nose?" Ada encourages kids of all ages, genders, races and backgrounds to ask these questions and to use science to discover some explanations. Ages 5–7
4
The Thing About Jellyfish by Ali Benjamin
The thing about jellyfish is that they can hurt even the strongest swimmers, or so Suzy reasons in this debut middle school novel. Suzy's best friend, Franny, drowned in an accident, which Suzy is sure a jellyfish caused. She is determined to prove her theory, and the novel follows her search, unveiling complicated depths to the pair's friendship. It's a heavy book but especially impactful for kids going through challenges of changing friendships and often-tumultuous adolescent transitions. Ages 10–13.
5
Wolf Hollow by Lauren Wolk
Readers can't go wrong with one of the most popular books of 2016, which has drawn many comparisons to To Kill A Mockingbird. Wolk's debut is set in rural Pennsylvania in 1943, a bleak but appropriate backdrop for a well-crafted story about learning to live in a world that isn't always beautiful or kind. This mature revelation gradually comes to young Annabelle after a newcomer to her town disappears— and a misunderstood but kindly drifter becomes the No. 1 suspect. The book unflinchingly displays the world's too- frequent injustices and gives readers an unforgettable heroine in Annabelle. Ages 10 and up.
6
Crenshaw by Katherine Applegate
Jackson, his little sister and his parents face a very big challenge: They're short on money and facing eviction—and not for the first time. This heavy situation blooms into a poignant story when 10-year-old Jackson encounters a seven-foot-tall cat named Crenshaw. Though Jackson realizes the cat is probably a figment of his imagination, Crenshaw's companionship and wisdom provide some much-needed comfort. A make-believe cat may not be able to save his family, but friendship, real or imagined, does help. Ages 8–12.
7
Echo by Pam Munoz Ryan
Young readers ready for a nontraditional story arc will be
eager to get their hands on Ryan's twisting tale that combines folklore, history and the magic of music.
The story begins with a witch's curse and a spirited harmonica and then moves through time as three children encounter the supernatural instrument. With a touch of magical realism, the harmonica unites their difficult lives—Fredrich in Nazi Germany, Mike during the Great Depression and Ivy in World War II–era California—and gives each the courage they need to withstand adversity. Ages 9–12.
8
Finding Winnie: The True Story of the World's Most Famous Bear
The very premise of Finding Winnie offers a great surprise for readers of all ages: A real-life baby bear (who was actually a female) inspired the beloved character of Winnie- the-Pooh. Alongside gorgeous illustrations by Blackall, Mattick narrates the true tale of the bear cub that her own great-grandfather rescued. Her historic tale takes readers on a journey from Canada to the London Zoo, and, believe it or not, a real-life Christopher Robin makes an appearance too. Ages 3–6.
9
The Night Gardener by Jonathan Auxier
Best-selling author Auxier creates an unforgettable
cast of characters and an engaging, adventure-laden story. The narrative follows two Irish siblings as they begin new jobs at a deteriorating English manor. But when they encounter an inexplicable apparition, the malevolent and wondrous storytelling, the book stands firmly alongside other chilling classics like The Legend of Sleepy Hollow. Ages 10 and up.
10
Raymie Nightingale by Kate DiCamillo
Meet Raymie Clarke. She has a plan to get the
attention of her father, who absconded with a dental hygienist. Raymie plans to win the Little Miss Central Florida Tire Competition, an honor sure to attract her father's attention. On her way to glory, she meets two other would-be competitors who have also been touched by loss. These three characters are the stars of award winner DiCamillo's most recent novel, who jointly shine together amid sadness, searches for meaning and baton-twirling lessons. Ages 10–12.
11
Ghost by Jason Reynolds
The first novel in Reynolds's "Track" series introduces Castle "Ghost" Cranshaw, a boy coming from an economically disadvantaged background and an abusive father. Ghost tends to hide from the crowd, hence his nickname, but a chance race against a star sprinter earns him a spot on the track team. Young readers might not appreciate the wealth this book offers in terms of diverse characters and a sportscentric plot that hurdles over all clichés, but they will nonetheless love the story about Ghost's efforts to overcome his disadvantages and about the community support that bolsters his talent. Ages 10 and up.
12
Pool by Jihyeon Lee
South Korean illustrator Lee's picture book is a charming take on the shared experiences at a public pool, as well as a cunning experiment in visual storytelling. Though wordless, the book's delicate images capture the narrative perfectly as a boy, despite seeming reluctant, dives beneath the pool's surface and makes a female friend. His bravery is rewarded with an aquatic adventure that takes the two into a magical underwater ecosystem, where the muted but vibrant colors contrast with the colorless herd of swimmers above. The pair's meeting with a giant, elusive white whale especially captures the book's essence of wonder. Ages 4–7.
13
Gone Crazy in Alabama by Rita Williams-Garcia
What could be more appropriate for tween summer reading than a story about three Brooklyn sisters visiting the Deep South during their own vacation? New York kids will especially relate to this story about the Gaither siblings, who spend their break with their grandmother and great-grandmother in rural Alabama. But after tragedy strikes the family, long-hidden secrets begin to surface. The result is a touching—but still very funny—story about ancestral bonds that are greater than distance and time. Ages 8–12
14
Home by Carson Ellis
Already well known as an award-winning artist—for her illustrations for the band the Decemberists and for her husband musician Colin Meloy's "Wildwood" series—Ellis ventures out on her own with a beautiful and meditative treat for early readers. "Some homes are boats" and "some homes are wigwams," she writes, opening up a world of possibilities for youngsters about what home means around the world and to different families. Her gentle gouache-and-ink images complement this journey, which introduces readers to homes from Kenya to Japan. Ages 4–8.
15
Listen Slowly by Thanhha Lai
A six-week summer trip to Vietnam might seem like a dream to an adult, but for Mai, a self-described "12-year-old rocking a 4.0 GPA and an SAT-ish vocab," the visit is anything but. She's forced, nonetheless, to escort her aging grandmother back to her home country to find out what really happened to Mai's grandfather during the Vietnam War. Despite insisting that the Vietnamese roots belong to her parents and not to her, Mai learns and grows during her travel experience in a rich story about heritage, secrets and the pervasive effects of war's tragedies. Ages 8–12.
16
The Game of Love and Death by Martha Brockenbrough
Brockenbrough's title isn't just a clever metaphor: Love and Death actually assume roles in this tale of fate and circumstances. In 1930s Seattle, Flora and Henry meet and affectionate sparks abound. But Flora is an African-American jazz singer working two jobs, and Henry is white and privileged. As if these complications weren't enough, the two are also battling Love and Death in a cruel game that puts Flora's life at stake. Hand this book to avid readers ready to graduate to the young-adult genre. The plot is something both teens and tweens will appreciate. Ages 12 and up.
17
George by Alex Gino
This powerful tale brings to the forefront a timely but still too often ignored human issue: supporting the transgender community, especially its youth. Enter George, who, despite what she's been told, knows she is a girl and not a boy. This rare transgender protagonist embarks on a courageous personal journey to get the rest of the world— including her resistant mother—to see her as she sees herself and to let her star as Charlotte in her school's upcoming production of Charlotte's Web. Ages 8–12.