The best summer reading programs for NYC kids
Summer reading programs are as essential to the season as beach trips and waterpark visits, so head to the library ASAP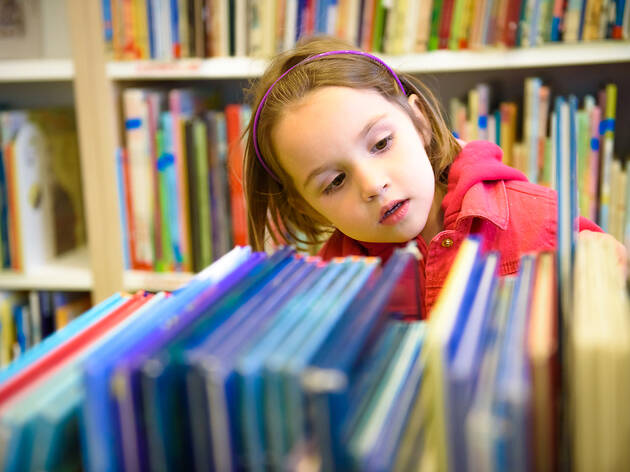 School might not be in session, but kids are definitely hitting the books. Thanks to awesome summer reading programs, youngsters will be able to enjoy a literary bonanza all season long.
Venture to great kids' library branches or your family's favorite bookstores in NYC and let the fun begin! These programs are not only designed to be engaging, but beneficial when the "summer slump" threatens to creep in.
Even better? There are some pretty sweet incentives for finishing great children's books, so don't be surprised if your kiddos decide to channel Rory Gilmore. Take a gander at our favorite summer reading programs and see which ones are best for your brood!
Best summer reading programs for NYC kids
More fun things to do
Photogrpah: Robb Hohmann
The goofball science podcast Wow in the World is packed with as much comedy as information. Hosted by Mindy, a klutz with a time machine, and Guy, her uptight foil, Wow in the World takes on serious scientific inquiries and makes learning fun—even for parents. (After all, the podcast is from NPR.) The expanding cast of silly characters, led by Reggie the carrier pigeon, keeps the episodes fresh. A few listens and your kiddo will want to be a Wowzer, too.
A debate show for kids and families from the makers of Brains On!, Smash Boom Best takes two ideas, smashes them together and lets you decide which one is best. It teaches critical thinking, and how to take oppositional viewpoints. It also is a lot of fun. Past topics include Aliens vs Robots, Pizza vs Tacos and Invisibilty vs Flying.
Spare the Rock, Spoil the Child
Indoctrinate your tykes with this weekly playlist of "indie music for indie kids." Not only will children enjoy starting the day listening to music made for kids, but parents will be delighted to discover that age-appropriate tracks from some of their favorite bands routinely make the cut. Why not off start the day (dancing) on the right foot?
If you have a budding scientist on your hands then Tumble is an absolute must. Experts in the field stop by to discuss their own work, uncover phenomenons and ask questions that will inspire curious minds. This podcast will make your kids fall in love with science.
Five Minutes with Dad is not unlike the conversations that happen in your family. You'll love how this pop and his two kids tackle everyday issues, from staying positive in school, to losing a tooth, to showing appreciation for your relatives. The hosts are as charming as they are relatable.
Here's how Story Pirates works: Kids supply the ideas and the characters, then sketch comedians bring the tales to life. While the stories are good and silly, the performances are terrific fun. Even better? You can also see their live shows on stage in NYC and around the country!
The Radio Adventures of Dr. Floyd
Imagine the Rocky & Bullwinkle Show crossed with Nova and told like an olde-timey radio show and you have the Radio Adventures of Dr. Floyd. it follows the journeys of the kind Dr. Floyd and the wicked Dr. Steve. The two are always at odds as they lead listeners on adventures that cover history, geography and science—a fun and unique way to spice up school subjects.
Do your kiddies have a burning question? Perfect! Send 'em in! Brains On! finds a different expert for each episode who will address tots' curiosity. Anything from animal farts (yuck) to narwhals have been covered!
The Alien Adventures of Finn Caspian
Take a sci-fi trip with Finn Caspian, his friends and their pet robots as their hurl through space aboard the Famous Marlowe 280 Interplanetary Exploratory Space Station. Kids will follow their misadventures as they explore strange planets, meet aliens and gather feedback from listeners on where their intergalactic journey should take them next.
Storyteller Eric James O'Keefe turns kids' questions into wacky scenarios in What If World, so if your tots are inquisitive, send in their question and let the fun unfold from there!
Show more