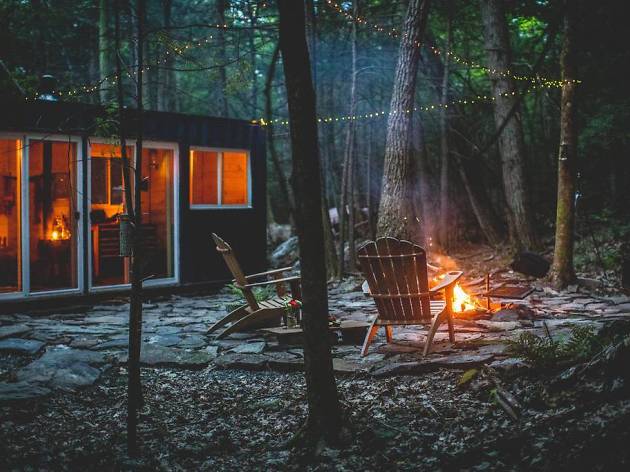 The best Catskills Airbnb rentals
These are the best Catskills Airbnb rentals for a picturesque weekend getaway to upstate New York
Whether your budget is tiny or lavish, there's a Catskills Airbnb rental for every type of upstate weekender. After all, you'll need a place to crash after spending all day trying out, say, the hiking on offer or, um, drinking beer and eating charcuterie. Keep reading to discover eight of the most fascinating properties available to rent, whether you want to spend winter in the crisp mountain air of the Catskills region, admire foliage on fall getaways from NYC or escape the city in the sweltering summer in search of all the fab things to do in upstate New York.
Note: please check the latest travel guidance before booking your trip.
Best Catskills Airbnb rentals
Photograph: Airbnb
Finally something worth clogging your mates' Insta feeds: a geodome in the middle of the forest. Whaaat. Gaze out onto trees through the latticed framework of your dome and truly feel at one with nature, but, you know, with all the modern comforts of home. Natch. You will need to bring your own bed, but that's where the camping vibes end and the glamping begins. Fancy a soak in a full-size claw-foot bathtub? You got it! How about getting your cook on in the fully stocked outdoor kitchen after a trip to the nearby farmers' market? Consider it done! There's also a load of adorable animals to visit, as the dome is located within farmland, a swimming pond for dogs, daily yoga sessions, a recording studio and – most importantly – high-speed internet.
Photograph: Airbnb
2. Chic Barn in Saugerties
No property better exemplifies rustic luxury than this massive converted barn, with room for up to 12 guests. The double-height living room, complete with a stone fireplace and exposed wood beams looks like it's been ripped from the pages of Architectural Digest. The outdoor space is just as beautiful and features a pond, stone fire pit, and even an Airstream trailer for overflow guests.
Photograph: Airbnb
3. Tiny House in South Cairo
Addicted to Tiny House Hunters but not quite willing to commit to quarters even more cramped than your apartment? Rent out this charming teeny pad, called "The Flat," instead. Even with the small footprint, you'll never feel claustrophobic: the house actually sleeps up to five guests and sits on 28 rolling acres. Bonus: they're so dog-friendly, there's even a canine park on site.
Photograph: Airbnb
4. 19th Century Stone House in New Paltz
To really retreat into nature in style, book into this gorgeous, stone and clapboard home which has been in the owner Kate's family for ten whole generations. The location offers the best of both worlds: promixity to the bustling college town of New Paltz but nestled near the jaw-dropping Shawangunk Ridge, which is filled with trails for biking and hiking. Inside the house, whitewashed brick walls and exposed wood beams strike the perfect balance of old and new. There are plenty of cute nooks to relax in.
Photograph: Airbnb
5. Sunny Renovated Victorian in Catskill
Gorgeous hardwood floors, sun-drenched rooms, and vintage furniture make this four-bedroom home perfect for those hunting for a vintage-chic upstate getaway. Take your time exploring the home and discovering all its little secrets, including a Victorian 'player piano' and secret loft area in the 'Fez' room. Hosts Shannon and Charlotta are full of suggestions on adventures to be had in the area, from hiking and kayaking to antique shopping.
Photograph: Airbnb
6. Converted Shipping Container in Saugerties
For a romantic Catskills hiking trip, look no further than this lovingly converted 20-foot shipping container set on a 20-acre plot on the eastern edge of the Catskills Mountains. Here, industrial chic meets hygge, with a Swedish-made wood stove that keeps the space warm even in the deepest winter. Relax under the stars in the hot tub or the hammock and venture 300 feet away to a 30-foot waterfall. Your host, Porter ensures that the cabin is cleaned immaculately after every stay using CDC standards.
Photograph: Airbnb
7. Modern Camphouse in Catskill
If Joanna Gaines is your spirit animal, this charming spot is for you (yes, there's shiplap). Formerly part of Camp Ontiora, a girls' camp from the 1920s, the house has been renovated by owners Kevin and Daniel, who are an architect and designer, respectively. A generously sized kitchen and cozy brick fireplace make it the perfect getaway for winter entertaining.
Photograph: Airbnb
8. An Entire Inn in Hunter
Pretend you're the lord of your own upstate lodge at this 7,500-square foot house set on five acres of picture-perfect wilderness. Only two hours from New York City, this 14-bedroom home offers endless opportunities for fun and relaxation: think pool tables, sound system, a huge bar area, two hot tubs and of course, an enormous heated inground pool.
Find more places to stay in upstate New York
Get ready to fall in love with the part of our state that's not the city at the best upstate New York resorts.