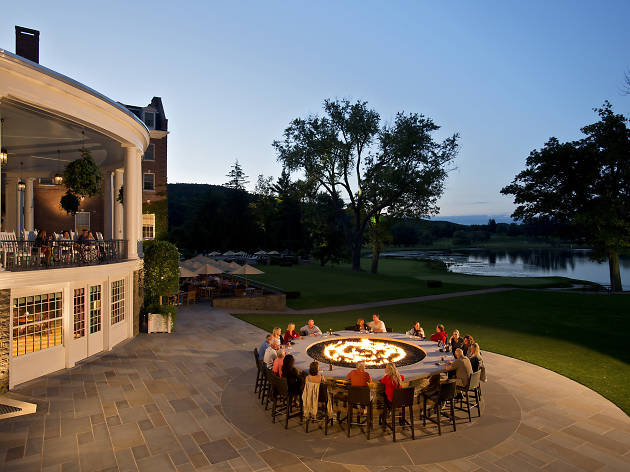 The best upstate New York resorts
Head to these upstate New York resorts for a relaxing escape and some glorious nature-based R&R
Look, no one loves the city more than us. It's literally our business. That said, sometimes living in the city that never sleeps can get really tiring (who saw that coming?). Fortunately, there are loads of wonderful upstate resorts for you to relax in when you need a break from the city. As well as offering outside activities like fishing, paddleboarding, and golf, there's also picturesque apple picking farms, wineries and hiking trails aplenty. You just don't really get that in the concrete jungle – and even if you did, would you really have the time to visit?
You can really make the most of your time outside the city in an upstate New York resort. Which is good because – let's be honest here – you'll be back before you know it. Check out some of our handpicked favourite upstate New York resorts and decide on a place worthy enough to rest your head. We'll see you soon.
This article includes affiliate links. These links have no influence on our editorial content. For more information, click here.
Best upstate New York resorts
Created by the 18th century entrepreneur and visionary Gideon Putnam, this historic Saratoga Springs resort houses the luxurious Roosevelt Baths & Spa—a transforming hydrotherapy spa that uses natural mineral water captured from the city's famous underground springs to deliver its clients a signature brand of aquatic bliss. But the pampering doesn't end there. Once toweled off, further treat yourself to a range of additional spa services, including massages, facials, scrubs, body wraps and salon styling. Check out their mouthwatering Muscadine Moonshine sea salt scrub and green gemstone clay body masque, and return home super soft, silky, and (hopefully) less stressed.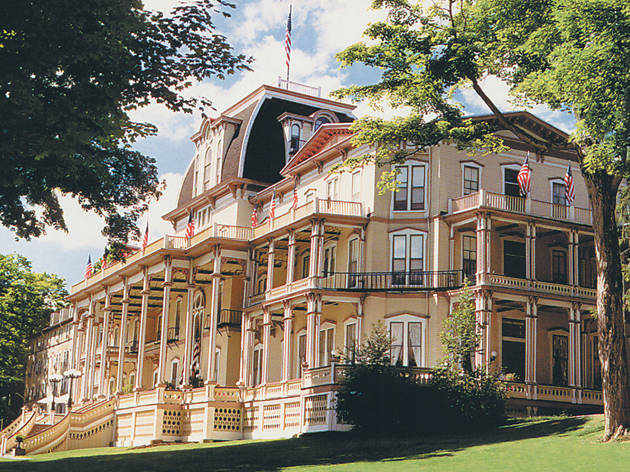 Photograph: Courtesy Chautauqua Institution
Chautauqua's Athenaeum Hotel offers a truly one-of-a-kind experience that willl reset both your body and mind. Established in 1881, the grand hotel sits prominently on the grounds of the Chautauqua Institution—the historic adult education center and summer resort made famous for its ecumenical teachings on art, music, dance, theater and writing. During the summer season, hotel guests can enjoy a Chautauqua Institution gate pass, which grants access to a selection of on-site events offered daily. There's opera, there's themed lectures, there's yoga, and yes, there's Shakespeare.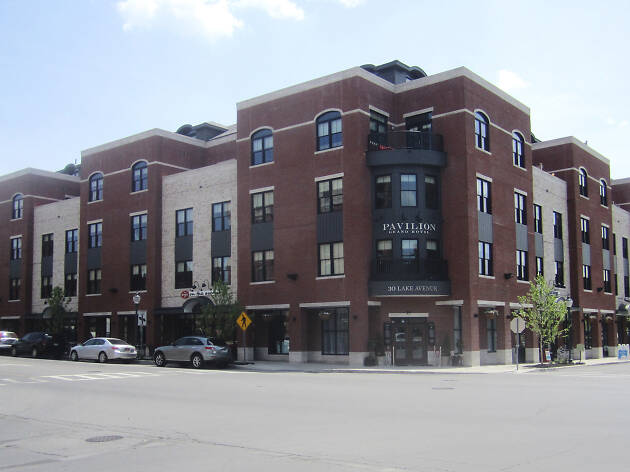 Photograph: Courtesy CC/Flickr/Peter
Settle into a home away from home in one of the super-trendy suites at this Saratoga Springs hotel. From the modest studio rooms to the lavish two-storey penthouse suites, Pavilion Grand offers all its guests luxurious amenities like stainless steel kitchen appliances and king-size beds. The penthouse suites also come with sizeable private rooftop gardens complete with lounge furniture. Everything is super-size and the internet is super-speed, making it ideal for a remote working-holiday situation if you're in the mood to refresh your work from home desk space. Image © Peter/Flickr
Just a three-and-a-half-hour drive from New York City, you'll find the majestic Otesaga Resort Hotel—a luxurious lakeside inn reminiscent of a bygone era of elegance and atmospheric charm. The resort itself offers a plethora of upscale amenities including spa treatments, award-winning golf courses, first-class dining and a one-of-a-kind fire bar where you can sip on a soothing autumn peartini as you soak in breathtaking views of Lake Otsego. And when you're ready to explore more, you won't have to travel far—the iconic National Baseball Hall of Fame, Fenimore Art Museum and Ommegang Brewery are just a few miles away.
It's no surprise this 266-room Victorian beaut tops our list. Founded by Albert Smiley in 1869, the national historic landmark sits on a pristine mountain lake surrounded by lush forests and scenic hiking trails. Make the most of your R&R by paddleboarding and rock climbing by day and indulging in exquisite farm-to-table feasts by night. And when in doubt, always agree to the warm stone massage.
The Point is the epitome of rustic elegance. Well-known for being the Rockefeller family's Great Camp during the Gilded Age, this Adirondacks resort boasts finely crafted native timber log mansions replete with grand stone fireplaces, original hand-built fixtures and ornate antiques, all along the mirrored edge of Saranac Lake. Outdoor activities include everything from sailing and bass fishing to fiddlehead fern and morel gathering, all set in the backdrop of luscious tall evergreen trees that look like a fairytale all year round.
This resort and casino includes a sprawling complex of modern yet elegant accommodations nestled in the heart of Central New York. Here, you'll find lodging to fit any preference of style—you can stay in the lodge, hotel, tower or inn. But trust us, you won't want to spend too much time ordering room service while watching free HBO—the resort houses a casino, spa, golf dome and boxing venue alongside multiple restaurants, lounges and bars. There's so much entertainment, you'll be spoiled for choice.
Image © Darryl Kenyon/Flickr
Poised on the southern end of Lake George's Green Island, the Sagamore offers 72 acres of rest and relaxation, upstate style. Here, lake-going guests can choose from a range of adventurous activities, from fishing and boating to wakeboarding and tubing. And for those with a different definition of relaxation, the Sagamore offers a 10,000-square-foot pool deck equipped with chaise lounges, al fresco fare and cooling libations.
There are few things cooler than staying the night in a nineteenth-century castle, which is one of the reasons why Belhurst is so sought-after. There are only 14 rooms to choose from, each of which has a different decorative personality, so book up as soon as you can. Its stunning location on the northwestern shore of Seneca Lake is another draw, along with the canopied beds, cast bronze fireplaces and nearby Belhurst Winery where you can sample award-winning Rieslings and ice wines. Of course, there's also a selection of signature spa treatments so you can leaving feeling as nice as your surroundings.
Image © Visit Finger Lakes/Flickr
Discover more of New York State
Luxury seekers may enjoy an afternoon at the beach in Montauk or a trip to some of the best Long Island wineries, whereas more adventurous types might opt for a hike through the Adirondack mountains.