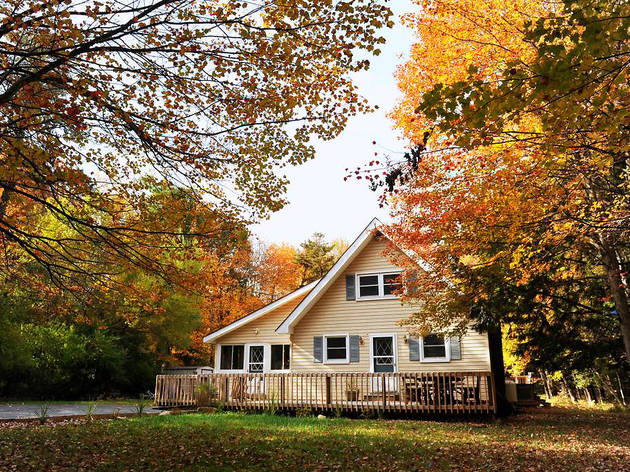 13 cozy cabins near NYC that you can rent on Airbnb
Snuggle up by the fireplace in one of these rustic and oh-so-cozy cabins near NYC that you can rent on Airbnb
The perfect winter getaway from NYC requires a few things: hot chocolate, a crackling fireplace, wool sweaters and a cozy cabin to cuddle up in. Whether you need lodging at ski resorts near NYC or somewhere rustic chic for a girls' weekend, this list of cabins near NYC on Airbnb has got you covered. After just a few hours of driving, you could be snuggling in a chalet in the Pocono Mountains, relaxing in a geodesic dome in upstate New York or sipping a hot toddy in a trendy container cabin in the Catskills. No matter where you choose to go, escaping the city to a snow-covered wonderland has to be one of the top things to do in the winter.
RECOMMENDED: Full guide to weekend getaways from NYC
Note: please check the latest travel guidance before booking your trip.
Cozy cabins near NYC on Airbnb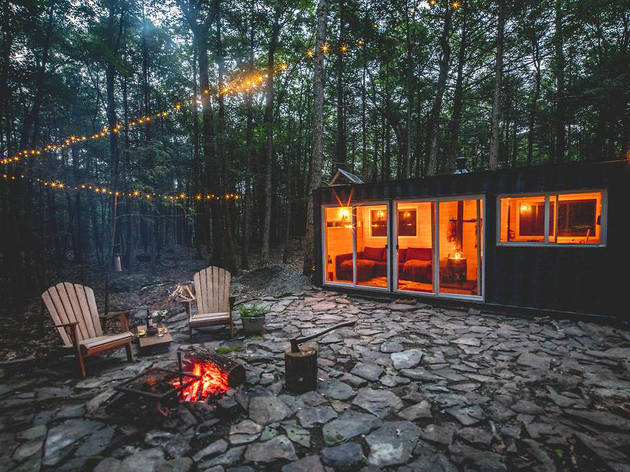 Photograph: Courtesy Airbnb
Container Cabin in the Catskills in Saugerties, NY
Who knew a shipping container could be so eco-chic? The owners retrofitted this simple 20-foot container with high-efficiency insulated walls, low energy windows, a wood stove, composting toilet and tiny kitchen to turn it into the ultimate off-the-grid escape. Walk 100 yards north of the cabin to find a 30-foot waterfall; trek south to find a small stream and wood-fired hot tub.
Photograph: Courtesy Airbnb
Cozy cabin in the Hudson Valley
Get the quinessential cabin-in-the-woods experience at this rustic three-bedroom home just a short drive away from Rhinebeck, Hudson and Tivoli. Secluded in a back country road, it's the perfect spot for long walks, bike rides—or just relaxing on the porch or by the fire pit.
Photograph: Courtesy Airbnb
Three-Story Victorian in the Trees in West Cornwall, CT
It doesn't get much more picturesque than this three-story 1870s home surrounded by lush green foliage. The covered bridge you drive over, the views of the creek from the porch, the gorgeous garden: It all adds up for a stunningly beautiful location. The interior retains plenty of historic touches (think Shaker furniture, weathered Oriental rugs and a clawfoot tub) but has thankfully been updated with modern amenities.
Photograph: Courtesy Airbnb
Geo Dome on Farm Upstate in Woodridge, NY
This geodesic dome on a Sullivan County farm puts the glam in glamping. You get the opportunity to stay in the totally Instagrammable pure white structure surrounded by chickens, goats, sheep, rabbits, cats and dogs. Roast marshmallows around the fire, feed the friendly farm animals and check out the fiber arts workshop on the premises.
Photograph: Courtesy Airbnb
Mt. Guardian Guest House in Bearsville, NY
This Hudson Valley guesthouse is surrounded by forests and wilderness: the ideal location for city dwellers looking to unplug. All of the cabin's windows look out onto the natural landscape and a skylight over the queen-sized bed offers pristine views of the night sky. After an afternoon of skiing or hiking, kicking back with a book in one of the hammock chairs feels oh-so-good.
Photograph: Courtesy Airbnb
Silo Studio Cottage in Tyringham, MA
Tower for two? You might feel a bit like Rapunzel as you climb the steps to the canopied queen bed in this cylindrical silo, but luckily there's no evil witch to imprison you in the Berkshires. The charming cottage used to be Henry Hudson Kitson's sculpting studio, so one has to imagine that the Santarella Estate grounds were his inspiration. Explore the delightful gardens, lily pond and babbling brook before climbing into bed for the night.
Photograph: Courtesy Airbnb
Off-the-grid slanted cabin in Hudson
There are tiny houses, and there are tiny houses—and this architect-designed cabin on 20 acres of secluded land with Catskill-mountain views—is truly something to behold. You're seriously off the grid here, with no electricity or running water, but a hand-crank Victrola, a bay window with a window seat for long, lazy afternoons and an expansive bedroom.
Photograph: Courtesy Airbnb
Rustic Chic at the Barn in Tivoli, NY
The open loft floor plan of this barn in upstate New York sleeps up to six, but be sure to come with a crew of close friends: Most of the rooms don't have doors. Though it looks awfully rustic, the building has been recently renovated to stay toasty warm in cold weather. Luxuriate in the barn's hygge feel during in the winter and plan a return trip in the warmer months to take advantage of the outdoor shower, yoga deck and cedar picnic table by the pond.
Photograph: Courtesy Airbnb
Quintessential Vermont Farmhouse in Waitsfield, VT
Just eight miles away from Sugarbush Resort, this Vermont home would be a lovely place to stay during a ski trip. The owners painstakingly restored the farmhouse to its former glory by removing years of wallpaper, linoleum and plaster. Pro tip: The rocking chairs on the front porch make a lovely place to sit with a cup of coffee.
Photograph: Courtesy Airbnb
Yurt Rental on 80 Private Acres in Waterville, NY
A stay at this secluded yurt on 80 acres of forest couldn't be more different than your day-to-day routine in New York City. Instead of crammed subway cars and busy sidewalks, you'll enjoy wide open spaces with no one but a Portuguese water dog, two geese, four Angora goats and 15 ducks for company. The land offers plenty of hiking trails, tranquil views and intriguing history: It once served as the hangout for the Loomis Gang, a notorious band of outlaws in nearby Waterville.
Show more
Looking for more getaway ideas?
Sure, there are always plenty of things to do in NYC, but when you find yourself yearning for wide open spaces, it's time to book one of these cultural weekend getaways