15 cozy cabins near NYC that you can rent on Airbnb
Escape to one of these rustic and oh-so-cozy cabins near NYC that you can rent on Airbnb
Nothing is better than booking a sweet summer getaway at a cabin outside of NYC. We're talking s'mores on an open fire, star-gazing and barbecuing out on the grill. If you're looking for the perfect cabin to rent for vacation, this list of cabins near NYC on Airbnb has got you covered. After just a few hours of driving, you could be chilling out in a chalet in the Pocono Mountains, relaxing in a geodesic dome in upstate New York or come back from kayaking to a trendy container cabin in the Catskills. No matter where you choose to go, escaping the city to a forest-drenched cabin has to be one of the top things to do right now.
RECOMMENDED: Full guide to weekend getaways from NYC
Note: please check the latest travel guidance before booking your trip.
This article includes affiliate links. These links have no influence on our editorial content. For more information, click here.
Cozy cabins near NYC on Airbnb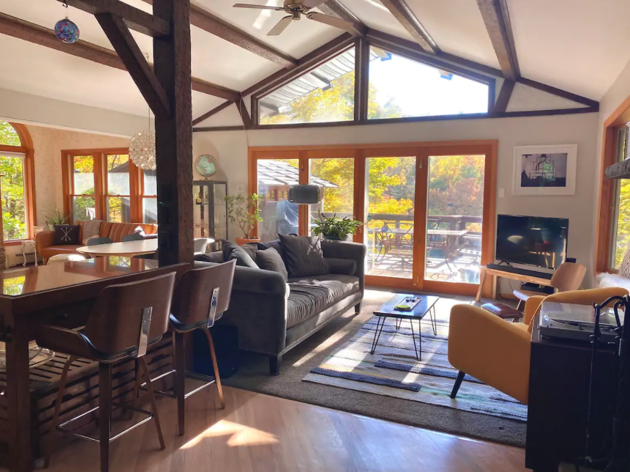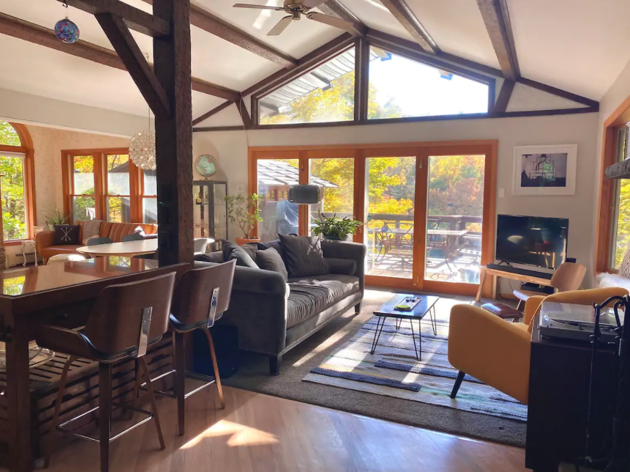 Photograph: Courtesy Airbnb
Catskills Overlook Cabin in Woodbourne, NY
Head up to Neversink, NY for a hideaway that'll soothe your soul. This private, park-like property has a koi pond and decks to sit on to look over the lake. The cabin itself has two bedrooms, a wood-burning fireplace, views of nature, and modern amenities. Each bedroom has its own private bathroom, helpful if you're traveling with the kids or another couple, and there's a large walk-in rainshower in the primary bathroom. The best part is that while it feels secluded, this Airbnb is just 15 minutes from the town of Liberty and 25 minutes from the town of Livingston Manor, with multiple cafes, vintage retail, and local shops. $201 per night.
Photograph: Courtesy Airbnb
Cabin with a wood fired hot tub in Big Indian, NY
This rustic cabin, just under three hours from NYC, is nestled in the woods with a sweeping lawn, a deck for sunbathing or stargazing, an outdoor fire pit and an outdoor charcoal grill perfect for cooking up some barbecue. To top it all off, there's an outdoor wood-fired hot tub for soaking in after a long day of hiking. The cabin itself, which hails from the 1960s, overlooks Big Indian Mountain and has an extra outdoor shower so you can stay connected to the nature around you. $314 per night.
Photograph: Courtesy Airbnb
Catskill Cottage on the Pantherkill Creek in Phoenicia, NY
Just minutes from Phoenicia, this secluded spot offers plenty of options on how to spend your time away. It's near great restaurants, skiing, hiking, tubing, fishing, swimming holes, and the Village of Woodstock. The cabin has a large wrap-around deck to enjoy in the mornings with coffee or to stargaze from at night. Pantherkill Creek babbles right by the cabin, so you'll have a calming atmosphere to relax in. Visitors have access to the fire pit, too, in case you want s'mores time.
Photograph: Courtesy Airbnb
Goodall's Treehouse Cabin in Taberg, NY
This special treehouse cabin is located on a 60-acre nature sanctuary fill of pines. The cabin is two stories with a second story balcony, a reading nook, sleeping loft at the top of a ladder, and a kitchenette. It's a semi-rustic cabin on wheels, which has electricity, heat and a sawdust toilet, but it has a shared, detached full bathroom with a shower. If you don't mind sharing a bathroom, you'll be glad to know the rest of the space is very private. The property has a half-mile of river frontage, hiking trails, a volleyball court, fire pits, two spring-fed ponds, free-range chickens, friendly rescue mutts and more. $141 per night.
Photograph: Courtesy Airbnb
Pine Rock: Rustic Cabin in Barryville, NY
Sitting net to a spring-fed brook in the Delaware Water Gap, this cabin is just a few-minutes drive from trails, state forests and recreational areas but you could be completely content with staying home and grilling on bluestone terrace right outside the cabin. At 100 years old, the home is outfitted with modern conveniences but has a big stone, wood-burning fireplace, cozy furniture, two bedrooms, and a comfortable kitchen and bathroom. The porch is where it's at, though. Glassed in with its own separate baseboard heat, it overlooks a shallow babbling brook. If you love the idea of a late-night campfire and s'mores, it has two outdoor fire pits! $139 per night.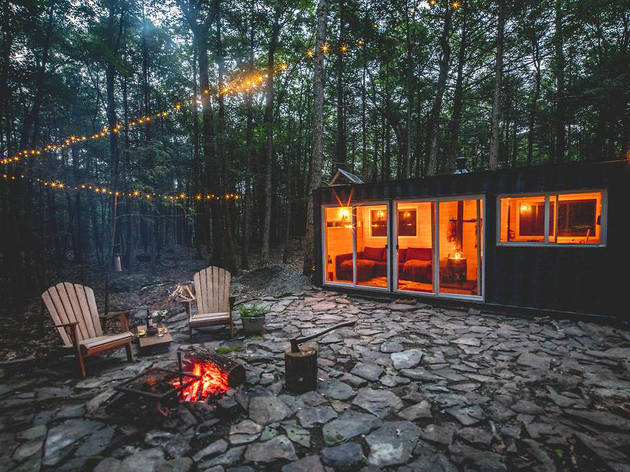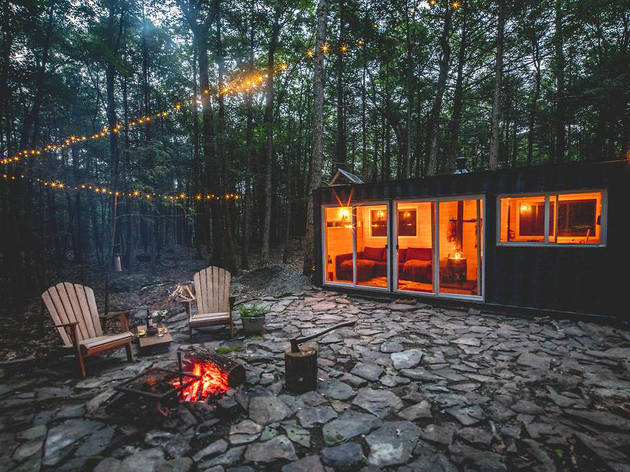 Photograph: Courtesy Airbnb
Container Cabin in the Catskills in Saugerties, NY
Who knew a shipping container could be so eco-chic? The owners retrofitted this simple 20-foot container with high-efficiency insulated walls, low energy windows, a wood stove, composting toilet and tiny kitchen to turn it into the ultimate off-the-grid escape. Walk 100 yards north of the cabin to find a 30-foot waterfall; trek south to find a small stream and wood-fired hot tub. $232 per night.
Photograph: Courtesy Airbnb
Mt. Guardian Guest House in Bearsville, NY
This Hudson Valley guesthouse is surrounded by forests and wilderness: the ideal location for city dwellers looking to unplug. All of the cabin's windows look out onto the natural landscape and a skylight over the queen-sized bed offers pristine views of the night sky. After an afternoon of hiking, kicking back with a book in one of the hammock chairs feels oh-so-good. $169 per night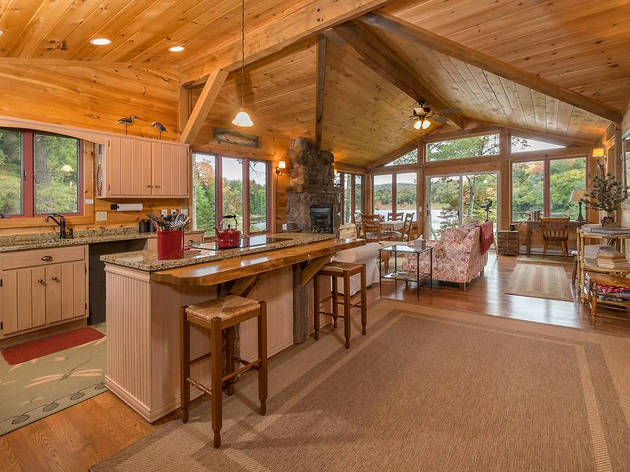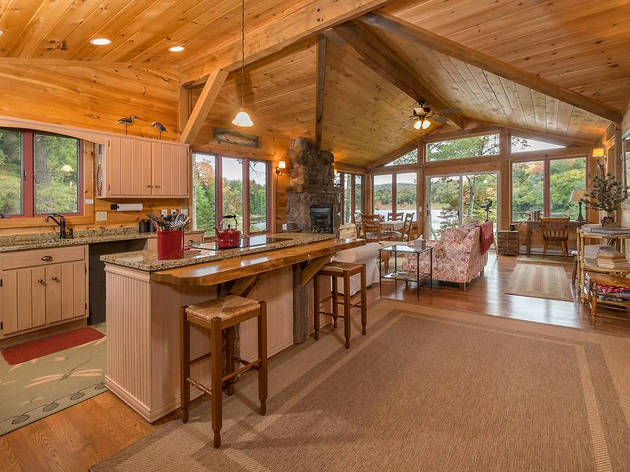 Photograph: Courtesy Airbnb
Lakefront Cabin with stunning views in Piseco, NY
Known as Camp Stardust, this cabin with massive windows provides jaw-dropping views of Piseco Lake, native wildlife and of course, twinkling stars. In the winter, when a winter storm hits, sitting inside the house feels like being inside a snowglobe—an exceptionally cozy snowglobe. Past visitors have seen otters, loons, bears and even the occasional moose. $215 per night.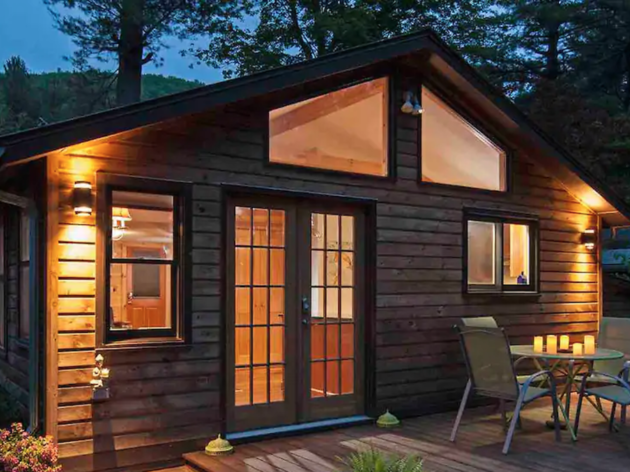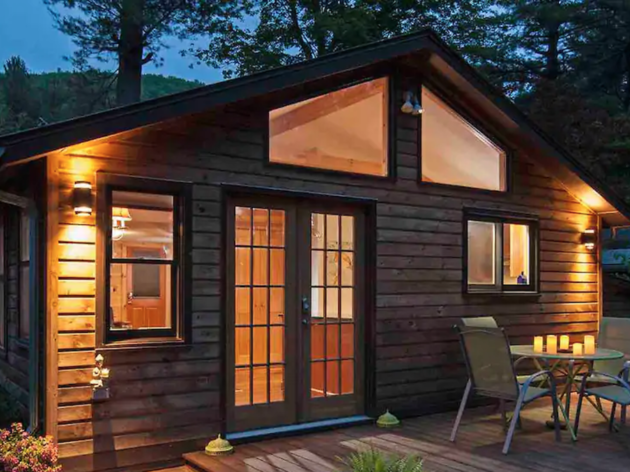 Photograph: Courtesy Airbnb
Cozy cottage on the Esopus Creek in Phoenicia, NY
This renovated 1920s fishing cottage with original wood floors and river-rock fireplace is a perfect place to refresh yourself. You can step through the double French doors from your private cabin and follow a forest trail down to the river or easily walk to the bridge that spans the Esopus creek. Best yet, it's a cozy respite near multiple ski resorts and just 20 minutes from Woodstock. $135 per night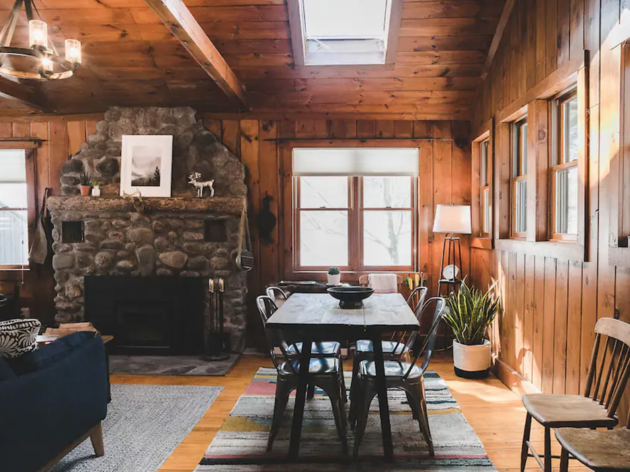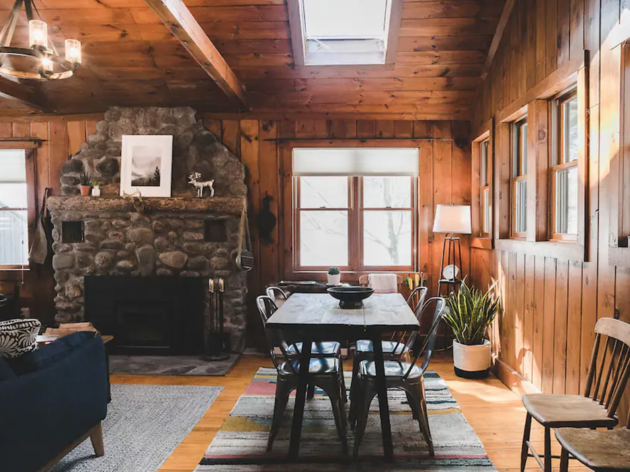 Photograph: Courtesy Airbnb
Cozy Creekside Cabin in Chichester, NY
Just five minutes from Phoenicia, this cabin has a beautiful stone fireplace you can cozy up in front of and take in views of the woods around the cabin. The 2-bedroom stay itself is located on a .75-acre piece of land next to Stony Clove Creek and hiking is available to the adventurous. The cabin is full of linens that'll make your stay even cozier and the kitchen is fully-equipped for all your cooking and baking needs. $256 per night.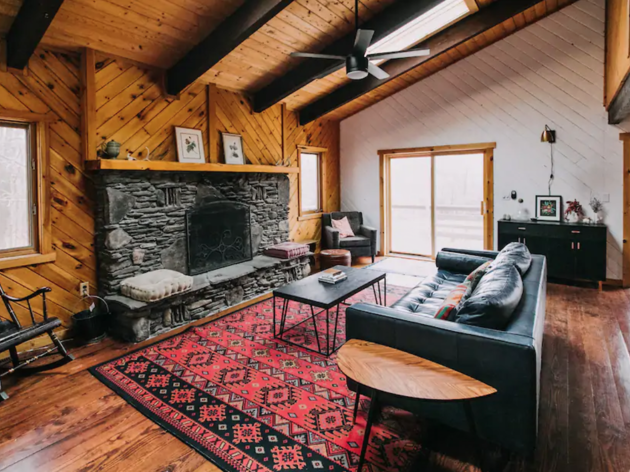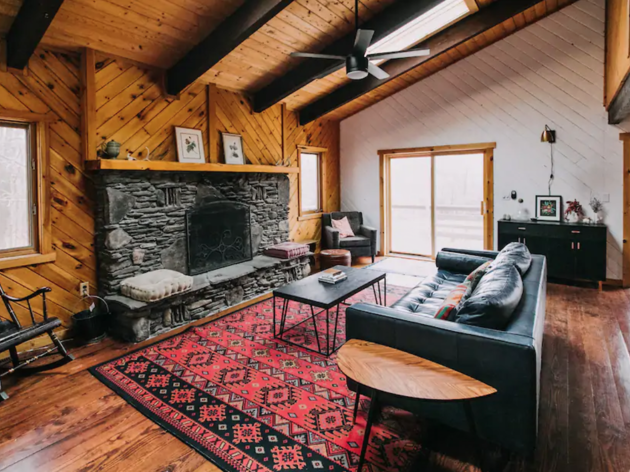 Photograph: Courtesy Airbnb
Black Bear Ridge cabin in Fleischmanns, NY
Nestled between the woods and a meadow on a five-acre property, this four-bedroom woodsy cabin has a stone, wood-burning fireplace to play games beside and cozy up next to in the cold months. Each room is comfortable but the master bedroom has a large balcony, perfect for drinking your morning coffee or star-gazing. You can explore its three acres of woods or venture further out into the Catskill Mountains nearby or go skiing at the Belleayre Ski Center in the winter. Plus, the home is only 20 minutes to the Phoenicia Diner and Esopus Creek. $264 per night.
Photograph: Courtesy Airbnb
Glass Cabin in the Woods in Hillsdale, NY
Thanks to this cabin's long rectangular layout and overload of windows, staying here almost feels like being alone in the woods. And who wouldn't fancy a serene bit of isolation like this? It's also near a plethora of pretty hikes and close enough to both Hudson, NY and Lenox, MA to visit both scenic towns. $350 per night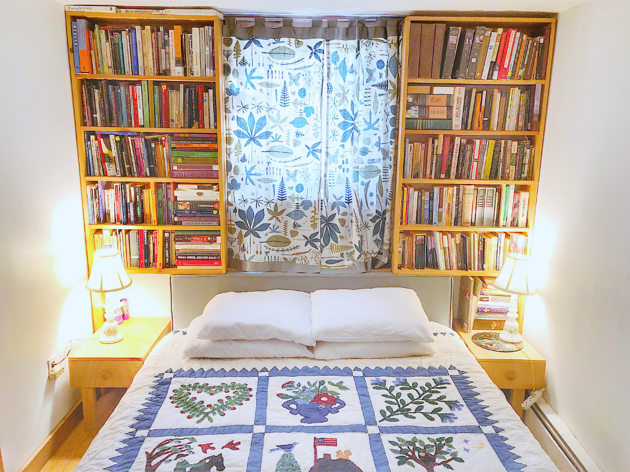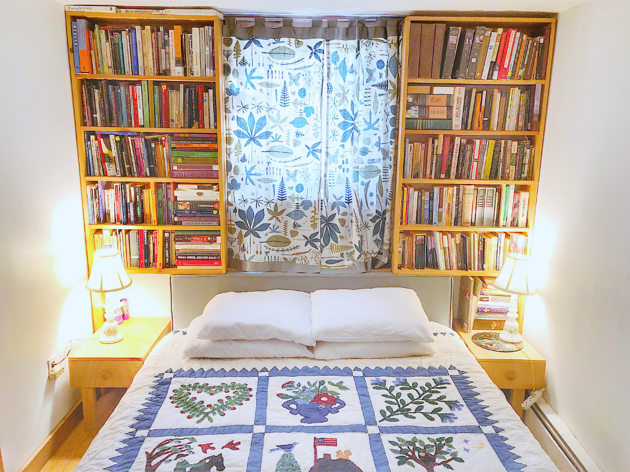 Photograph: Courtesy Airbnb
Cozy Catskill Cabin on Acorn Hill in Olivebridge, NY
This charming cabin on 3.5 acres near the Ashokan Reservoir and Catskill Park is all you need for a weekend getaway with one bedroom and one bathroom, a full kitchen, and a living room with a piano. It also has an amazing record collection you can listen to on a record player. The Ashokan reservoir is good for walking and bird watching since it has a bald eagle sanctuary. Stone Ridge, Boiceville, Woodstock, and New Paltz are nearby for shopping and fine dining. $113 per night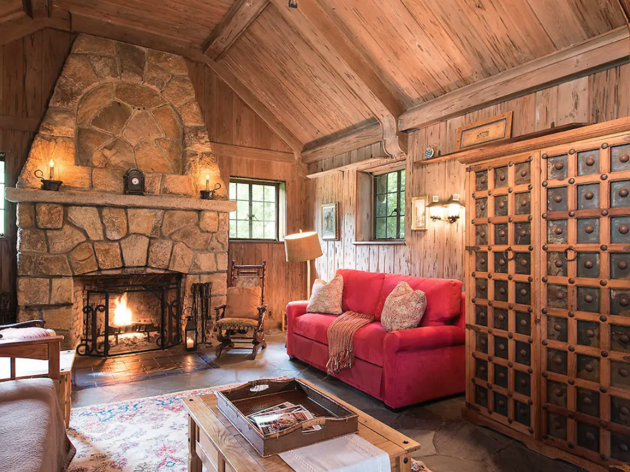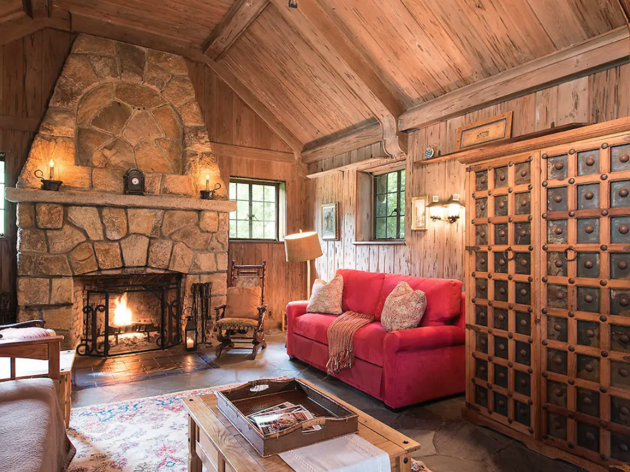 Photograph: Courtesy Airbnb
Secluded stone cabin in Bloomfield, CT
This gorgeous stay, which is on top of Talcott Mountain, has storybook vibes and two fireplaces. Well, why just have one when you can have two? The two-story stone cabin is a studio with a kitchen, full bath, and a stone fireplace as well as two stone patios, an outdoor fireplace, an in-ground pool and a basketball court with a fenced-in yard. It's on the property of another home, but that one is a steep walk away. It's nearby to hiking/walking trails, a winery, movie theatres, restaurants, and shopping in quaint New England towns. Bliss. $511 per night.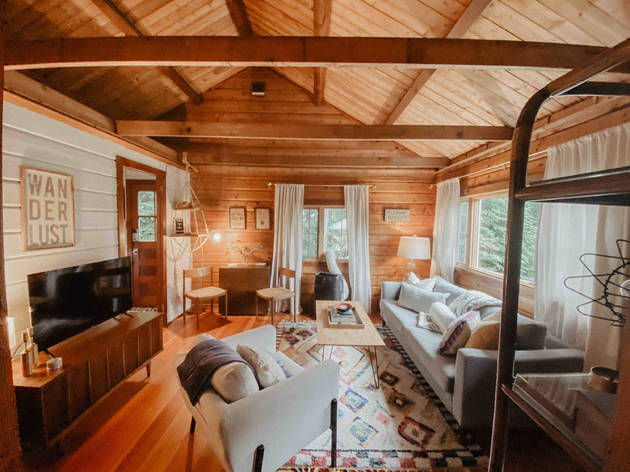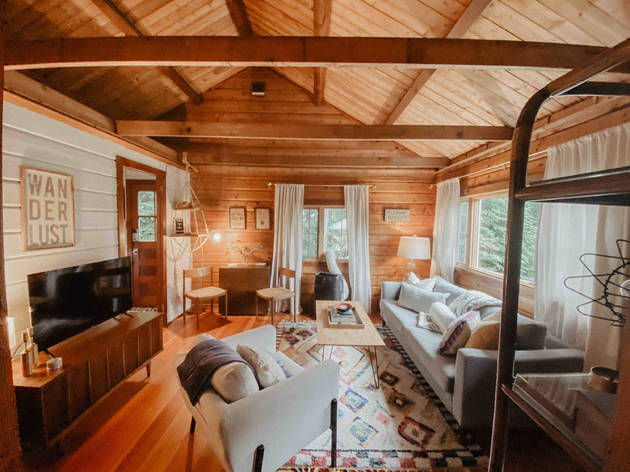 Photograph: Courtesy Airbnb
The Little Lake Cabin in New Fairfield, CT
It might be time to seriously consider snuggling up in this little cabin across the street from Candlewood Lake and behind Squantz Pond State Park. With tons of natural light and plenty of outdoor space, this spot is perfect for a quiet respite. Inside, is a big comfy couch, vaulted ceilings and wooden walls. The kitchen is stocked with just about everything you need to cook, including ingredients to make s'mores in the fire pit. The hosts even provide robes and slippers for you to use during your stay, as well as shampoo, conditioner and body wash. Better yet, there's a hot tub ready for your use and kayaks for more adventurous visitors. Sounds pretty lush to us. $182 per night.
Looking for more getaway ideas?