Netflix's new Marilyn Monroe movie Blonde is already stirring things up – and it doesn't even have a release date yet. The film has been slapped with an NC-17 rating, or an 18 in UK terms, for sexually explicit content, making it the first release on the streamer to be given the adult-only certification. Monroe's on-screen depictions have typically been fairly chaste (see Michelle Williams in My Week With Marilyn), but the bombshell really goes off in Blonde, which is sure to drive clicks and generate headlines in the run-up to its debut in the world's living rooms.
But it's not just the racy sex scenes that have grabbed the attention. There's the small matter of Cuban actress Ana de Armas, breakout star of No Time to Die and Knives Out, playing the American icon, and Aussie auteur Andrew Dominik behind the camera, as well as a supporting ensemble featuring some of '50s and '60s America's key cultural figures. Oh, and it's produced by Brad Pitt, and scored by Nick Cave and Warren Ellis. Here's everything we know so far.
Is there a trailer for Blonde?
Yes, the trailer dropped in late July. Watch it below and then check out our five big takeaways from it here.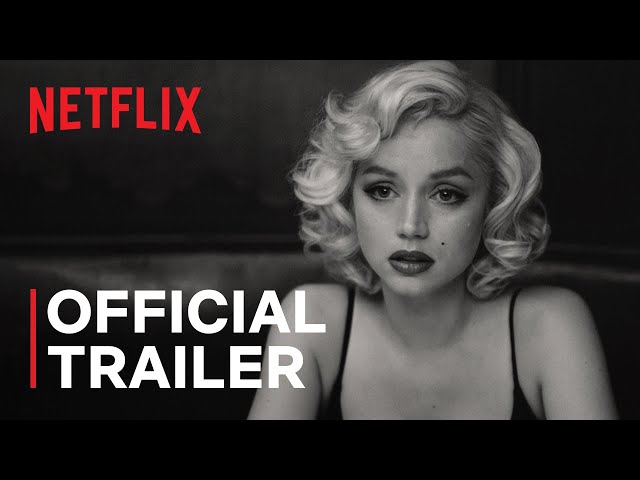 When is Blonde released?
It will premiere at the Venice Film Festival in September ahead of a Netflix launch on September 28.
Is Blonde based on a book?
Yes, it's an adaptation of Joyce Carol Oates's 2000 bestseller about the model-singer-actress's inner life (already the basis for a 2001 made-for-television film starring Poppy Montgomery). The New York Times describes it as 'part Gothic, part kaleidoscopic novel of ideas, part lurid celebrity potboiler'. Dominik, the director of Chopper and The Assassination of Jesse James by the Coward Robert Ford, started work on an adaption in 2010, with the pandemic-hit production finally getting underway in August 2019. Safe to say, Oates is already a fan.
What is Blonde about?
The film tells 'the boldly reimagined private story of the world's most famous sex symbol, Marilyn Monroe,' according to Netflix's official synopsis. 'The film is a fictional portrait of the model, actress and singer during the '50s and '60s, told through the modern lens of celebrity culture.'

The 'fictional' point is important – Dominik is promising an impressionistic take on Monroe's life, and crucially, her perspective on the world, rather than a slavish biopic treatment. The notion of splitting her private and public selves, and exploring the disconnect between the two, underpins the film. 'On [the] simplest level,' says Dominik, 'it's about an unwanted child who becomes the most wanted person in the world and can't deal with all of that desire coming at them.' Expect celebrity culture and social media to offer rich modern subtext.
It's been a passion project for Dominik, taking more than a decade to bring to the screen – which has finally happened, thanks to Netflix and a $22 million budget. 'It's a really sprawling, emotional nightmare fairy-tale type movie,' he told The Playlist back in 2012. 'It's a story about an abandoned orphan who gets lost in the woods.'
Who is starring as Marilyn Monroe in Blonde?

Knives Out's Ana de Armas plays the platinum bombshell. At various points of the film's long development process, the role was earmarked for Naomi Watts and Jessica Chastain, but it's the Cuban actress – recent star of Ben Affleck thriller Deep Water – who will be following in the footsteps of actresses from Michelle Williams to Ashley Judd to Mira Sorvino in playing the icon.
As Dominik has revealed, Monroe's childhood will play into the story as it charts her younger years. 'It details a childhood drama, and mistaken ideas that she carries into her adult life, and she sees the world through the lens of those ideas,' he tells Vulture. Station 11's Lily Fisher plays the young Norma Jeane.
'I read everything I could about Marilyn,' de Armas tells Vanity Fair. 'It wasn't just about transforming physically to look the part, it was about understanding her emotional life, how intelligent she was, and how fragile.' The actress's own dog, Elvis, even plays Monroe's pooch, Mafia, in the movie.
She's already impressed her Knives Out co-star Jamie Lee Curtis, who watched early footage of the actress in action as Monroe. 'I dropped to the floor,' recalls Curtis, 'I couldn't believe it. Ana was completely gone. She was Marilyn.'
Who else is appearing in Blonde?
In keeping with Oates's novel, the supporting characters go by anonymous, but easily guessable alias: so Monroe's husbands Joe DiMaggio and Arthur Miller, played in Blonde by Bobby Cannavale and Adrien Brody respectively, go by 'the Ex-athlete' and 'the Playwright'. Caspar Phillipson, who also played John F Kennedy in Jackie, plays 'the President'.
Hollywood royalty is well represented on Blonde's call sheet too, as you'd expect. Michael Masini plays her Some Like it Hot co-star Tony Curtis and Ravil Isyanov is the film's director Billy Wilder. Monos's Julianne Nicholson, meanwhile, plays Monroe's mum Gladys Pearl Baker.
Why is it significant that Blonde is an NC-17
Ordinarily, an NC-17 rating is a death knell for a film's box-office hope – many cinemas won't even show films with that rating, which automatically excludes anyone younger than 17 – and studios tend to cut under instruction from the MPAA (Midsommar had an NC-17 certificate for six weeks before pre-release tweaks were made). That said, it doesn't impact the streaming site, even if it will have parents nervously double-checking the parental control mode on their RCs.
Director Andrew Dominik confesses to surprise at the rating. 'I thought we'd coloured inside the lines,' he tells Vulture. 'I think if I'm given the choice, I'd rather go and see the NC-17 version of the Marilyn Monroe story. Because we know that her life was on the edge, clearly, from the way it ended. Do you want to see the warts-and-all version or do you want to see that sanitised version?' The Australian filmmaker jokes that 'there's something in it to offend everyone.' Brace yourself.
8 performances that will change the way you think about Marilyn Monroe.

How many of the 100 greatest films of all time have you seen?