The new trailer for Blonde has dropped and it's set the internet alight – and not in an entirely harmonious way. Charting the actress, model and icon in a state of psychological freefall as she grapples with the ferocious public gaze of stardom, it's had a few Monroe fans speculating over whether the film will exploit her memory for Black Swan-esque thrills, rather than etching out this complex woman in all her sophistication and intelligence.
All will be revealed when Andrew Dominik's 12-years-in-the-making dramatisation of Joyce Carol Oates' bestselling novel makes its bow at the Venice Film Festival in September. It's worth noting that this is a mere two minutes of footage from a 165-minute movie, but the trailer unquestionably shows Blonde's Monroe as a troubled soul struggling for agency over her life and career (while there's a lot less of the frank depictions of sex that has earned the film an NC-17 rating). Here are five things to look out for.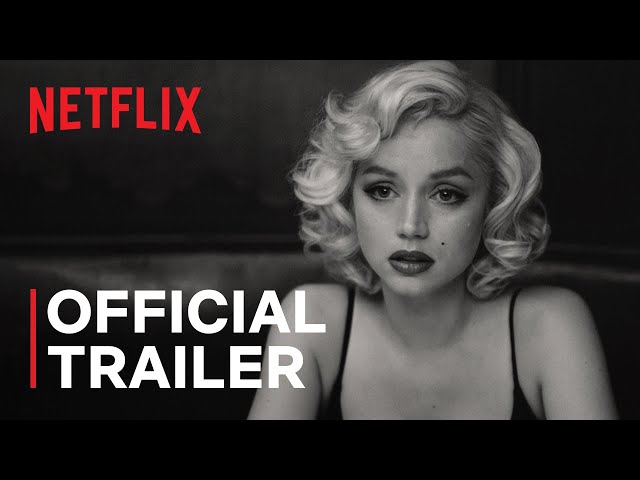 1. The accent is going to polarise
Okay, the accent is already polarising people – on Twitter, at least. Ana de Armas had nine months of dialect coaching to master Monroe's voice and intonation, but while it's hardly distracting, there still unmistakably a faint Cuban edge to her line readings. But biographical movies demand a readiness to suspend disbelief – did Gary Oldman look like Winston Churchill? – and there's also the key details that, a) Monroe herself had Mexican roots and, b) Blonde is itself an exploration of fabricated identities. 'Marilyn doesn't exist,' as the former Norma Jeane Mortenson says in the trailer. If, for whatever reason, the movie doesn't work, it won't be the accent that sinks it.
2. It's a (very dark) fairytale
Set to the breathy, slowed-down sounds of what Vulture memorably describes as a 'trailercore' version of 'Diamonds Are a Girl's Best Friend', this first proper look at Ana de Armas as Monroe gives a sense of the film's tone and arc: a celebrity dream that turns into a private hell. Amid the pop of camera flashes and lurid, gurning faces of paparazzi, desperate fans and film studio types is a woman struggling to hold the two sides of her identity together – and a filmmaker giving himself free rein to embrace the fictionalising licence of Oates's source novel. 'It's a really sprawling, emotional nightmare fairytale-type movie,' Dominik told The Playlist all the way back in 2012. 'It's a story about an abandoned orphan who gets lost in the woods.'
In that sense, it's likely to be closer to Spencer than Mank – a curdling semi-Lynchian dreamscape rather than a straight biopic.
3. ...but it's still going all-out for authenticity
Blonde is shaping up to be manna for movie lovers, especially those drawn to the classics of the '50s and '60s. Monroe worked with some of the greats – Billy Wilder and Howard Hawks among them – and those films are recreated in uncanny detail. Take this shot from Henry Hathaway's underrated 1953 thriller Niagara, in which Monroe's femme fatale wears this hot pink dress ('Get out the firehose!' leers one of the men in the area). Above is Ana de Armas capturing the moment, with some help from Blonde costume designer Jennifer Johnson (I, Tonya).
4. There's serious #MeToo resonance
Monroe came through the Hollywood system at a time when it was overrun by sexist, exploitative sharks and there wasn't even a Ronan Farrow about to keep score. But the shadow of Harvey Weinstein still hangs over an early shot of Monroe advancing uncertainly into a studio chief's office to meet with a man with life-or-death sway over her career. And he's clad in a dressing gown. While the novel 'Blonde' was published in 2000 and Dominik has been working on it for 12 years, the last decade's revelations about Hollywood's toxic culture will only amp up its sense of relevance – and hopefully burnish Monroe's status among new viewers, too.
5. The cast is great – but we may not recognise it
Alongside de Armas in the trailer are Bobby Cannavale as a version of one-time baseball superstar Joe DiMaggio and a near-unrecognisable Adrien Brody as one of Monroe's other famous exes, playwright Arthur Miller – known here just as 'The Playwright'. (You can spot scenes from some of Monroe's most stellar movies, including Some Like It Hot, Gentlemen Prefer Blondes, as well as the famous skirt-in-the-air-vent from The Seven Year Itch.) Nicolas Roeg did something similar with his 1985 Marilyn Monroe fantasia Insignificance, with a terrific Theresa Russell as Monroe and Gary Busey as DiMaggio. Which version will come out on top?
Blonde premieres at the Venice Film Festival (Aug 31-Sep 10) before landing on Netflix on Sep 28.

8 great Marilyn Monroe movie performances to cherish.