As we all know, the BBC's adaptation of Sally Rooney's Normal People won lockdown. It secured a place in the hearts of millions worldwide for young couple Marianne and Connell (and Connell's chain) and put County Sligo on the world map. To follow it up, Hulu and BBC Three have turned to Rooney's debut novel, Conversations with Friends, and another pair of Irish students, Frances and Bobbi, for a coming-of-age story of love, friendship and ironic chats about atheism.
Expectations, fuelled by the heart-wrenching turmoil and loved-up euphoria of Normal People, are high. The audience comes pre-prepared this time, with Hulu hoping American viewers will respond to another burst of millennial love and heartache. The cast has a more American flavour, perhaps with that precise audience in mind, and the presence of Taylor Swift's other half, Joe Alwyn, in a key role that will draw in the curious. Will it match Normal People's 62 million streams? Here are some clues.
How can I watch Conversations with Friends?
All 12 half-hour episodes land in May on BBC Three in the UK, Hulu in the US and RTÉ in Ireland. Expect to be able to stream it on Amazon Prime in Canada, Australia, Africa and New Zealand, and the newly launched HBO Max in other European countries.
Is there a trailer for Conversations with Friends?
A BBC trailer broke in February with the tagline: 'Prepare to get intimate'. There's a Hulu one for the US, too, and it's a lot racier than the more demure Beeb version, if you're into that kind of thing.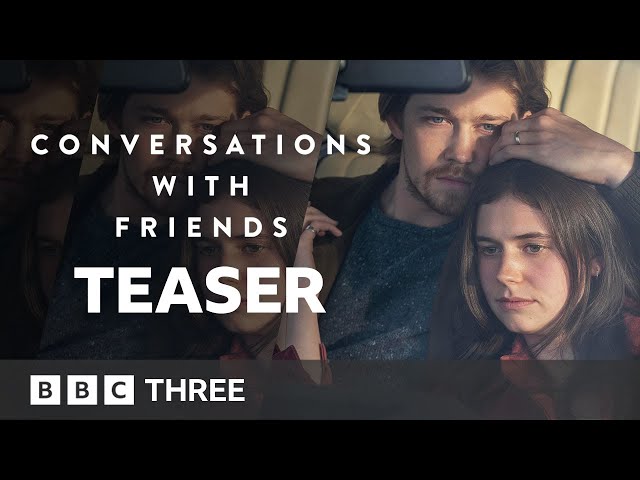 Is Conversations with Friends based on a book?
As any Rooney stan will tell you, the series is adapted from the Irish novelist's 2017 debut novel. The 'voice of a generation' label can be an painful one – you're forced to speak on behalf of all millennials and will, at some point, be compared with Lena Dunham – but Rooney's smart, empathetic, economical prose definitely captures the uncertainty and rootlessness of a generation coming of age in the 2010s. A less comforting book in a lot of way than 'Normal People', Conversations with Friends should make for emotionally flooring telly.
What is Conversations with Friends about?
Like Normal People's Marianne and Connell, it follows two Trinity College Dublin students: Frances (Alison Oliver), the narrator, and her American ex-girlfriend-turned-BFF Bobbi (Sasha Lane). The duo perform as a spoken word poetry double-act and fall into the orbit of thirty-something married couple, actor Nick and photographer-writer Melissa (Joe Alwyn and Jemima Kirke), when Melissa agrees to a profile piece. Slowly, and without the knowledge of either of the others, Frances and Nick begin an affair. It's the exact nature of their relationship, and its impact on Frances's bond with Bobbi, that Conversations with Friends grapples with over seven months of surreptitious shags, summer holidays and deep soul-searching.
Who is in Conversations with Friends?
The show's breakout star is Alison Oliver who plays Frances, a student from County Mayo with a judgy mum, an alcoholic dad, and that thirtysomething actor lover. The actress is a graduate of the same Dublin acting school as Normal People's Paul Mescal, The Lir Academy. The Daisy Edgar-Jones comparisons will no doubt follow, but unlike the Londoner, Oliver is a first-timer on screen who has mostly stage work to her name until now. It's a heck of a showcase role, alongside more experienced actors like American Honey's Sasha Lane, Girls' Jemima Kirke and the show's biggest name, The Favourite actor Joe Alwyn.

Co-directing with Leanne Welham (His Dark Materials) is Normal People's Lenny Abrahamson. 'Lenny's deep affinity for Sally's writing and talent for finding actors to bring her fictional creations to life played a huge part in bringing Normal People so successfully to screen,' says BBC director of drama Piers Wenger. 'In casting Alison, Sasha, Joe and Jemima, that same flair and instinct is in evidence and we can't wait to see how they will bring Frances, Bobbi, Nick and Melissa to life.'
Really excited to tell you that the incredibly talented @SashaBianca23, @josalw, @jemimakirke and Alison Oliver will all be starring in our adaptation of Sally Rooney's best-seller Conversations with Friends. pic.twitter.com/bsd6PC8tFH

— BBC Three (@bbcthree) February 17, 2021
Where was Conversations with Friends filmed?
Like Normal People's Marianne and Connell (and author Sally Rooney herself), Frances and Bobbi study at Trinity College Dublin and the uni features in early episodes. Much of the shoot took place in Belfast, while the series swaps the book's summer holiday destination of Brittany for the sunnier climes of Stari Grad on the Croatian island of Hvar.
Conversations with Friends is streaming in May.
Where was 'Normal People' filmed? The series's Irish, Italian and Swedish locations uncovered.

Anatomy of a Scandal: everything you need to know about Netflix's must-see thriller.