Looking for a thriller from the people who brought us ace Manhattan crime drama The Undoing during those dark days of lockdown? You're in so much luck. TV super-producer David E Kelley of Big Little Lies fame has crossed the Atlantic for this latest slice of prestige telly: Anatomy of a Scandal, an immaculately cast, elegantly crafted and highly bingeable Netflix series that is heading for our living rooms.
It stars Rupert Friend and Sienna Miller as a seemingly happily married couple climbing the greasy pole of political high office – him as a government minister, her as his loyal and supportive wife – and it's based on a 2018 psychological thriller written by a political reporter. Expect the plot to thicken significantly via sudden twists, shocking revelations and dirty dealings. All of which will feel faintly and depressingly plausible in 2022's political landscape, albeit the politicians are actually good-looking in this one.
How can I watch Anatomy of a Scandal?
The series will consist of six 40-odd-minute episodes, and it launches on Netflix on April 15, 2022

Is there a trailer for Anatomy of a Scandal?
The trailer dropped in March and showcases the series's combustible mix of political scandal and moral murk. Watch it below.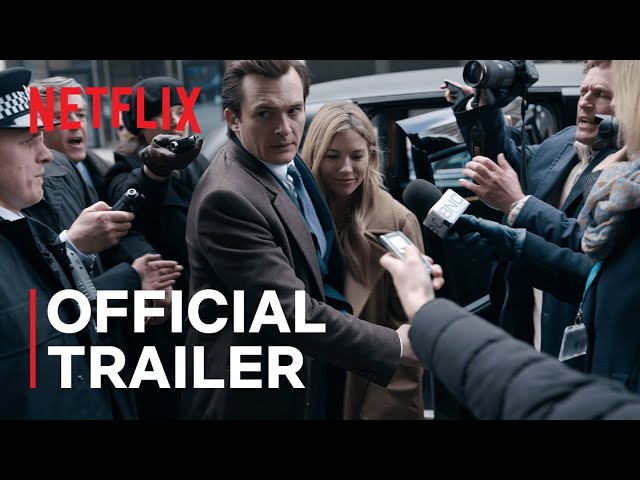 Who is in Anatomy of a Scandal?
It stars Rupert Friend as James Whitehouse, a Tory rising star and a junior immigration minister with burning ambition, a hotline to the Prime Minister and a bunch of great ideas he's dying to put into action. His wife, Sophie Whitehouse, played by Sienna Miller, has been by his side since their undergraduate days at Oxford. They have two young children, an implausibly gorgeous London town house and a live-in maid. They are living the dream… for at least a third of an episode.

Is Anatomy of a Scandal based on a book?
It is. The series is adapted from a psychological thriller by Sarah Vaughan, ex-political correspondent for The Guardian. It was published in 2018, a pre-tremor of sorts for the #MeToo wave that would come crashing down with the Harvey Weinstein case a year later. 'I'd seen how a few politicians could treat the truth flexibly, or at least how one had when it came to his having an affair,' remembers Vaughan. 'Before I became a lobby correspondent, I'd also been covered various high-profile trials and was intrigued by the drama of a court. So all these aspects – and my experience reading English at Oxford in the Nineties – fed into the dream and the novel.'

Like the book, the series is full of acutely-observed details of Westminster life – lobby room jousting, the polite disapproval of Westminster dining rooms, the press pack blood-hounding after a story – and is heavy with the unique gravity of life in politics, where it can take decades to rise but moments to fall. The novel was written during the David Cameron years and a Bullingdon-like club features prominently in flashback in the storyline – providing connective tissue to the current Prime Minister. Will it be on Boris's binge list?

What happens in Anatomy of a Scandal?
Things soon go south for the couple when James Whitehouse confesses to Sophie that he has had an affair with a young intern in his office, Olivia Lytton (Naomi Scott). It is, he swears to her, all over and meant nothing. With the PM standing by his old uni friend and his wife torn between her sense of betrayal and her desire to protect her family, the charming but slippery Whitehouse seems to have landed on his feet again. But then Lytton accuses the MP of raping her in a Parliamentary lift and the scandal descends into another realm of horror and darkness.
At its heart, Anatomy of a Scandal is a courtroom drama that explores the meaning of consent within the context of a relationship, as well as how toxic male entitlement and male sexual violence can create unsafe spaces for women. Runs the show's logline: '[Anatomy of a Scandal is] an insightful and suspenseful series about a sexual consent scandal amongst British privileged elite and the women caught up in its wake.'
'Based on Sarah's addictive book, the show tackles entitlement, truth and the boundaries of consent,' say showrunners David E Kelley and Melissa James Gibson. Think House of Cards (which Gibson worked as showrunner on) meets The Riot Club, with stylised sound design and quite a lot of Dutch tilts as the Whitehouses's lives are turned upside down.
Who else stars in Anatomy of a Scandal?
Alongside Rupert Friend and Sienna Miller is Aladdin star Naomi Scott, who starred opposite Kristen Stewart in 2019's Charlie's Angels. She plays the young researcher who has an affair with Whitehouse and who accusation of rape is tried by Downton Abbey's Michelle Dockery as Kate Woodcroft, QC. Broadchurch's Josette Simon plays Whitehouse's defence barrister Angela Regan.
Where was Anatomy of a Scandal filmed?
The series darts back and forth between contemporary Westminister and Oxford university in the 1990s, where the Libertines, an exclusive group of rich wastrels, get together to snort lines and do something called 'anal chugging' (us neither) and prepare to run the country. Among them is a young James Whitehouse (Ben Radcliffe), a toff who meets the love of his life, Sophie, at Oxford. The series was filmed in Oxford, including some of its colleges, so expect the dreaming spires to feature prominently.
No stars spotted but lots of activity for @netflix filming of #anatomyofascandal by @SVaughanAuthor @simonschusterUK around Radcliffe Square in the heart of Oxford last night. Pix of exterior of Wadham, Brasenose Lane and New College Lane. pic.twitter.com/WU6VTE31Va

— Tamsin Shelton (@TamsinShelton) March 26, 2021
Anatomy of a Scandal was also filmed at Shepperton Studios and on location in London.
Will there be a sequel to Anatomy of a Scandal?
Not per se, although Netflix and Kelley intend for Anatomy of a Scandal to kick off an anthology series in which each season will tackle a different scandal. Expect more dark-edged tales of power and privilege to come, in other words.
Dropout, billionaire, fraudster: How Elizabeth Holmes' Hollywood story wrote itself.
5 things to look out for in the new Downton Abbey: A New Era trailer.