When Disney first released the family-friendly horror-comedy Hocus Pocus in 1993, audiences did not immediately fall under its spell. Critics were unamused, and it bombed at the box office. But like the trio of witchy sisters at its centre, the movie found a second life, both on home video and cable - not to mention among cosplayers and drag performers. For a generation of '90s kids, no Halloween is complete without a viewing.
Now, after years of rumours, fan campaigns and public nudging from its stars, the film is finally getting a sequel. Bette Midler, Sarah Jessica Parker and Kathy Najimy are all back, reprising their roles as the Sanderson sisters, the goofily sinister trio of 17th century witches who have a serious bone to pick with the citizens of Salem, Massachusetts.
The involvement of the original cast is probably all Hocus Pocus fans need to make the sequel must-watch. But here's everything else we know right now about Hocus Pocus 2.
When will Hocus Pocus 2 be released?
It's scheduled to hit Disney+ on September 30 – just in time for the start of spooky season.
Is there a trailer for Hocus Pocus 2?
Behold!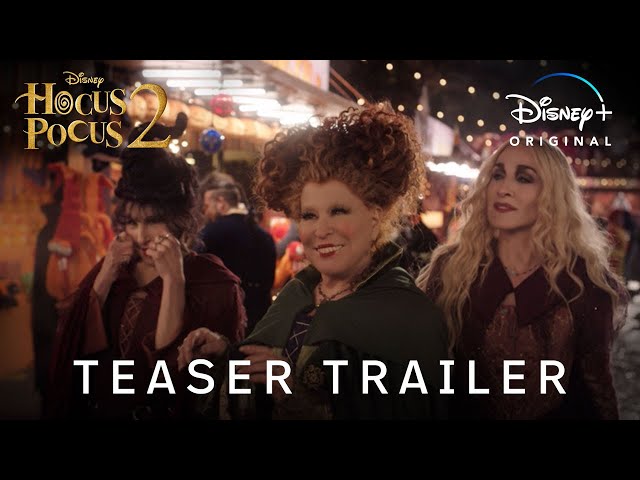 What happened in the original Hocus Pocus?
On Halloween 1993, young residents of Salem unwittingly resurrect three witch sisters who were executed by the townsfolk 300 years prior by lighting the cursed Black Flame Candle. By the rules of the spell that brought them back to life, they must steal a child's life force by sun-up to stay alive in the present. Vacuums are ridden. Zombies are risen. In the end, the sisters are vanquished and turned to dust… but apparently, that wasn't enough to put them in the ground permanently.
What happens in Hocus Pocus 2?
The official synopsis doesn't offer up many plot details: 'It's been 29 years since someone lit the Black Flame Candle and resurrected the 17th-century sisters,' it runs, 'and they are looking for revenge. Now it is up to three high-school students to stop the ravenous witches from wreaking a new kind of havoc on Salem before dawn on All Hallow's Eve.'

Frankly, that sounds like a pretty straightforward retread of the original. The trailer does, however, suggest that one the young girls responsible for resurrecting the trio may have some witchy powers of her own. And there's guaranteed to be a joke about TikTok somewhere in there, right?
Which cast members are returning for Hocus Pocus 2?
Don't worry, this isn't a Sex and the City reboot situation where Sarah Jessica Parker will spend the movie texting Kathy Najimy in the afterlife. All three principal stars are returning, including the Divine Miss M. Also back is Doug Jones, reprising his role as Billy Butcherson, Winifred Sanderson's murdered boyfriend-turned-zombie. One can only imagine how bad he looks after 30 additional years of decomposition.
Who is joining the cast of Hocus Pocus 2?
The teenage protagonists this time around are played by Whitney Peak, star of HBO Max's Gossip Girl reboot, and two relative unknowns: Lilia Buckingham and Belissa Escobedo. The great Sam Richardson (Detroiters, I Think You Should Leave) plays the owner of a Salem magic shop, while the also great Tony Hale (Arrested Development) is the Mayor of Salem. Most intriguing, Ted Lasso's Hannah Waddingham is also in the cast, in a role billed simply as 'the Witch'.
'I don't want to get myself in trouble and then be on Disney's shit list for time immemorial,' Richardson told The New Yorker. 'But I can say that I did get to shoot a lot of scenes with the ladies, and as a fan of all three of them, who grew up watching that movie, it was a really surreal and really fun and exciting process to get to watch them be those characters up close.'
Also, three alumni of RuPaul's Drag Race – Ginger Minj, Kornbread Jeté and Kahmora Hall – will portray drag versions of the Sanderson sisters in a nod to the franchise's specific cultural impact over the last three decades. Conservatives, prepare to clutch your pearls.
Who directed Hocus Pocus 2?
Anne Fletcher, filmmaker and choreographer of the likes of Step Up and the Dolly Parton-themed Netflix musical comedy Dumplin', steps into the shows of the original film's director, Kenny Ortega.

The original movie features a vaudeville-style performance of 'I Put a Spell on You', so chances seem high of Fletcher including another song-and-dance bit somewhere in there – in fact, Sarah Jessica Parker recently confirmed it.
'They think they've won this time,' Parker said at the Met Gala. 'And they still enjoy a musical number.'
Where was Hocus Pocus 2 filmed?
While the original Hocus Pocus was actually shot in Salem, Massachusetts, the sequel moved about 90 minutes south to another New England town: Providence, Rhode Island. Shooting commenced last fall and sets were constructed in and around the city to make it look like the quaint witch-burning burgh.
Hocus Pocus 2 is streaming on Disney+ worldwide from Sep 30.