Bold, extravagant and full of opulence and excess, Damien Chazelle's Babylon sits somewhere between an adoring love letter to old Hollywood and a poison pen note dashed out on a vodka hangover. The movie follows the career trajectories of three movie hopefuls and a superstar silent filmmaker – Margot Robbie's fast-rising, hard-partying starlet, Brad Pitt's Golden Age auteur, Diego Calva's Mexican-American studio factotum and Jovan Adepo's jazz trumpeter – but it's also full of the ghost of Tinseltown's past. Legendary figures like Clara Bow, Harry Lloyd, Charlie Chaplin, Mary Pickford and other bygone greats haunt its every moment.
It's not an elephant everyone will want to stand behind – it'd definitely be a punchy call for a family cinema trip – but its recreation of 1920s and '30s Los Angeles is spectacular: an evocation of movieland's past conjured up in historic LA hotels, chi-chi bars, dusty ranches and at least one spooky, Scooby-Doo-style abandoned castle in the Californian hinterland.
'The way to recreate the Los Angeles of a hundred years ago is to go to the outskirts of today's Los Angeles where there are big stretches of unspoiled land and orange groves, and it still feels like a small cow town, says Chazelle. 'We wanted to find locations where you could stiil feel the dust of the pre-city that LA was.'
Here's four real-life locations he and his team turned into its movie studios, gambling dens and temples of druggy debauchery.
Blue Sky Movie Ranch, California
A short gallop across Simi Valley to Firestone Ranch, where Jordan Peele filmed Nope's Jupiter's Claim scenes, Blue Sky Movie Ranch serves as Babylon's Kinescope studios. It's here that one of Babylon's standout moments was filmed, with oft-sozzled film director Jack Conrad (Brad Pitt) presiding over a sweeping, DW Griffith-like historical epic on its parched California hillsides.
'Blue Sky Ranch has an amazing history as a Hollywood ranch,' production designer Florencia Martin tells Condé Nast Traveler. 'We knew it was the spot we were going to build Kinescope, the silent film studio. If you look at the early photographs of Hollywood film studios, like Warner Brothers, Universal, and Paramount, there's literally no development. It's just dirt for days in the mountains.'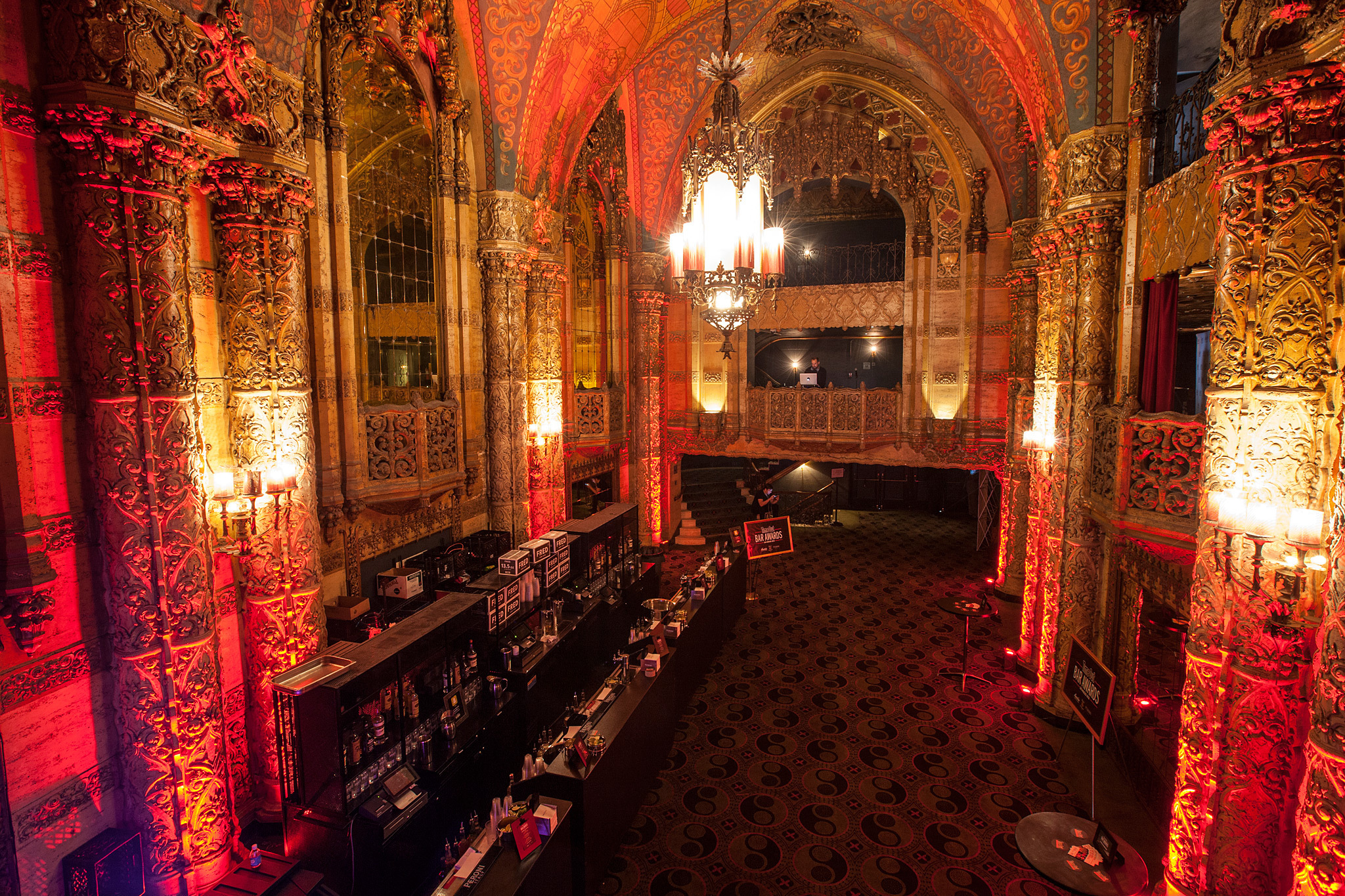 Ace Hotel, Downtown Los Angeles
Babylon opens with a hedonist party scene full of writhing dancers, swing bands, piles of drugs and at one point, an actual elephant. The lengthy sequence was filmed in the United Artists Theatre at Downtown LA's Ace Hotel, a 1600-seat space usually used for concerts, screenings and live podcasts. 'You step into this foyer, and it's literally dripping with detail, because it's Spanish Gothic,' says production designer Florencia Martin. 'It had that compression because Damien [Chazelle] wanted the party to be really shoulder-to-shoulder intense.'

Originally built in 1927 by United Artists – Charlie Chaplin and Pickford's film studio – and refurbished with Golden Age period details, the theatre is a three-storeyed temple of cinema lore that's a perfect setting for that apocalyptically raucous Hollywood bash. Apparently, it's still standing too.

Rancho Temescal, Lake Piru
It's at Rancho Temescal, on the banks of Lake Piru, that Margot Robbie's wannabe A-lister, Nellie LaRoy, stars in silent westerns on dusty sets and jousts with a rival actress (Samara Weaving).
Shea Castle, Elizabeth Lake
In a case of art not so much imitating life as recreating it, the remote mansion used for the exteriors of the opening party at studio exec Don Wallach's mansion played host to plenty of bacchanals in its 1920s heyday. The LA Times records the remote granite edifice about 60 miles north of LA being the scene of 'ribald and wanton debauchery' after it was built in 1924. It has ghosts, too: its original owner was a real estate baron who lost a fortune in the Great Crash and later committed suicide. Don't expect to get too close IRL, though – there's a sign on the gate that reads: 'This is not Disneyland, we do not give tours.'
Castle Green, Pasadena
An intimate meeting between Pitt's fading filmmaker Jack Conrad and cabaret singer Lady Fay Wong (Li Jun Li) and a Conrad showdown with gossip columnist Elinor St John were both filmed in this Pasadena edifice, one of Los Angeles County's oldest standing historic landmarks.
Built in a Moorish Colonial and Spanish style, it's an unmistakeable part of northern LA that's now mainly used for photoshoots and weddings. 'It was built in the 1890s and you walk in and are transported to a place that doesn't feel like Los Angeles,' says the film's production designer, Florencia Martin. 'What we loved about that location was that it took you back in time.'

Anyone looking to follow in Brad Pitt's footsteps up its grand stairway should note that Castle Green is only open to the public once a year – on the second Sunday in December.
Everything you need to know about Babylon.

Where was The Banshees of Inisherin filmed?