Damien Chazelle is returning to La La Land…
But the director's new movie is about a much different Los Angeles than that of his 2016 musical. In his upcoming Babylon, the 37-year-old filmmaker travels back to the Golden Age of Hollywood, a particularly grand and debauched time in the entertainment industry. It's Chazelle's first movie since 2018's Neil Armstrong biopic First Man and the first he's written since La La Land made him the youngest Best Director winner in Oscar history. And according to Chazelle, it's his most ambitious project yet.
'It was definitely the hardest thing I've done,' he tells Vanity Fair. 'Just the logistics of it, the number of characters, the scale of the set pieces, the span of time that the movie charts – it all conspired to make it particularly challenging, but it was a challenge that was pretty exciting to take on.'
Chazelle says he's had the idea for Babylon in his head since even before his breakthrough film, 2014's Whiplash, but didn't yet have the clout to do something so 'massive'. He finally started working on the script in 2018, but then the pandemic stalled production. After screening teaser footage for a convention audience earlier this year, Babylon is finally nearing release – and it looks like another Oscar contender.
Here's everything we know about Babylon.
When does Babylon come out?
It hits theatres in select US cities on December 25, then goes wide on January 6, 2023. It arrives in the UK on January 23.
Is there a trailer for Babylon?
Here it is, in all its coke-snorting, snake-fighting, Brad-Pitt-shooting-a-gun-in-his-underwear glory.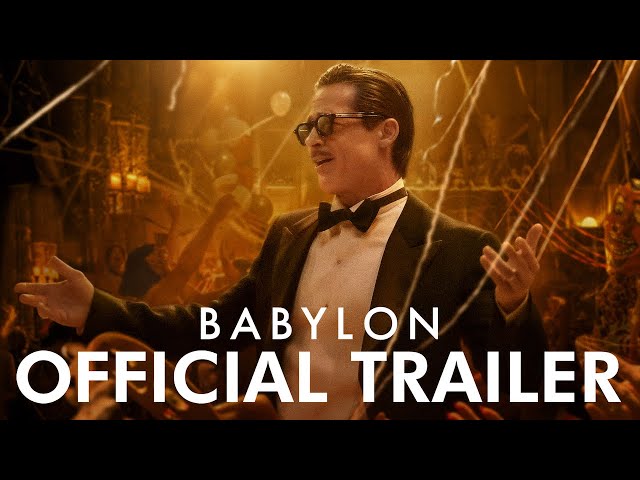 What's Babylon about?
As with David O Russell's Amsterdam – which feels similar in terms of size, scope and general time period, and also has Margot Robbie in the lead role – plot details are sparse. Set in the 1920s, at the moment when silent films gave way to talkies, it's described in its official logline as 'a tale of outsized ambition and outrageous excess… during an era of unbridled decadence and depravity in early Hollywood.' That makes it sound a bit like Singin' in the Rain without the singin', or perhaps The Artist, minus the 'throwback silent film' gimmick, with the darker shadings of Sunset Boulevard mixed in.
Who's in Babylon?
Also like Amsterdam, this thing is absolutely loaded with A-list talent.
The headline is the reunion of Once Upon a Time… in Hollywood and The Big Short co-stars Margot Robbie and Brad Pitt. Robbie plays Nellie LaRoy, a rising star described as an amalgamation of Golden Age legends Jeanne Eagels, Joan Crawford and Alma Rubens. (Initial reports from 2019 said the role – then linked to Emma Stone – was supposed to be the actual Clara Bow, Hollywood's first 'It Girl'.) Pitt, meanwhile, is Jack Conrad, a silent-era screen idol struggling to adapt to the changing landscape of the industry. The character is supposedly based on John Gilbert, an oft-cited example of a popular leading man whose career experienced a precipitous decline with the advent of talkies.
Third billing goes to a relative newcomer, Mexican-born Diego Calva, whose credits include Narcos: Mexico, the upcoming Apple TV drama Midnight Family and a planned Spanish-language spinoff of the Netflix horror hit Bird Box. All that's known about his character is that he's an immigrant named Manny Torres who somehow gets sucked into the Hollywood celebrity vortex.
'In many ways, he was going through a very similar experience to the character he was playing as well,' Chazelle has said of Calva, 'just stumbling on a larger-than-life campus and going, "What the fuck is going on?"'
The rest of the supporting cast is utterly dizzying: Jean Smart, Jovan Adepo, Olivia Wilde, Li Jun Li, PJ Byrne, Lukas Haas, Spike Jonze, Olivia Hamilton, Tobey Maguire, Rory Scovel, Katherine Waterston, Jeff Garlin, Eric Roberts, Ethan Suplee, Samara Weaving, and Flea – yes, the Red Hot Chili Peppers bassist, last seen on screen in Disney+'s Obi Wan Kenobi series. Max Minghella is also there, portraying the one confirmed real-life historical figure, producer Irving Thalberg.
Also of note, Chazelle is reuniting with two past collaborators: cinematographer Linus Sandgren and composer Justin Hurwitz, both of whom also won Oscars for La La Land.
Where was Babylon filmed?
The movie was shot around Southern California in 2021, including a Braveheart-esque 'battlefield scene' near Lake Piru in the Santa Clarita Valley – a moment that shows up in flashes in the trailer, including a quick shot of Pitt in chainmail nearly getting impaled by an errant spear.