We've all taken a first look at the upcoming Matilda the Musical, starring a scene-stealing Emma Thompson as tyrannical headteacher Miss Trunchbull, courtesy of its new trailer. While the 1996 adaptation became a cult classic, with Mara Wilson as the bookish Matilda, the new version reworks the smash-hit stage musical that's wowed worldwide audiences since its UK opening in 2010.
Expect songs aplenty, rowdy children, plenty of magic and enough chocolate cake to make Bruce Bogtrotter weep with delight. Here's what you need to know about this latest Roald Dahl riff.
What is Matilda the Musical about?
If you haven't already read the book, seen the 1996 movie and been to see the stage show, well, where have you been? Dahl's 1988 novel tells the story of Matilda Wormwood, a young girl who has a vivid imagination and dares to take a stand to change her story with magical results.
The stage show saw musician and comedian Tim Minchin write original music and lyrics to soundtrack Matilda's story as she escapes from her less-than-perfect family home and journeys into a world of books and navigates life at school under a strict and power-mad headteacher, Miss Trunchbull.
When will Matilda the Musical be released and will it be on Netflix?
The gleefully anticipated adaptation is in UK and Irish cinemas on December 2, just in time for Christmas. It will make its bow on Netflix elsewhere in the world on the same day, so fans in the UK and Ireland might not have a long wait before its arrival on Netflix.
Is there a trailer?
Yes, it landed in June and you can watch it below. Look out for iconic moments from the story, such as Bruce Bogtrotter's chocolate cake punishment, Matilda and Trunchbull's playground showdown, and Harry Wormwood's hair disaster.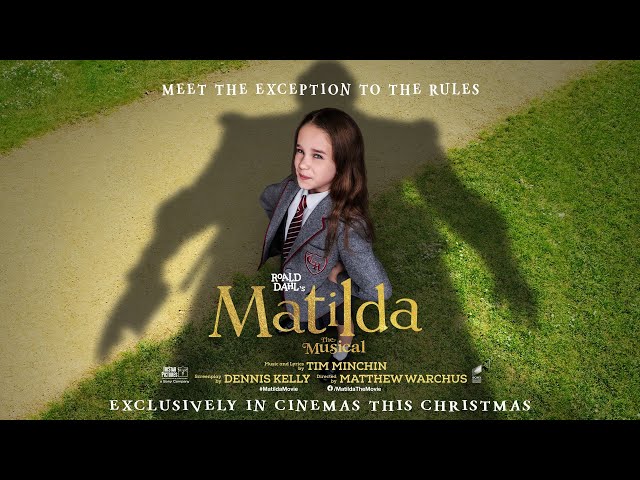 Who is directing Matilda the Musical?
The 1996 movie adaptation had Danny DeVito directing and appearing as Matilda's huckster father. This time, Matthew Warchus, director of the stage musical back when it first opened, is behind the camera. His previous film credits include the sharp-witted comedy-drama Pride, about an unlikely '80s partnership between LGBTQ+ activists and striking miners.
His connections with the musical run deep: he's even married to actress Lauren Ward, who has played Matilda's teacher, Miss Honey, in both the London and Broadway productions of the musical. Adapting Minchin's musical, meanwhile, is British screenwriter Dennis Kelly.
Who is in the cast of Matilda?
The cast of Matilda the Musical reads like a Who's Who of British acting legends and rising talent: Emma Thompson steps into the (probably very large) shoes of Miss Trunchbull, the headteacher implementing strict regime and order at Crunchem Hall; No Time to Die's Lashana Lynch is Matilda's kindly teacher Miss Honey; while Stephen Graham and Andrea Riseborough will play her uncaring parents, Mr and Mrs Wormwood. Sex Education's Sindhu Vee plays story-loving librarian, Mrs Phelps.
In the title role is newcomer Alisha Weir as the young schoolgirl with a passion for books and a unique set of telekinesis skills. Warchus said 12-year-old Alisha secured the role after an 'unforgettable audition'.

Mara Wilson, who played Matilda in the 1996 adaptation, has offered to cameo in the new version, so keep your eyes peeled in case that's on the cards.

How will Matilda the Musical differ from previous versions?
We'll have to wait until Matilda the Musical is released to know how exactly it deviates from the 1996 movie or the novel itself. But we do know this is a reworking of the stage musical, not a remake of the film, and that in keeping with the novel (though not the America-set 1996 movie), it will be set in Britain.
While most of the musical numbers – written by Aussie songwriter Tim Minchin – are expected to feature on the soundtrack, there will be some new songs created just for the movie.
'The adjusts a few things [from the musical],' Minchin told Official London Theatre, 'and will adjust the orchestrations to contemporise them a bit without damaging the world we've created. I wonder if, in time, it will be reverse-engineered and [the new music is] put into the stage show.'
The filmmakers overcome some re-staging challenges as the shift was made from stage to screen. 'There are things that work very well on stage that just wouldn't work on screen,' says screenwriter Dennis Kelly. 'It's been really hard, but fingers crossed it's worked.'
Is the musical still on stage and where can I watch it?
'Matilda the Musical' debuted in Stratford-upon Avon in 2010, before transferring to London's West End the following year. It continues to play at the Cambridge Theatre in Covent Garden, with eight performances each week.
The musical ran on Broadway for four years and 1,555 performances, before closing in 2017, and has played in South Africa, Singapore, China, and Canada. It's tour Australia, New Zealand and Holland throughout 2022.
Will there be more Roald Dahl adaptations to come?
Fans of Dahl's works are in luck. In 2021, Netflix secured the rights to the author's beloved stories and there are more titles in the works, including an animated series based on the world of 'Charlie and the Chocolate Factory' is in production, with Taika Waititi involved as writer and director.
There'll also be an animated series based on Dahl's stories, including 'The BFG', 'The Twits', 'The Enormous Crocodile', 'George's Marvellous Medicine' and 'Charlie and the Great Glass Elevator'.
Netflix plans to use Dahl's stories as a springboard for 'a unique universe across animated and live-action films and TV, publishing, games, immersive experiences, live theatre, consumer products and more.'
There's also the otherwise unconnected movie origin story, Wonka, in which Timothée Chalamet stars as the titular candy baron. It will be in cinemas in December 2023.
Wes Anderson, who previously adapted The Fantastic Mr Fox into an animation, will once again return to the Dahl-iverse with an adaption of his short story collection, 'The Wonderful Story of Henry Sugar'. Benedict Cumberbatch, Dev Patel, Ralph Fiennes, and Ben Kingsley are all starring in that.
15 life lessons we can all learn from Roald Dahl.

The 35 best family comedies for your next movie night.