This is officially Harry Styles's year and we're just living in it, absorbing all the good vibes. The one-time One Direction-er and occasional Taylor Swift lyric has a new album and two new films due out in cinemas – both shaping up to be provocative, progressive and all-round essential viewing. Alongside Olivia Wilde's Don't Worry Darling, in which he plays one half of a young married couple in too deep in a supposedly utopian Californian community, he's the headline act in an adaptation of Bethan Roberts's 2012 novel, 'My Policeman', about a closeted cop living and loving through the institutionalised homophobia of '50s Britain. Here's what you need to know about it.
When is My Policeman out?
It'll be in UK cinemas on October 21, before streaming on Amazon Prime from November 4. That's just under a month after Don't Worry Darling hits our screens, so expect to see Styles's handsome mug on many posters in the autumn.
Is there a trailer for My Policeman?
Yes, there's a teaser trailer to offer a brief showcase of its forbidden love and melancholy tenor. Check it out below.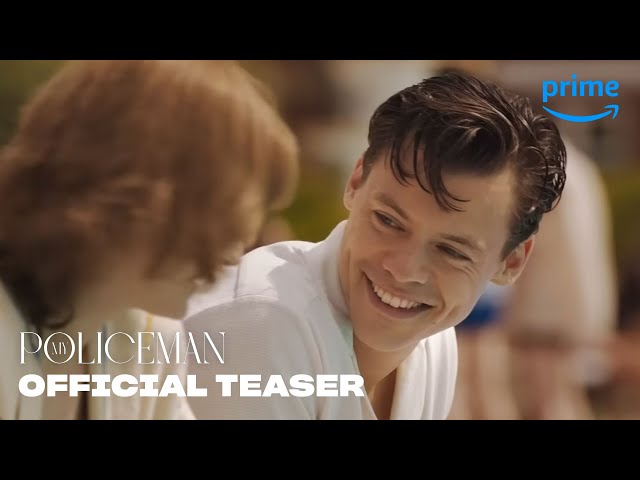 Who is starring in My Policeman?
The headline act, if course, is Styles as the closeted gay policeman at the heart of the story. The supporting cast is more than decent, too, though, with Emma Corrin – Princess Diana in season four of The Crown – playing his wife and David Dawson (The Last Kingdom) as the museum curator he falls hard for.
And representing the characters in their later years, four decades on, will be Batman Begins' Linus Roache in the Styles role, alongside Notting Hill's Gina McKee and Rupert Everett as his once-secret lover.
What is My Policeman about?
In essence, it's a very sharp-edged love triangle between a closeted policeman, Tom Burgess (Styles), his doting wife, Marion Taylor (Corrin), and museum curator Patrick Hazelwood (Dawson), the man Tom falls in love with – a recipe for euphoria, pain and longing. 'It is in 1950s' Brighton that Marion first catches sight of Tom,' runs the film's synopsis. 'He teaches her to swim in the shadow of the pier and Marion is smitten – determined her love will be enough for them both.
'A few years later in Brighton Museum, Patrick meets Tom. Patrick is besotted with Tom and opens his eyes to a glamorous, sophisticated new world. Tom is their policeman, and in this age it is safer for him to marry Marion. The two lovers must share him, until one of them breaks and three lives are destroyed.'

My Policeman takes place across two timelines: 1950s Brighton, when its queer relationship sparks under the shadow of the UK's oppressive anti-gay laws, and pre-millennium '90s, when Tom is struggling with his health. His job as a law enforcer in a country that criminalises his own sexuality offers an inner conflict that will run through the film like a knife. Basil Dearden's spiky 1961 thriller Victim, which starred Dirk Bogarde as a closeted barrister being blackmailed with the threat of exposure, could offer a handy companion piece.
Is My Policeman based on a book?
It is. Bethan Roberts' 2012 novel, described by The Observer as 'a moving story of longing and frustration', is set in 1957 and 1999. It's inspired by the experiences of the great Edwardian novelist, E M Forster ('A Room with a View'), whose relationship with a married policeman, Bob Buckingham, played out quietly over forty years and, amazingly, culminated in the ageing and ailing Forster being nursed by Buckingham's wife, May.
'What really interested me was how the two men negotiated the fact that Bob was married, and stayed married, to May, a nurse with whom Forster had at first a very tense and later a very warm relationship,' says Roberts. 'May was there holding his hand as he died. She seemed to me to be the keeper and survivor of the triangle.'
Another key text for Roberts – and, no doubt, the film – is 'Daring Hearts: Lesbian and Gay Lives of 50s and 60s Brighton', which essays the emergence of the town's thriving gay community during a time of institutionalised homophobia.
Who is directing My Policeman?
It's adapted by Oscar-nominated Philadelphia screenwriter Ron Nyswaner and directed by theatre veteran Michael Grandage in his filmmaking debut. When Grandage hired Styles for the film, the musician-actor only had 2017's Dunkirk on his acting CV but recalls how that relative inexperience and naturalism was a major plus. 'Because he hasn't done much, he hasn't developed the ability to work out tricks or even lie,' he tells Vanity Fair, likening the actor to British new wave greats like Albert Finney and Tom Courtenay. 'They just bring themselves to the role, and it seems to be very uncomplicated in the way they achieve it and Harry had that.'
But there's another key – and fascinating – contemporary figure behind this story: openly gay ex-Major League Soccer star Robbie Rogers. The footballer-turned-producer first stumbled upon the novel ('It was kind of like my coming-out book,' he tells Vanity Fair), and he subsequently fought to get a movie version financed over eight challenging years. 'We've always heard the most political versions of: "Tthis is going to be difficult to make", or "No one's going to watch this".'
Is it significant that they haven't cast a gay actor in the title role?
While Harry Styles is circumspect about discussing his sexuality, he's an ally rather than a paid-up member of the queer community. But alongside him, producer Rogers and director Grandage were at pains to represent the LGBTQ+ community via the cast list, casting two openly gay actors in Dawson and Everett. 'We thought it would be wonderful to do a film like this and at least have some people in it who could speak to an experience that was authentic for themselves,' Grandage, who is himself gay, tells Vanity Fair.
For Rogers, who went through similar experiences as a sportsman hiding his sexuality from the public glare, it​''s a personal story with a hopeful message. 'It's never too late to have a love story,' he says. 'Don't allow regret to weigh you down – there's always hope.'
Will My Policeman be R-rated?
This one should be safe to watch with your parents, should the scenario arise. Styles recently popped by Howard Stern's radio show to share the news that – in the technical parlance – there will be 'bum-bum' on display, but 'no peen'. Although he also mentioned that he was required to 'wear a gas mask' while make-up artists airbrushed his tattoos for the nude scenes.
Grandage tells Vanity Fair that the film will '[show] "lovemaking" in the broadest sense of the word, something that was choreographically interesting and not just some kind of thrusting sense of sex going on.' Anyone after the thrusting, in other words, may need ​to ​head over to screen two and the slightly more explicit Don't Worry Darling. We Brits are keeping it a little more modest.
Where was My Policeman filmed?
As per the novel's setting, the majority of filming took place on England's south coast in Brighton, Worthing and Hove, with other scenes shot in London. Venice also appears, with the shoot wrapping in the Italian city in December 2021.

The 50 best LGBTQ+ films ever made.
Five reasons why Harry Styles new hot-and-heavy thriller could be one of the most exciting film of the year.