At peak tourist season, the Canal de l'Ourcq buzzes with small electric boats zipping up and down its tranquil course. With most international visitors gone, however, those eye-catching red-and-white vessels are being put to innovative use later this month as the seating for a floating movie night in the nearby Villette canal basin.
To celebrate the return of Paris Plages, the annual urban beach initiative that takes over the banks of the Seine and the Bassin de la Villette, the city will welcome 150 locals to its first-ever 'Cinéma sur l'Eau' event on July 18. Guests will be able to kick back in one of 38 small boats in groups of two, four or six (from the same family or group of friends).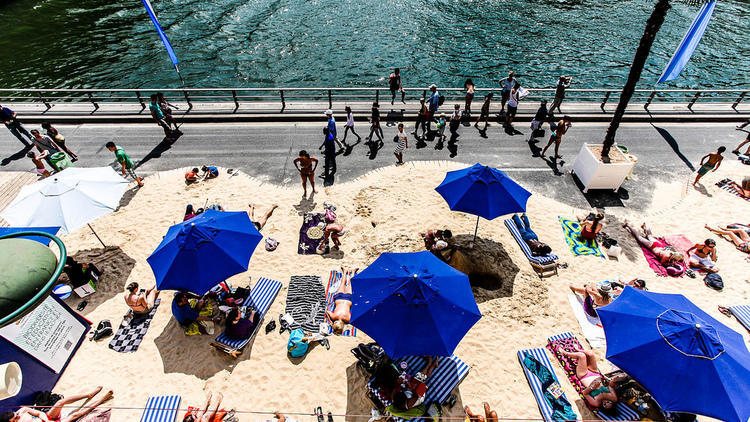 Paris Plages. Photograph: Sharat Ganapati
A partner for the event is MK2, a small cinema chain with two venues further down the canal. Its curators have chosen to show Gilles Lellouche's 2018 comedy 'Le Grand Bain', which tells of a group of slightly paunchy middle-aged pals who give synchronised swimming a go – with predictably hilarious results.
Tickets are being balloted from today, with entries closing on July 15. Spots are free, and you'll also be served complimentary ice cream before you climb aboard. And fortunately, even if you don't manage to bag a boat, 150 more spectators will be able to watch from deckchairs on the quay opposite the screen.