The rise and rise of Netflix shows no signs of slowing, even as competition levels for our sofa time ramp up. Disney+ is adding a new worldwide Hulu-like channel, Star, to its platform next month. Amazon Prime and Apple TV have original movies in the pipeline. HBO Max has a tonne of Warner Bros. movies to launch, including the small matter of 'Dune'. Nicher sites like Mubi, Shudder and BFI Player will be providing arthouse cuts for cinephiles. The list goes on. And on.

But Netflix has a filmmaking engine, and budgets, that no one else can remotely compete with – as its newly announced 2021 slate demonstrates. The list of movies coming to the platform this year is near inexhaustible, with a new film landing every week – and it's a diverse slate. Here's a few highlights, trends and general things to look out for:

1. Don't Look Up has the cast of the year
It's early, sure, but we're calling it: Don't Look Up boasts the cast of the year. Writer-director Adam McKay has assembled a line-up for his comedy that features – wait for it – Leonardo DiCaprio, Jennifer Lawrence, Timothée Chalamet, Jonah Hill, Cate Blanchett and Meryl Streep. If they all turn up on set with their Oscars, there will literally be no space for cameras. Of course, they probably won't all have meaty roles but their presence alone should guarantee this satire about two astronomers trying to warn humanity of an approaching asteroid a splashy release.

2. There's plenty for fans of funny (and weepy) romances
Netflix's wildly popular To All The Boys I've Loved Before movies wrap up with Lara Jean Convoy's (Lana Condor) final outing, To All the Boys: Always and Forever, so stock up on Yakult and Kleenex (to clear up the spilt Yakult). The Princess Switch 3, meanwhile, sees Vanessa Hudgens and co head to Scotland for more Christmassy romcom vibes. If you're looking for an old-fashioned mushy romance to curl up with, The Last Letter from Your Lover (pictured below) is one to look out for. Felicity Jones, Shailene Woodley and Callum Taylor star (though it won't be available globally).

3. Bullock is back
Sandra Bullock's Bird Box pretty much won Christmas 2018. The post-apocalyptic thriller was a surprise viral sensation: you either watched it or you had to blindfold yourself and flee upriver to avoid it. Netflix will be hoping the actress's pulling power remains as irresistible when her so-far untitled new film lands on the service. Written by Mission: Impossible's Christopher McQuarrie, it stars Bullock as a violent ex-con who, finding herself majorly judged when she returns home, tries to make amends to her estranged young sis (The Nightingale's Aisling Franciosi).
4. Big-budget action is going to exploooooooode
Unlike Disney+ and HBO Max's 2021 slates, Netflix's line-up was always intended to land directly on VOD (with limited theatrical releases at best). Still, there are similarities in scale and star factor as Netflix follows up last year's action spectaculars Extraction and The Old Guard with more big-budget affairs. Look out for Kate in which Mary Elizabeth Winstead, Woody Harrelson and a shitload of violent gangsters do battle in Tokyo, and Dwayne Johnson, Gal Gadot, Ryan Reynolds teaming up for Red Notice and no doubt a tonne of 6am gym sessions. And Zack Snyder returns to zombieland with Army of the Dead (pictured below), a follow-up to 2004's Dawn of the Dead.

5. Yes, there's a Lin-Manuel Miranda movie
We all know that Lin-Manuel Miranda is wildly talented and festooned with awards (the actor-writer-songwriter-director is only an Oscar away from an EGOT), but we have no idea how get it all done. This year, to go with In the Heights, His Dark Materials and his new Disney musical Enchanto, he's made Tick, Tick... Boom for Netflix. It's about an aspiring Broadway director struggling to make his dreams work in a way that sounds a little autobiographical to someone involved. It's written by Dear Evan Hanson playwright Steven Levenson. (It's him, isn't it?)
6. Art house is in the house
Jane Campion's The Power of the Dog, a western with Kirsten Dunst, Benedict Cumberbatch and Jesse Plemons, is a must-see for anyone who loves arthouse cinema and doesn't mind not seeing it in an actual arthouse. The Assassination of Jesse James by the Coward Robert Ford's Andrew Dominik is also back with the equally true-life but much shorter titled Blonde. It's a Marilyn Monroe biopic starring Ana de Armas that's based on Joyce Carol Oates's novel of the same name. At the other end of her filmmaking career, Halle Berry makes her directorial debut with MMA drama called Bruised.

7. Fans of Idris Elba on horseback are in for a treat
The 'Idris-Elba-on-a-horse' sub-sub-genre is getting a major giddy-up with two movies pitching the Brit loosely into the western genre. The first, Concrete Cowboys, has him playing an urban rider; the other, The Harder They Fall, is a Black-led western in which Elba is a killer being hunted down by Jonathan Majors' outlaw. The cruel irony of all this is that Elba is allergic to horses. For shame, Netflix!

Watch the official launch trailer below: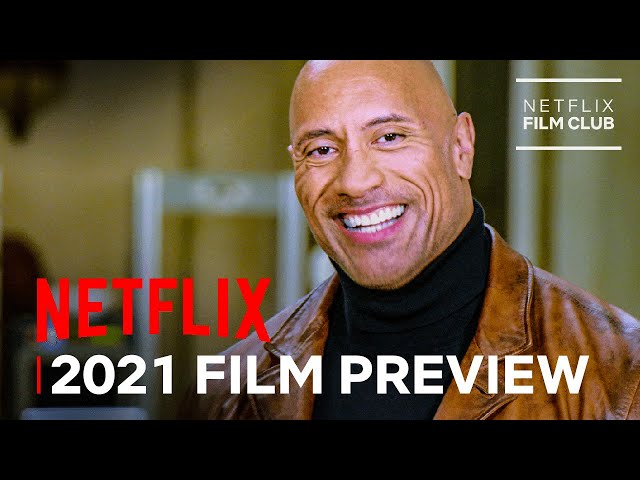 The best films coming out this year: all the must-see releases to look out for.